Rihanna And Jay-Z Umbrella Reaches 8x Platinum Status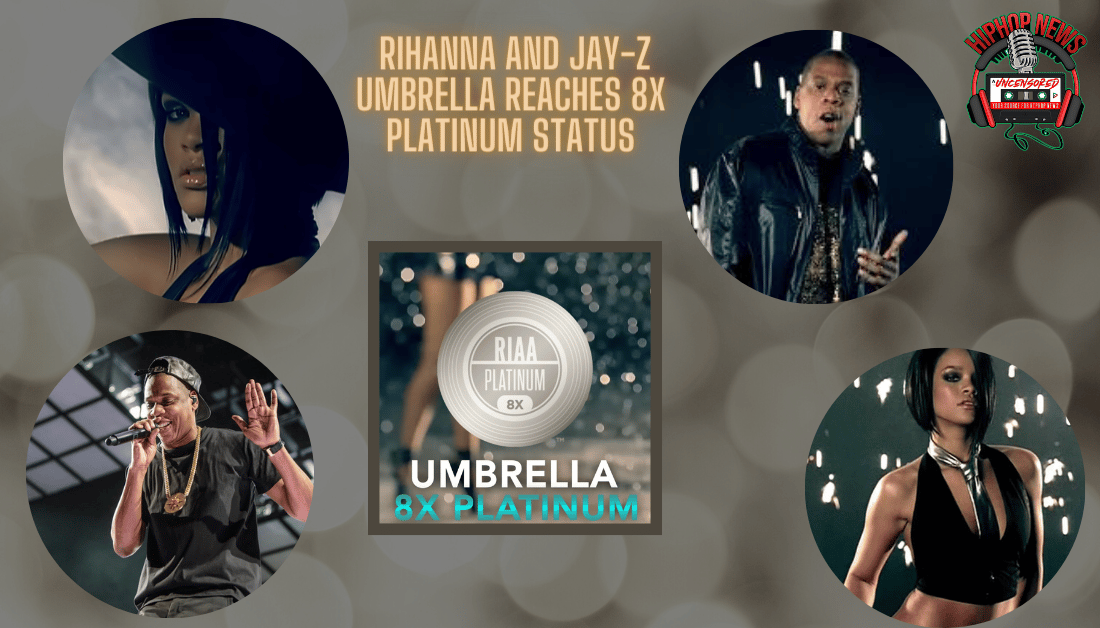 Rihanna And Jay-Z Umbrella Reaches 8x Platinum Status.One thing Rihanna knows how to do is accomplish a new milestone. Well, her 2007 single
Umbrella
just reached another one.
Rihanna And Jay-Z Go 8x Platinum
Rihanna And Jay-Z Umbrella Reaches 8x Platinum Status. Bad Girl Rih Rih just keeps on killing the game.
In 2007, Rihanna released her third studio album Good Girl Gone Bad.
Of course, the lead single was Umbrella. The platinum single features a verse from Jay-Z, and is written and produced by Tricky Stewart and The Dream.
Immediately, Umbrella became the song of Summer.
Well, the RIAA just announced it's officially 8x platinum. Furthermore, not only did Umbrella sell over 8 million units, Rih earned her first Grammy for this Jigga collab.
Without a doubt, Brooklyns' finest begins the song like only he can.
Certainly, Hovs' flow and declaration for the finer things in life didn't disappoint.
Let's get into some of the lyrics.
Umbrella Lyrics
Jigga holds down the first verse. He delivers the intro followed by a quick eight bars:
"Uh huh, uh huh. Yeah, Rihanna uh huh, uh huh. Good girl gone bad, Uh huh, uh huh. Take three, action, Uh huh, uh huh, Hov. No clouds in my stones. Let it rain, I hydroplane in the bank. Coming down at the Dow Jones, when the clouds come, we gone. We Rocafella, we fly higher than weather, in G5s or better you know me. In anticipation for precipitation stack chips for the rainy day. Rain Man is back with little Ms. Sunshine Rihanna, where you at?"
Next, Rih Rih serenades us on her verse while affirming to her boo she's locked in:
"You have my heart, and we'll never be worlds apart. Maybe in magazines, but you'll still be my star Baby, 'cause in the dark, you can't see shiny cars. And that's when you need me there. With you I'll always share, because."
Of course, the chorus ties it all together. Rih Rih sings:
"When the sun shines, we'll shine together. Told you I'll be here forever. Said I'll always be your friend. Took an oath, I'ma stick it out 'til the end. Now that it's raining more than ever, know that we'll still have each other. You can stand under my umbrella, you can stand under my umbrella, ella, ella, eh, eh, eh. Under my umbrella, ella, ella, eh, eh, eh, Under my umbrella, ella, ella, eh, eh, eh, Under my umbrella, ella, ella, eh, eh, eh, eh, eh, eh."
Undoubtedly, this 2007 hit deserves to be 8x platinum. It's still very relevant today.
Would you be here for more Jay-Z and Rihanna collaborations?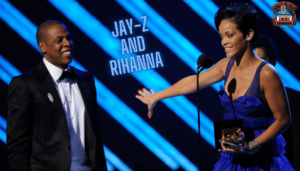 Hip Hop News Uncensored. It's the Leader in Hip Hop content on YouTube!