Brian Flores Suing NFL, 3 Teams For Racial Discrimination!!!!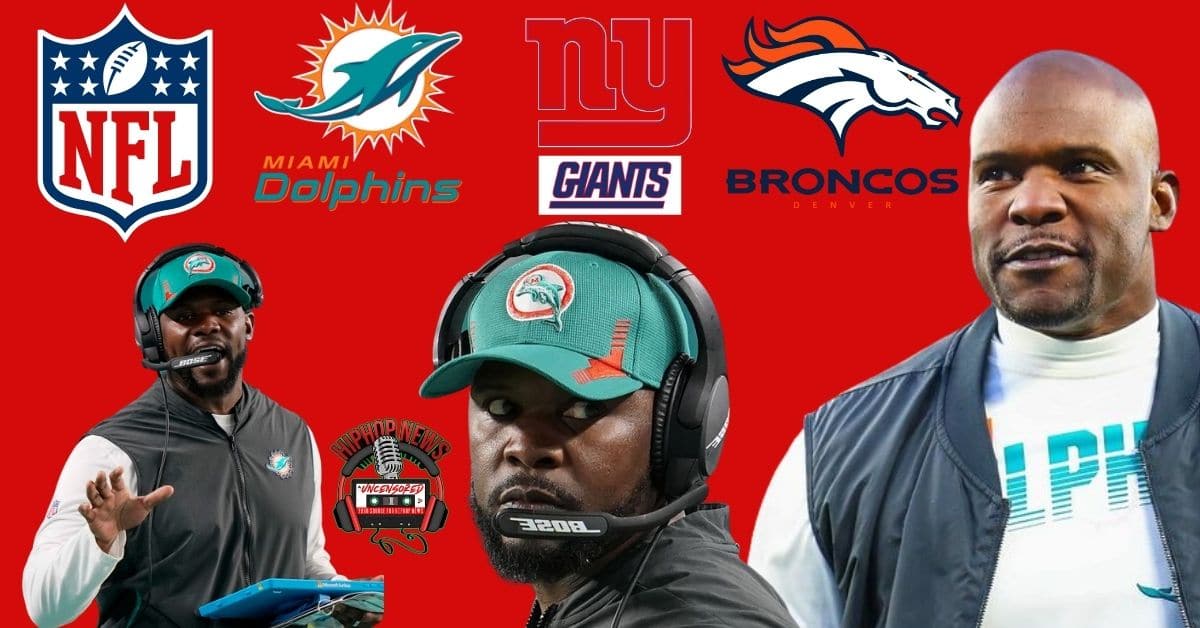 Brian Flores is suing the NFL and 3 football teams. Citing racial discrimination, Flores calls foul on the NFL's practices.
Brian Flores Suing NFL, Miami Dolphins, NY Giants, and Denver Broncos
Brian Flores, the former coach of the Miami Dolphins has filed a lawsuit in Manhattan federal court.
The former coach of the Miami Dolphins, Flores has alleged that racial bias is at play in the NFL.
Along with the National Football League, The Miami Dolphins, The New York Giants, and The Denver Broncos are named in the suit.
So What Went Down?
As you may recall, Brian Flores was fired from the Miami Dolphins last month.
However, a mighty funny thing happened when he was in line to be interviewed for the coaching jobs for New York and Denver.
He received a text from Patriot's coach, Bill Belichick congratulating him on getting the job.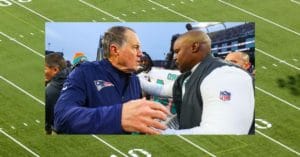 The only thing, he had not even interviewed yet.
Flores had worked with Belichick for 10 years in New England.
The text went like this –
(BB) Sounds like you have landed – congrats!!
(BF) Did you hear something I didn't hear?
(BB) Giants?!?!?!
(BF) I interview on Thursday.
(BF) I think I have a shot at it.
(BB) Got it – I hear from Buffalo and NYG that you are their guy. Hope it works out if you want it to!!
(BF) That's definitely what I want! I hope you're right coach! Thank you.
(BF) Coach are you talking to Brian Flores or Brian Daboll. Just making sure.
(BB) Sorry – I fucked this up. I double checked & misread the text. I think they are naming Daboll. I'm sorry about that. BB.
According to lawyer Douglas Wigdor, their firm was contacted the same day Flores received the texts from Belicheck.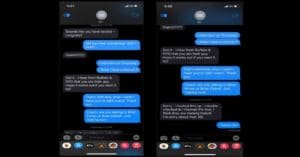 But Wait, There's More. Was Brian Flores Offered $100,000 per game to lose?
Brian Flores also made allegations in his suit that he was asked by Dolphins owner Stephen Ross to purposely lose games.
This all went down shortly after he was hired in 2019, according to Flores.
According to the filing, Flores says that Ross offered him $100,000 for every game he lost that season.
Apparently, to get a better draft position, for every time he won he was told that he was compromising that mission.
Another time, Flores describes a time when he was pressured to offer a quarterback job to a certain individual.
This happened in the winter of 2020.
As not to violate the NFL rules, he refused.
After Flores declined, he was invited to lunch on a yacht and was allegedly told that the prominent quarterback was "conveniently" arriving at the marina for an impromptu meeting.
Flores was not biting, he left the yacht.
After that incident, he alleges that he was "treated with disdain" labeled someone who was "noncompliant and difficult to work with".
Eventually, Brian Flores was fired as the coach of The Miami Dolphins on January 10, 2022.
Despite having 2 winning seasons, (10-6 in 2020; and 9-8 in 2021) the franchise's first back-to-back winning seasons since 2003.
Individually, the Dolphins, Giants, and Broncos all responded to the allegations.
All have denied them.
So What Changes In the NFL practices Is Flores Asking For?
Among the areas of the NFL that Brian Flores is requesting to be addressed are –
to increase influence of Black individuals in hiring
increase "the objectivity of" hiring/terminating GMs, head coaches and coordinators
increase the number of Black coordinators
Incentivize hiring/retention of Black gms, head coaches and coordinators
transparency of pay for GMs head coaches and coordinators
In addressing the reason he filed, Flores stated –
"God has gifted me with a special talent to coach the game of football, but the need for change is bigger than my personal goals…My sincere hope is that by standing up against systemic racism in the NFL, others will join me to ensure that positive change is made for generations to come."
Filed on Tuesday, the 58-page lawsuit seeks class-action status.
Hip Hop News Uncensored. It's the Leader in Hip Hop content on YouTube!