Eminem Claims Diddy Had Tupac Shakur Killed on "Killshot"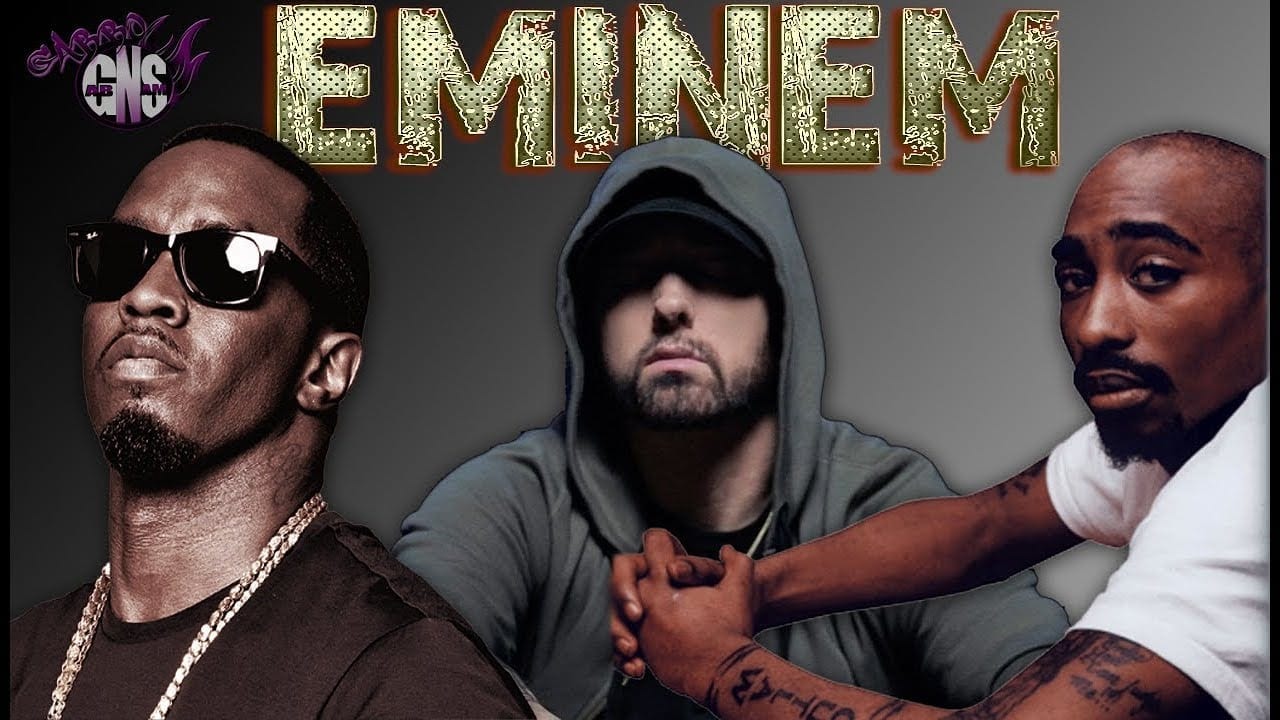 On the Uncensored Truth Podcast Live, host O'God and Sam Ant discussed how Eminem was on a path to diss music mogul Sean Comb better known as P Diddy. What is up with Eminem? He really went after Diddy. Eminem claims Diddy had rap legend Tupac Shakur killed.
Is there some truth to what Eminem is saying?
People have been suggesting for years that Diddy had something to do with the death of Tupac as well as rap legend Christopher Wallace better known as Biggie Smalls. It should be no surprised that Eminem would implicate Diddy in the murder of Shakur. Of course, there has never been any proof to these allegations.
Some people believed that Biggie was planning to leave Bad Boy Records. Others say this kind of talk is part of the so called conspiracy theory. What would Diddy have to gain by killing Shakur, is the question? Check out what Eminem said about Diddy on his diss track Killshot:
" This idiot's boss pops pills and tells him that he got skills/But Kells, the day you put out a hit, is the day Diddy admits he put the hit out that got 'Pac killed,"
According to a study on Conspiracy Theories:
"Christopher French, a professor of psychology at Goldsmiths, University of London, explains:

Although conspiracy beliefs can occasionally be based on a rational analysis of the evidence, most of the time they are not. As a species, one of our greatest strengths is our ability to find meaningful patterns in the world around us and to make causal inferences. We sometimes, however, see patterns and causal connections that are not there, especially when we feel that events are beyond our control."
It is possible that Eminem is unable to come to terms with the death of his friend Shakur and therefore he is trying to make sense of it by implicating Diddy? Or is he trying to boost his record sells? Does Eminem want a beef with Diddy? Really, Eminem? It would be very surprising if Diddy decided to respond to Eminem's allegations.
Rapper Jay Electronica fires shots at Eminem in defense of Diddy
However, Timothy Elpadaro Thedford better known as rapper Jay Electronica was not having Eminem diss Diddy, here is what he had to say:
"@eminem, how dare you accuse diddy of killing tupac while you completely look pass jimmy iovine and those who profited from his death the Most," You best tread carefully Son, before i come tear your ivory tower down like Sulaiman done Templar Knights.#ripProof."
So did Diddy Have Tupac Killed?
Whoa! That is as real as it gets. Let's not forget that Lil Cease from Diddy's own camp alleged that Diddy may have had something to do with Shakur's death. It's been over 20 years since the death of Shakur. Will anyone ever really know what happened to rap legends Shakur or Wallace?
For more Hip Hop Entertainment News go to our YouTube channel, Hip Hop News Uncensored