Soulja Boy's OnlyFans Stirs Fans Into a Frenzy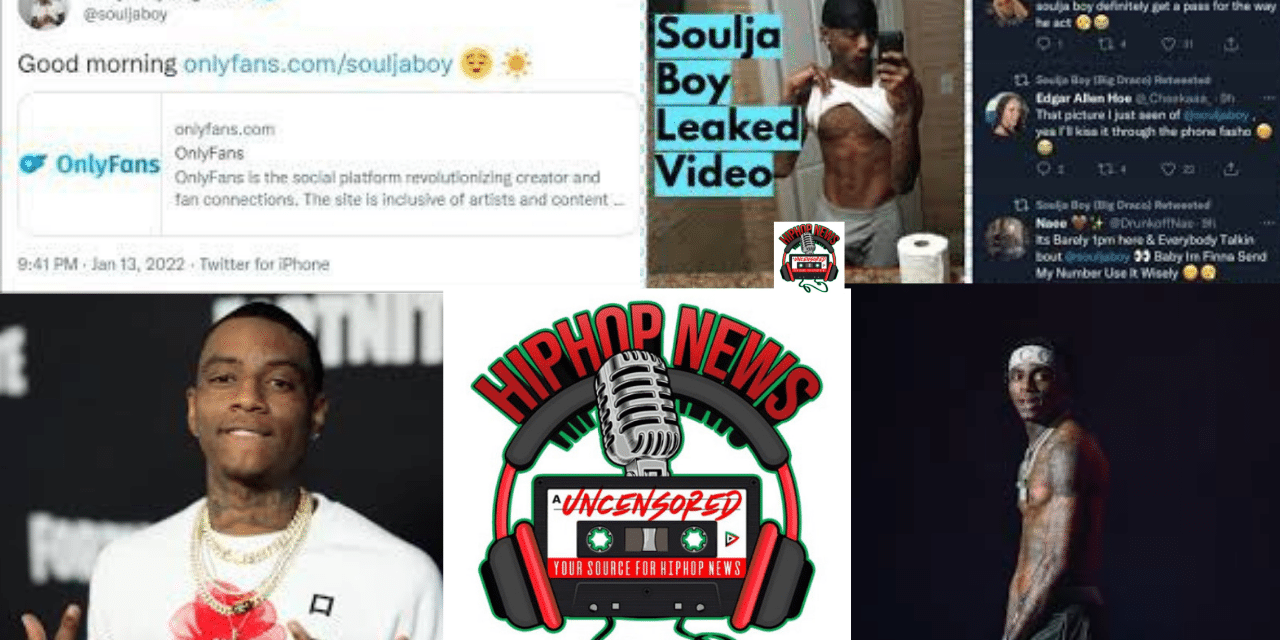 There was a big uproar on Twitter this week after raunchy content appeared to be leaked from Soulja Boy's OnlyFans.
It seems impossible for a day to pass without controversy or a viral video incident on social media these days, as something similar is again making headlines. Soulja Boy is showing out on his OnlyFans account and the ladies have not been disappointed.
Big Draco's Big Draco…
It is true, rapper Soulja Boy aka DeAndre Cortez Way has become a hot topic since his viral content swept social media platforms and some notable video streaming apps, such as OnlyFans.
Almost as soon as his admirers learn about the news, their reactions are also shocking, so below you will find out all the details, so you can understand what really happened. Soulja Boy has fans paying to see his Draco and well, the fans have been quoting the song lyrics "Soulja Boy tell 'em!"
Soulja Boy Didn't Just Tell 'Em, He showed 'Em
Soulja Boy, the now 31-year-old rapper we all loved in the late 2000s, is pretty popular on the explicit subscription service.
Chicago-born rapper DeAndre Cortez Way certainly isn't bothered either. If anything, he's enjoying himself!
Soulja no longer makes music himself, but rather relishes the success he has on OnlyFans. His rather impressive leaked nudes have brought a whole new meaning to his 2008 hit "Kiss Me Thru The Phone."
Crank That: Nude's on OnlyFans
Okay, let's start at the beginning. It's September 2007 and Soulja Boy just released his huge hit "Crank That".
The song spent seven weeks at number one on the US Billboard Hot 100.
Soon after, he was listed as number 18 on Forbes' list of Hip-Hop Cash Kings of 2010.
Then he released his debut album SouljaboyTellem.com, followed by iSouljaBoyTellem, which contained the 2008 hit Kiss Me Thru The Phone. He now has legions of younger fans who have never heard of his music, trying to "Kiss him through the phone" after releasing the racy, lewd photos of himself… self.
Singer and songwriter Sammie is featured on the song. The song reached number three on the Hot 100. There were over two million digital downloads.
Draco Making Fans Want to Kiss Him Thru The Phone
In the wake of becoming a worldwide star, DeAndre released a third album called The DeAndre Way, and that's when the downturn of his career trajectory began.
On the Billboard Hot 100, the song reached No. 90 before disappearing altogether in its second week, and things were not looking good for Soulja Boy.
However, all was not lost. Although his music career was over, he was still working behind the scenes.
He has written songs for Willow Smith, Jasmine Sullivan, and Trey Songz, as well as launched his own video game consoles and dish detergents. Quite the enterprising young man that Soulja Boy. What do you think? Comment your opinions below.