Meek Mill , Kevin Hart & Michael Rubin Donate $15M To Philly Schools!!!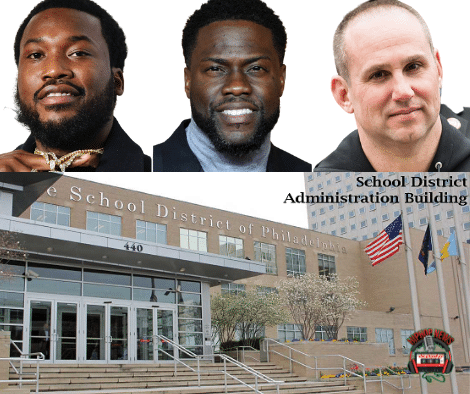 Philadelphia natives Kevin Hart and Meek Mill are donating generously to Philadelphia schools. Also, 76ers co-owner Michael Rubin is contributing.
What Will $15M Do For Students In Philadelphia?
This very large donations will pay for tuition costs. On Wednesday the trio announced plans to donate the money to 110 Philly area schools, as reported by People. The tuition cost will be paid for upcoming semesters in 2022-2023.
Schools who receive them money include both private and parochial schools. For some students in low-income areas it is difficult for parents to pay tuition. Therefore, having their tuition will help parents who could not otherwise afford sending their children to private or parochial schools.
Sources report, there has never been such a large donation from three celebrities. Hart and Mill have given generously before to their hometown. In fact, Hart has donated 500 computers on different occasion in the past few years. Because of Harts philanthropic endeavors many students have computers.
Like wise, Mill has taking giving back to another level. In 2021, Mill partnered with Michael Rubin, Roc Nation (Jay -Z's organization), and Patriots owner Robert Kraft to provide over $500k worth of gifts. The gifts included laptops, tablets, bikes, board games and coats.  In addition, Mill donated $30k  to the Philadelphia chapter of Twelve Days of Christmas, according to ABC News.
Hart shared why he give so generously,
"I am blessed to be in a position that allows me to give back to the city that made me who I am"
Obviously, Hart, Mill and Rubin understand how important it is to give  to those who are less fortunate. Hopefully, their efforts to give back will go to students who need it the most.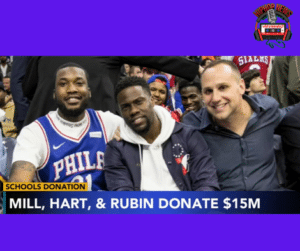 For more Hip Hop Social News, check us out at Hip Hop News Uncensored. It's the leader in Hip Hop YouTube Commentary.