Tyga Ordered To Stop Wavy Baby Sales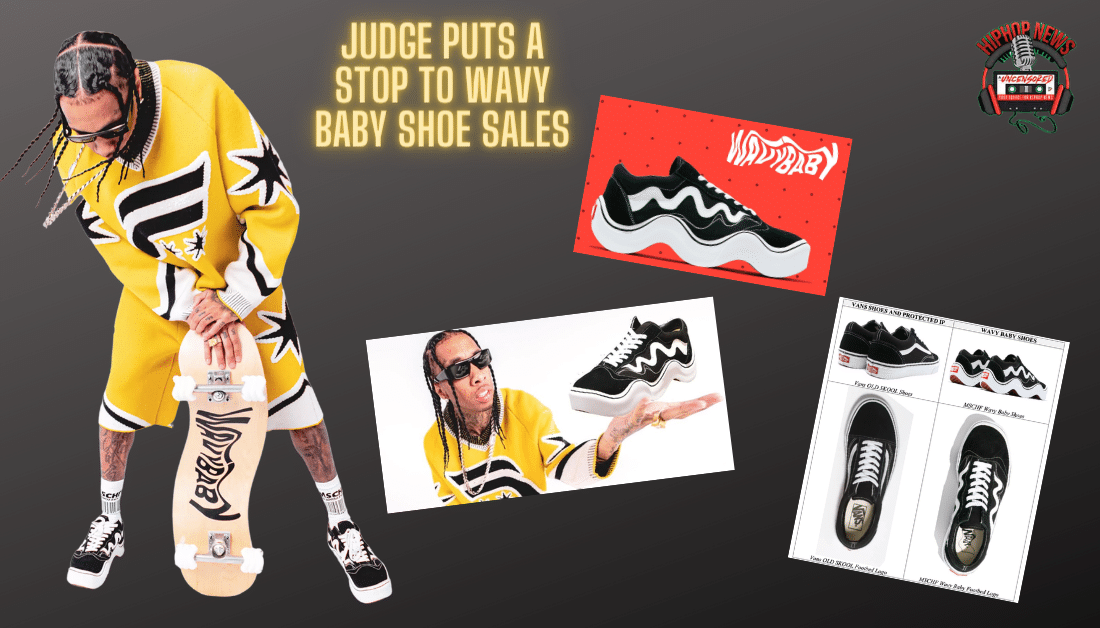 Tyga Ordered To Stop Wavy Baby Sales. Recently MSCHF collaborated with Tyga on the Wavy Baby shoe. And the Vans corporation quickly filed a lawsuit citing Trademark Infringement. Well, a New York judge has put a halt to all Wavy Baby sales.
Wavy Baby Vans Maybe
Tyga Ordered To Stop Wavy Baby Sales. A few weeks ago, Vans reported they're filing a lawsuit against MSCHF for biting their iconic skate shoe.
Coincidentally, the Wavy Baby shoe bears an uncanny resemblance to Vans' classic OLD SKOOL skate shoe.
The color scheme is one thing. But the fine details can be mistaken for a Vans collaboration rather than Tyga.
Unlike Vans, the Wavy Baby shoe costs a pretty penny. Consumers can snag this black and white sneaker starting at around $200. Certainly, they can go for more than $300.
As a result, resalers are already taking advantage of resale shoe sites like GOAT and StockX. And yes, they're making a good coin!
However, the similarities are far too great. Thus, Vans won their motion to temporarily stop all Wavy Baby shoe sales effective immediately.
Allegedly, any orders already placed have to be canceled and placed in escrow so MSCHF can refund consumers.
As a result, MSCHF loses money instead of profiting.
What The Documents Say
Of course, the restraining order is temporary. But, here's what the documents say.
The MSCHF legal team argues that those who know the difference, know. Ultimately, that's their target audience. Are they being mischievous? Who knows.
Subsequently, Vans pointed out that Wavy Baby:
    "Blatantly and unmistakably incorporates Vans' iconic trademarks and trade dress."
They continue in section 97 of court documents to compare both designs.
    "Defendant's side stripe is confusingly similar to Vans' Side Stripe Mark when compared side by side. When encountered at separate times, as most consumers will do in the marketplace or in the post-sale context, the parties' respective designs are even more confusing."
The takeaway here is that consumers might mistake one for the other.
Furthermore, section 98 of Vans' lawsuit states:
    "Defendant's infringing Wavy Baby shoe also deliberately incorporates another iconic feature of the Vans OLD SKOOL shoe: the square, red and white heel logo on the back of the shoe."
Coincidence or conspicuous? At any rate, Vans is not letting up on Tyga and MSCHF. The case continues in court.
What does this mean for T-Raww and MSCHF? What's the Wavy Baby shoe giving?