Top 5 Female Diss Tracks of All Time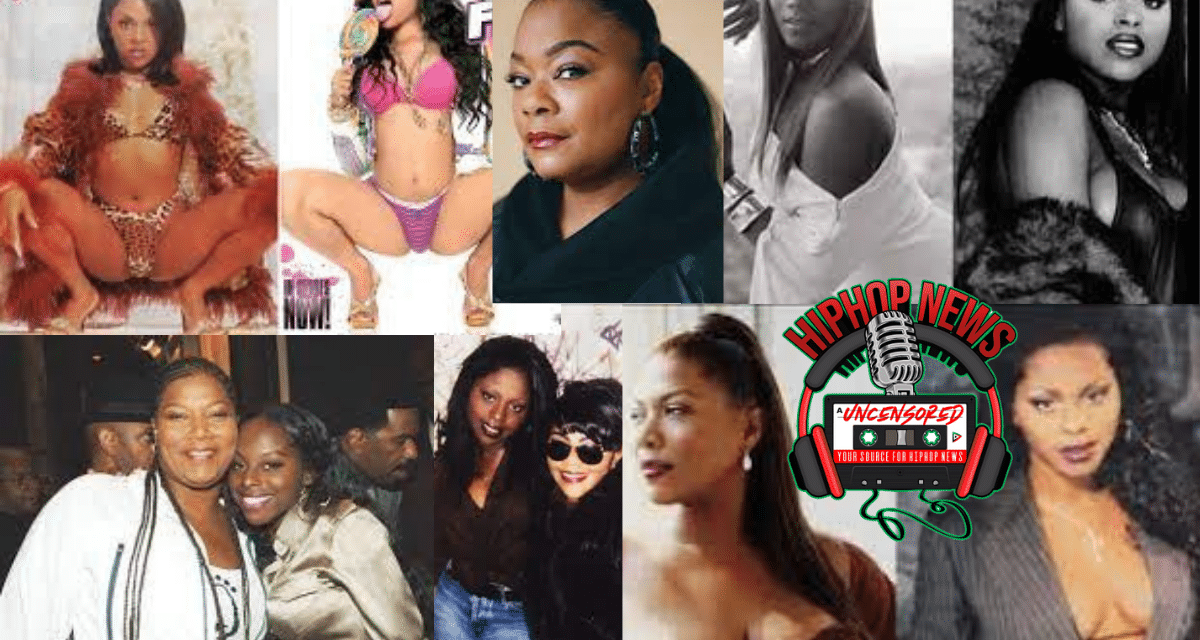 This article isolates, in an effort to appreciate, foundational artists of female rap. When we think of diss tracks Tupac's hit 'em up and ether by Nas come to mind for any sound hip hop aficionado. However, the women of rap have proven to hold their own with flows and punchlines comparable to their male counterparts. Here is our list, let us know what you think.
5. 10% Diss & Talk to me
At number 5 is Foxy Brown's 10% Diss & Talk to me, a diss track directed at hip hop royalty; Queen Latifah, and Queen Penn. Without getting into the dubious background of the rap beef's origin, we want to first acknowledge the obvious, Foxy Brown is petite. The 5' 2" lyrical powerhouse went on wax publicly challenging women of formidable size and weight known for having "hands" in other words these women were not just talkers, they were also brawlers.
The rap beef of today often results in legal action – a cease and desist, libel, character defamation lawsuits, etc. In the early '90s, the climactic culmination of a rap beef ended in a skirmish or shoot-out. This was a brazen move for the Lil' Kim-sized rapper. There are very few notable punchlines in the song but the flow is emblematic of a sound that reached out of the '90s and into the early 2000s. We appreciate this one for the culture.
4. Name Callin'
Befitting of number 4. We have Queen Latifah's "Name Callin'". This epic diss has two parts. For our purposes, we are adding part 2 only. Queen Latifah's voice on a track is like fire on a struck match. She blazes the beat with enunciation and tone alone, not to mention punchlines and pockets uniquely her own, although Treach from Naughty By Nature (at times) presented a similar sound.
Queen Latifah rapped seamlessly with an unbroken flow on three separate beats of chart-topping songs on this diss track. The knockout line in this song is, I'm not trippin'/ I heard you rippin' /but I'm into breaking b**ches sendin' them back to they first career; strippin'
The beef was won by Queen Latifah as Foxy Brown faded into the background after once rivaling Lil' Kim. One went on to continue in their Hollywood career while the other became a cautionary tale of sorts. In 2005 Foxy Brown woke up one morning deaf in both ears. She eventually gained her hearing back after reportedly not hearing a voice for 6 months.
3. Black Friday
The most chilling part of a diss track and perhaps the most painful for the person on the receiving end is when that which is said, is a verifiable fact. In other words, the truth hurts. Number 3 on our list of the top 5 female diss tracks of all time is Black Friday by Lil' Kim.
The Barbs loved it when Nicki Minaj famously referred to new female rappers as her sons. In hit single, after hit single, she continued to do this calling these women her sons in more interesting and innovative ways. So when her predecessor The Queen Bee says, "I mothered you hoes I should claim you on my income taxes" the barbs and killer beehive collectively froze in awe at the truth when it reached them. Black twitter went on for days examining the lyrics with a fine-toothed comb creating memes and hashtags of every diss inspired by actual events.
Not only does Lil' Kim credit herself with the birth of Nicki Minaj, but prior to the beef, so did Nicki Minaj. Lil' Kim is the rapper she modeled herself after and emulated the most. In reality, Lil' Kim is the Pink Print, as in; the blueprint for what all "pink" or female rappers after her should embody in order to secure success.
Every top-selling female rapper since Lil' Kim is heavily influenced by her, whereas Lil' Kim is truly an original. Most lady rappers in the male-dominated hip hop genre predating Lil' Kim wore masculine clothing and avoided topics that would suggest they were sexual savants. Salt, Peppa, and Spinderella teetered on this line but Lil' Kim with Fendi prints on, changing the image of female rap forever. When it comes to Black Friday, Lil' Kim is a mother scolding her child.
2. Shether
Beyonce' said she could stop the world but when Remy Ma ethered rap royalty, Nicki Minaj, she proved that she could too. Remy Ma made 2017 a year the entertainment industry will never forget. When you name a song after a well-known diss track by an established rap legend (Ether by Nas), your song has to be as good or better. Remy Ma one-upped Nas when she shethered Nicki Minaj. The seasoned battle rapper did not hold back. Her diss track was so epic, people accused her of having her lyrically acclaimed husband Papoose as a ghostwriter. Critics claimed that no woman could write something so devastating, but one look at dated video recordings of Reminisce Martin battle rap performances would prove that this is purely conjecture.
Circling back around here to the fact that diss tracks cut deeper when the words are true. The Terror Squad Rapper was named years ago by Nicki Minaj as one of her top 5 favorite rappers and Shether showed us exactly why. Remy Ma can respond with devastating bars overnight, literally. On The Breakfast Club, she discussed keeping a mental Rolodex of every foul thing and foul move a person has to their name, storing it away in the recesses of her mind for a rainy day. She rained all over Nicki and the Barbs day that day, and offered up one of the biggest career blows in the history of Nicki Minaj's career. The one-liners in this song are in every bar. The Puns, pockets, and positions she played far surpassed the creativity of most men's diss tracks to date. Onika "Nicki" Maraj is legendary, she bounced back like any GOAT would who has solidified their name in Hip Hop History, the scar, however, remains.
1. Big Mama
True Hip Hop fans may disagree with this one but they won't be surprised. The New York City native from the Queensbridge Projects of Queens is the undisputed queen coming in at number 1 on our top 5 female diss tracks of all time. Nicki Minaj called the modern-day raptresses her sons ( allegedly a line stolen from a Remy Ma tweet) and Lil' Kim gave birth to Nicki Minaj. So when I say Roxanne Shante, a teen rapper from the 80s gave birth to the regal Hip Hop Royal, Nas, I rest my case. When every member of the Wu-tang clan hails a woman as a rap queen, you stand down for the crown.
Her Hip Hop Highness took down names so formidable in one song that it may have ultimately blackballed her career in the long run. Picking your battles is a strategy worth considering to everyone except Roxanne Shante'. "Big Mama" savagely dissed almost every prominent female rapper in 1992. Including but not limited to; Yo-Yo, MC Lyte, Queen Latifah, and Monie Love. It takes a queen to dethrone a queen. Bear in mind these women penned their own lyrics and stood firm publicly facing every consequence of career/life-threatening repercussions of lyrical combat.