Maralee Nichols Speaks Out Eloquently In Her Own Defense
Kar-Jenner Fans did not hesitate to drag Maralee Nichols from one side of the internet to the other. From Facebook to Twitter, and Tik Tok to Youtube, KUWTK fans have called Maralee a Gold digger and an opportunist.
Maralee has finally spoken out in her own defense and has been refreshingly forthcoming and articulate. Maralee has had her fair share of professional athletes when it comes to intimate relationships and is giving a bit of Brittany Renner tease.
What Do Maralee Nichols and Brittany Renner Have in Common?
What is meant by Brittany Renner tease is this: Brittany Renner has been tied to some of the highest-paid athletes we can name ( but won't name here) however when it comes to her basketball baby daddy, people are saying she trapped him for money when in fact, he is one of the lower-earning men she has come to know in the biblical sense.
Couldn't She have "trapped" a Wealthier Baller if That Were The Intention?
Meaning that, if she wanted to trap someone, it wouldn't be someone with a 4 million dollar contract who pays about half that in taxes. Brittany Renner only receives about $10,000 in child support monthly whilst she could have "trapped" other men for much more.
Each of these women was using birth control and became pregnant unexpectedly and chose life. One look at Maralee Nichols shows that she could have done way better than an unemployed athlete. Especially if it was about trapping a man with a baby for a paycheck. Perhaps Tristan is charming, perhaps she was looking for love.
Maralee Nichols In Her Own Words, In Her Own Defense
Maralee Nichols was of the understanding that Tristan Thompson was a single man, that things were not working out between them, and that the relationship was more of a publicity stunt than an actual relationship. Something that is really not hard to believe considering it is what Khloe alleged Tristan Thompson's mother and lawyer told her when he was with the mother of his firstborn son. Sources assured Khloe Kardashian that Jordan Craig and Thompson were no longer together despite her being in her last trimester of pregnancy with pictures of herself pregnant with Tristan by her side strewn across Instagram.
Tristan Thompson: The Common Denominator
It appears Maralee Nichols bought the same lie Tristan Thompson sold to Khloe. It should also be noted that Maralee Nichols remained relatively quiet until defamatory statements were made about her character. This is hardly the path of a clout chaser.
In her own words, Maralee Nichols had this to say, "He told me he was single and co-parenting," she said. "I would never have gotten involved with Tristan if I thought he was in a relationship."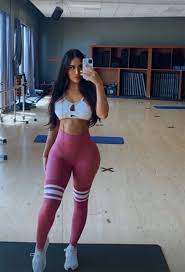 Maralee Nichols: Eloquently… Articulately…
Maralee has also been quoted as saying in her own defense, "Over the past couple of weeks, many inaccurate and false stories have been circulated about me. I have not at any point released – nor have I directed anyone else to release – any information regarding Tristan Thompson or any litigation involving him," Nichols began. "I have never spoken to any media outlet, nor have I leaked any information to anyone at any time. I am providing this statement because I feel I must defend my character."