Kodak Black Wanted Behind Bars After Latest Arrest!!!!
Prosecutors want Kodak Black behind bars after the latest arrest. Rapper Kodak Black is in trouble with the law again. Kodak had drugs and a weapon in his possession at the time of the arrest. Kodak was released after posting $20,000 bond. However, Kodak may be in serious trouble because he has other pending court cases.
Kodak Black might be going back to jail
The Florida rapper was trying to cross the U.S border. The Cadillac Escalade Kodak Black was driving had temporary California registration. New York police arrested Kodak and charged him with second – degree criminal possession of a weapon and unlawful possession of marijuana, according to New York Up State. These new charges coupled with the first -degree criminal sexual misconduct allegations of rape charges he is facing in South Carolina could be enough to re-arrest Kodak.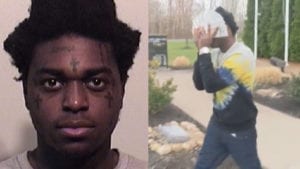 Check out the video above for more details
For more Hip Hop Entertainment News check us out at Hip Hop News Uncensored. It's the best YouTube channel for Hip Hop.