Meek Mill Airing Out His Issues With Atlantic Records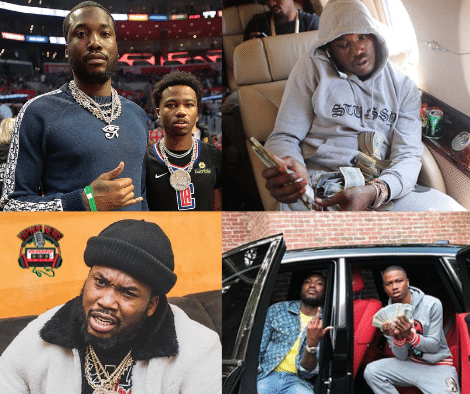 Rahmeek "Meek" does not have a problem blasting his music label. Allegedly, Atlanta Records is not letting Mill put out new music. And, the Philly rapper is not happy about it.
Take A Lesson From Meek Mill On Record Label Deals
Mills took to Twitter with his grievances. There appears to be an issue with Mill releasing music. According to Complex and other news outlets, Mill's contract with Atlanta Records ends in around nine months.
However, allegedly, Mill is not allowed to drop any music. This is problematic for Mill. Especially since his last project did not do very well. In fact, Mill shared this,
So look I made Atlantic records 100's of millions and let them rape me out out Roddy a artist they came to me about in jail … they still saying I can't drop music until 9 months after my last album got blackballed just wrapped buildings and Nina art with talent …

— Meek Mill (@MeekMill) February 1, 2022
Clearly, Mill thinks his album "Expensive Pain" was not given its just due. It is possible the cover of Mill's album may have dampened sales. Nevertheless, Mill is letting other rap artists beware of music labels. This issue reminds me of the 360 Slave Deal.
We have talked about this unfair practice in detail. With the "360 Slave Deal" artists don't make money for themselves. Instead, the music label makes most of the proceeds.
Is Meek A Victim Of The 360 Slave Deal?
One of hip hop news uncensored favorite guests(brother Khonsu) gave a very in-depth interview on the subject.
The new artist signs this 360 deal and gives up almost all of their rights to distribution, autonomy, musical performances, licensing, merchandising, publishing, etc. Unfortunately, this practice of signing 360 deals is primarily reserved for hip-hop artists.
There is a possibility that Mill may have signed a 360 Slave Deal. Also, Mill mentions that he and Roddy Rich were going to collaborate but it was halted. So, what really happened between Rich and Mill?
Also, I am curious about why Rick Ross is so silent. Wasn't it Ross who help to build Mill's career? Is there something Ross can do about Mill's situation with Atlantic Records?
Thankfully, as Mill mentioned is not totally dependent on his music for income. Furthermore, it was courageous of him to provide this information about record labels. A young artist new to the music industry may be afraid to speak out like Mill.
Hopefully, young rappers will take heed to Mill's message.
For more Hip Hop Entertainment  News, check us out at Hip Hop News Uncensored. It's the leader in Hip Hop YouTube Commentary.