Nick Cannon Calls Eminem 'Elvis Presley On Crack'!!!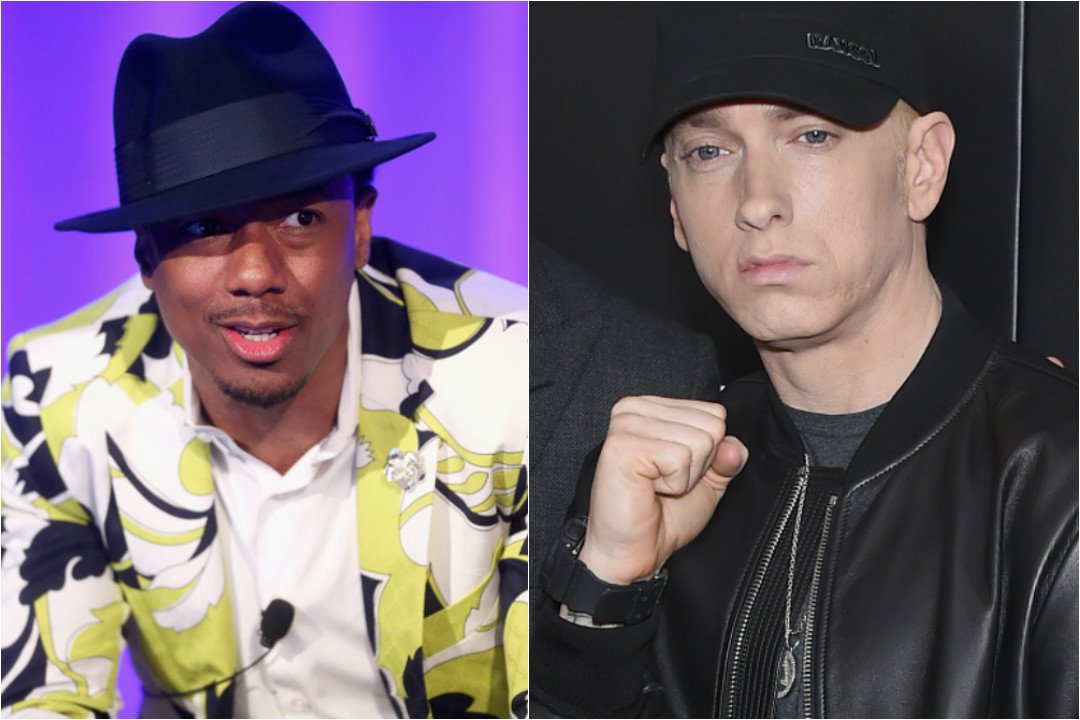 Nick Cannon calls Eminem 'Elvis Presley On Crack'. After a long-standing beef, Nick Cannon has some strong opinions about Eminem's contribution to hip hop.
Black People, The Originators Of Hip Hop Don't Listen To Eminem
Back in the day, Nick Cannon and Eminem feuded over Eminem's beef with Mariah Carey. During an interview with VladTV, Nick had some new words to illustrate Eminem's impact on hip hop.
As reported by BET, initiating the conversation was New York rapper Lord Jamar, stating –
"White people will crown Eminem king because he sold the most records out of all rappers," Jamar contended. "But when we go into everyday life of Black people, people who are the originators of [hip-hop], we don't listen to Eminem. We don't go to the gym and turn on Eminem. We don't listen to him on the way to the club."
Women Are The Ones Buying The Tickets And Screaming In The Front Rows
Even though Cannon admitted that Eminem was on his list of top 5 rappers, he spoke on his feelings about the Detroit rapper, stating –
"It's capitalism at the end of the day, hip-hop music, the people that buy hip-hop music are white people, specifically white girls. Like, if you look at the actual demographics and how it all breaks down, well, music in general. Even when you look at the streaming numbers, women, number one, are the biggest connoisseurs when it comes to consumption. Then when you break down demographically how it all works — from the fanbases to the girls who buy tickets and are screaming in the front rows. They create the stars."
Elaborating further, Nick Cannon continued –
"Us as guys, we sit back and we respect cats — we respect Nas, we respect Hov, we respect [E-40] and [Ice] Cube and we can sit there and talk about them, but we ain't gonna go out and fanboy for the m*th*f*cka. Fanning for somebody is where the money is. That is what creates a superstar."
Adding to his rant, Nick compared the success of Eminem as a white man in hip hop to the likes of The Beatles and Elvis Presley.
"When you get a blonde-haired white boy that is actually dope, that's like the second coming of Christ to the music industry, because you gonna get all of the credibility, like dude, you can't deny that he's dope. He'll get in front of anybody, battle anybody. Then, the fact it's like, 'Oh s**t! I can sell and market this m*thaf*cka like Pepsi? And he's crazy and entertaining too? Oh, he's a superstar. Oh he's Elvis on crack.'"
For more Entertainment News check us out on Hip Hop News Uncensored. It's the best YouTube channel for Hip Hop.