Cardi B & Offset Check J Prince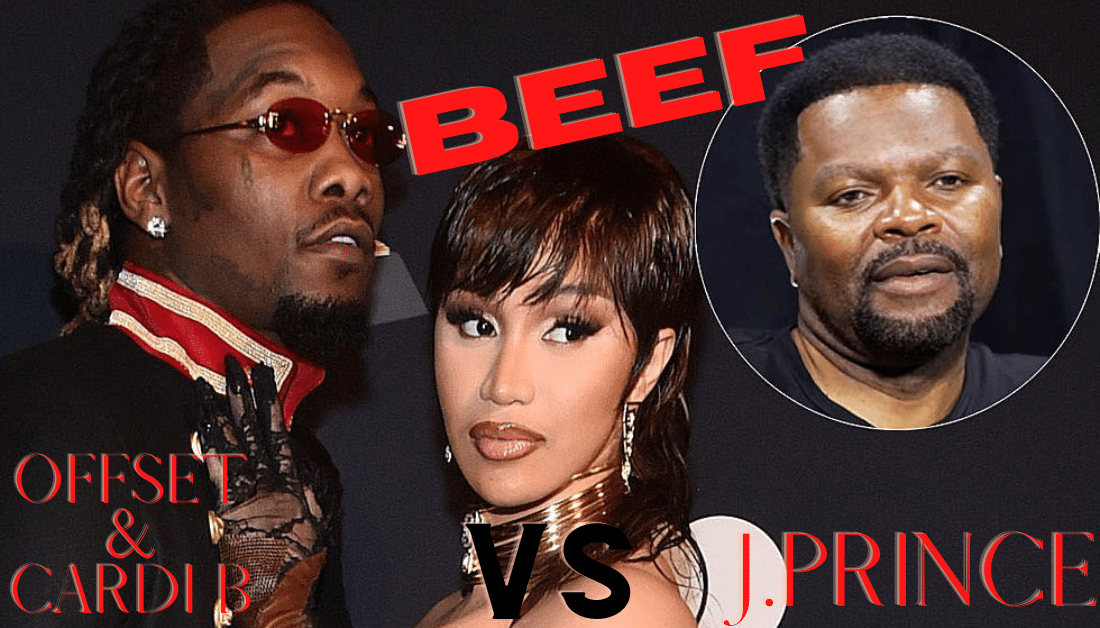 Cardi B & Offset Check J Prince. First J Prince made some comments about Offset. Then Offset replied. Now, Cardi adds her thoughts.
What Is Going On With J Prince, Cardi B, And Offset?
Cardi B & Offset Check J Prince. Is there a feud brewing between hip-hop old "G" and the hip-hop couple? Recently J Prince claimed he came to Offset's rescue. Furthermore, he claims he did the same for Cardi.
This all started because of the death of Takeoff. Takeoff was part of the hip-hop trio ( The Migos). The Migos was a rap group consisting of Offset, Quavo, and Takeoff.
The Atlanta trio is famous for hits such as "Bad And Boujee", "I Get Bag", and 'Walk It Talk It."  According to Vibe, the beef between Offset and J Prince is ongoing. In other words, after Takeoff shooting death J Prince things went south.
There were rumors of J Prince's involvement in Takeoff's death. Especially since he was at the bowling alley at the time of Takeoff's shooting. However, J Prince claimed he had nothing to do with it.
Nevertheless, the rumors kept swirling. At that time, J Prince took to social media to address the allegations. Fast forward, recently J Prince made this statement,"
View this post on Instagram
Of course, J Prince said much more. But that is when the beef ignited. Offset fired back saying,
"Y'all ni**as speaking on my real brother," the FATHER OF 4 rapper began. "How dare one of y'all ni**as even speak on me and take relationship. I don't know you ni**as from a can of paint. You'll ni**as don't know how me and my brother rock, ni**a. You're trying to clear your face, ni**a, this is the fifth interview you did about my brother. You ain't think about their momma? You ain't think about the family, ni**a? We ain't said nothing. Ain't nobody said nothing but you ni**as."
"Who y'all ni**as think y'all is, John Gotti, ni**a? Ain't nobody going for none of that, bruh, I ain't stunting none of that sh*t y'all ni**as talking about neither. And if you heard something from me, I'm tell you. It's gonna come from me, call my phone. Y'all ni**as going off of he-say she-say and y'all ni**as on interviews, airing it out in an interview talking about I said this. Call my phone, homie. You call my phone, we'll have a conversation."
Not only that, but Offset and J Prince continued to feud. Keep in mind, this all took place on social media. We don't know if either of them spoke directly. Meanwhile, Cardi gets wind of this. She proceeds to clap back at J Prince.
J Prince Claims He Protected Cardi While She Was In LA
Amid this, Cardi steps in, as reported by XXL Mag. Rap-A-Lot CEO claimed he helped Cardi when she was threatened by LA gangs. What we were able to uncover, Cardi was performing in Los Angeles.
An alleged claim was made about Cardi insulting The Crips gang. After all, it has been alleged Cardi is a member of the Bloods. So, there appeared to be some issues with that. Again, these are allegations, only.
For this reason, J Prince claims he did Offset a favor by protecting Cardi. In this case, this has turned out to be one big mess. So much so, Cardi and Offset are firing shots back and forth with J Prince.
I think they should all have a sit-down. Perhaps, they can squash this beef. Otherwise, things may get worst.
Check out the video above for more details.
The Hip Hop News Uncensored. It's the Leader in Hip Hop content on YouTube