Famous Hip Hop Music Producers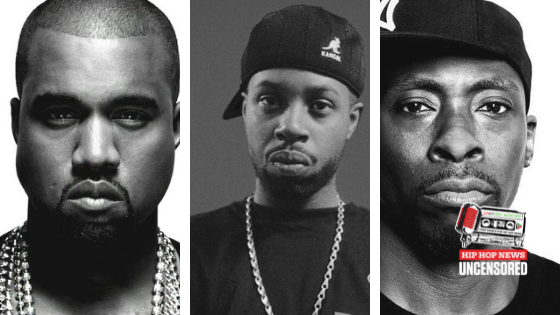 Hip Hop is a music that's diverse in culture. There's nothing more hip hop than a nice production that uses samplers, sequencers, drum machines, synthesizers, turntables, and live music. In a world where beats are everything, the hip hop producer is referred to as a beatmaker. But who are some famous hip hop music producers? Well, at HipHopUn.com, let's talk about which three beatmakers we think are some of the top hip hop producers.
Our List of Hip Hop Music Producers
When we evaluated famous hip hop producers, not only did we look at record sales, we did a basic "smell-test", or which music we thought that was actually, LEGIT MUSIC BEATMAKERS, and finally, we took a look at overall credibility. How do Hip Hop producers make music? Creativity. Hip Hop Producers make music with samples, beats, and instrumentals. This list ain't about the INFAMOUS Hip Hop Producers, though it is about Hip Hop, so we're gonna keep this shit HIP HOP.
Kanye West
Gemini, Kanye Omari West, who is also a rapper, singer, songwriter, entrepreneur, clothes designer (have you seen the Yeezy's?!?) and best of all, music producer. Kanye or Yeezy as what he is often affectionately called, got his break into hip hop based on his beats. Here is one of Kanye's most famous beats, with commentary of Kanye added.

J Dilla
Born James Dewitt Yancey, Hip Hop Producer Pioneer, also known as J Dilla passed 3 days past his birthday on February 10, 2006. J Dilla left his mark in the industry with not only his beats, but who he mentored or put on in the game. J Dilla is often confused with beatminer AND maker Nujabes, J Dilla gave birth to producers like Eminem's boy, Dejuan Porter. Here is a hot J Dilla track.

Pete Rock
Looks like being a Gemini and a producer seem to go hand in hand. Inspired by Godfather of Soul, James Brown, Peter O. Phillips is not only nice on the wheels, but as member of rap duo Pete Rock and C.L. Smooth. Pete Rock is responsible for tracks on Illmatic, Monumental and more.

A Recap of Our Top 7 Legendary Hip Hop Producers
Kanye West
J Dilla
Pete Rock
Dr. Dre
Timbaland
Pharrell Williams
Missy Elliotte
If it Wasn't for these Famous Hip Hop Producers
If it wasn't for these famous Hop producers, we very well could've missed out on the Golden Age of Hip Hop. Ahh… The beatmaker. The most famous guys in Hip Hop, that you only hear, but may not know.