6ix9ine Accuses His Promoters Of Stealing 3M In Concert Money
Rapper Daniel Hernandez better known as Tekashi 69 accuses his promoters of stealing $3 million in concert money. On the Uncensored Truth Podcast host O'God and Sam Ant talked about Tekashi firing his entire crew including his manager, agent and promoters.
Tekashi interview with The Breakfast Club
Earlier this week Tekashi went on Instagram and shared with his fans he had fired his entire crew. Tekashi fired his manager, Tr3way, agents, security staff and promoters. At the time we had little details. However, Tekashi sat down with the host of The Breakfast Club, Angela Ye, DJ Envy and Charlamagne Tha God to discuss why he fired everyone.
Tekashi held nothing back. He talked about his success. Apparently, his promotion team was stealing money from his concerts. Here is some of what he shared in the interview:
"I'm the hottest artist in America," he says. "My rate right now for shows in $100,000. Nothing under $100,000. So they're like we got these 15 days for you. These dirty ass booking agents are like. 'Yo, we have $ 60,000 for this that and the third, right? I'm like, 'Yo, why so low? 'Listen Tekashi, we're cleaning up your name right now. These venues are scared of you.'

"They're like, 'Yo, this kid is a loose cannon.' I don't care. It's not stopping my money because I still get booked. Live Nation has their venues… There's other venues. You're not going to stop me. I'm gonna get away with everything I wanna get away with. So these dirty promoters, this MTA Booking, they're dirty. [they told me] 'Most of the money is going to security and local police because they don't want you there, so we have to pay for that."
Tekashi discovered that the booking agents has skimmed $120,000 off one of his offers. Also, the booking agents threatened to do something to Tekashi's mother if he did not show up to perform, according to Complex.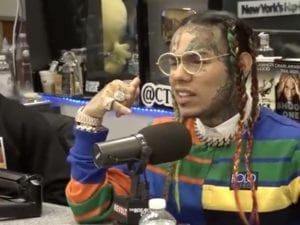 Check out the video above for more details
For more Hip Hop Entertainment News check us out at Hip Hop News Uncensored. It's the best YouTube channel for Hip Hop.