Top 5 Tik Tok Trends of 2021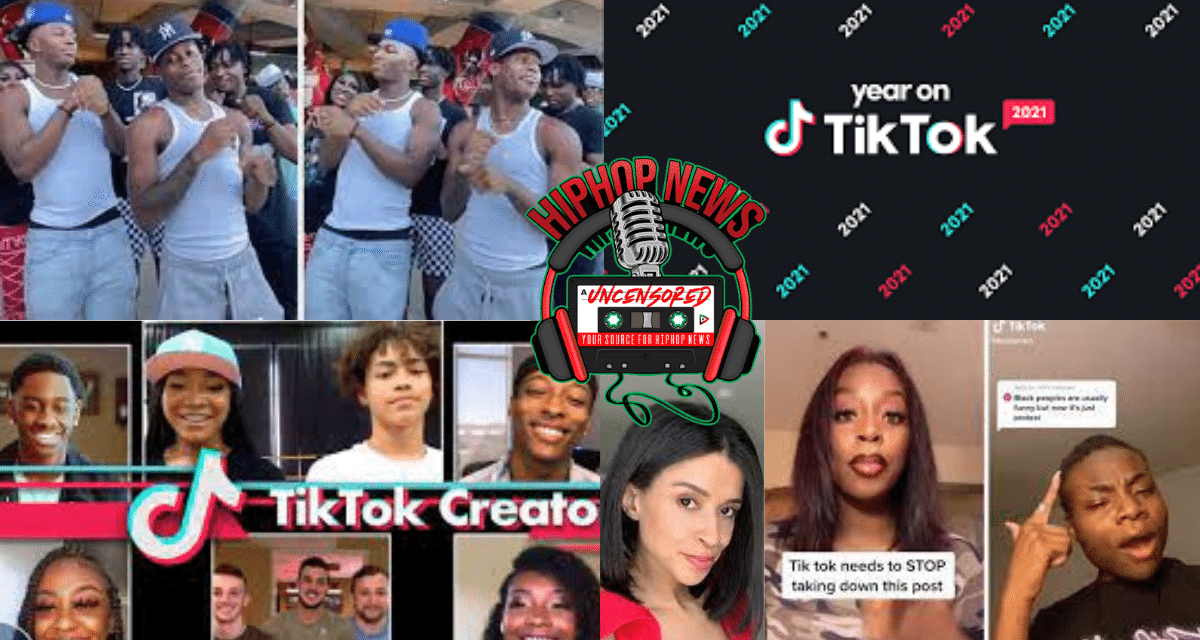 As the new year encroaches upon us, we stop to reflect on the trends that rocked "the clock app" Tik Tok. Tik Tok is known for putting both Youtube and Instagram through identity crises. This is because the app pushed them to the back of the social media line in less than a year. Tik Tok is the most popular app on social media to date. This is Hip Hop Uncensored's list of the top 5 Tik Tok trends of 2021.
5. The Silhouette Challenge
How could any of us forget this sexy sultry challenge that had people arguing back and forth about whether or not to participate?
Originally, the #SilhouetteChallenge was a body-positive movement to empower women to celebrate their bodies and sensuality. People of all shapes and sizes began displaying their frames and receiving praise, admiration, and support on social media. However, as quickly as it became viral, it lost its appeal. Some started sharing tips and tutorials to remove the red filter to reveal naked bodies without their consent.
People have been mesmerized by the viral challenge as women and men show off their figures with the help of a red light filter and a doorway. The video begins with a smooth Paul Anka song before transitioning to "Streets" by Doja Cat. Then they strip off and hold different poses to reveal their curves with the red filter.
To complete the challenge, participants need to make two videos of themselves and then combine them using audio from Tik Tok. As Anka sings, "Put your hand on my shoulder," the person stands in front of the camera in normal lighting while wearing casual clothes, with some wearing robes and pajamas.
The music then switches to the "Streets" beat, and the camera filter turns red. A shadow effect is created as the participants stand in a doorway with an outside light source to show off every curve. Many chose to do it naked, leaving little to the imagination, while others wore underwear or bikinis. Comedic takes were also done with this challenge that were noteworthy as well.
4. The #BussitChallenge
From Shabby to Chic, people all over the world showed us how well they could clean up and we were all here for the challenge. If you do not remember, Chloe Bailey ended this challenge. The challenge, which utilizes Texas rapper Erica Banks' song, "Buss It," is simple and entertaining. Two different outfits, some video editing skills, and twerking skills are all you need (you don't really need to be able to dance).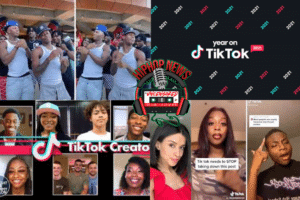 Banks' song was released in 2020, but it took off in the first few weeks of 2021. The first person to take up the challenge was Erika Davila. On Jan. 1, she shared a video of herself dancing along to "Buss It" without transitioning. "Please tag me. And if this has been done I'm sorry, I just fux wit the song." the caption reads. In her video, she challenges viewers to make their own videos, writing, "Someone plz do this transition but all prettied up omg please," creating what appears to be a challenge. A later video by Davila featured a more elaborate transition.
3. The Backyardigans song "Castaways"
From 2004 to 2013, Nick Jr. aired the Backyardigans, a children's show about five friends who go on imaginary trips in their backyard. The season 1 episode "Castaways" has a musical component, and focuses on Uniqua (the pink character and her species), Tyrone (the orange moose), and Pablo (the blue and yellow penguin) as they imagine themselves on a deserted island. (Austin, the purple kangaroo, looks on from his house, but he is hesitant to approach his friends.)
Uniqua, Tyrone, and Pablo all sing "Castaways," a song about how they ended up on a deserted island to begin with. The Backyardigans is pure nostalgia for many TikTok users in their teens and early 20s. Several topics are discussed, including who their favorite characters are and whether "Castaways" is even the best song. The sound has been used especially for mocking people who take over the personal narratives of others.
2. "Thot Sh**" By Megan Thee Stallion
One of the most racially divided Tik Tok trends of 2021 was by far Megan thee Stallion's "Thot Sh**". Black creators were making up dances only to have them used by nonblack creators who earned fame and monetization as a result. Several times, this theme of cultural appropriation emerged until African Americans on Tik Tok called for a boycott of New song "hot sh**" choreographed by Megan The Stallions. New songs by hot artists like Meg, Doja Katt, and Saweetie almost always automatically become Tik Tok sounds.
So when The Blacks took a seat, they showed and proved that when it comes to "dance tok", they are the beating heart and soul behind it. Several major TikTok content creators made fun of the people who tried their best to be creative without the help of African American dancers and choreographers. They made up dances that did not fit the song, and the choreography was mediocre at best. From this protest dancers who were often snubbed began getting the recognition they deserved. This includes help with ownership of their choreography.
1. The Don't Rush Challenge
By far one of the most pervasive long-lasting trends of 2021 was the Don't Rush Challenge. "Don't Rush" by Young T and Bugsey is used as the soundtrack. A group of friends record themselves in robes, with hair tied up, and fresh out of bed 'fits' in the style of "from bummy to baddie," though not all videos use the same sound. Each time they wave a makeup brush at the camera, they quickly transform into a "going out" version of themselves – all on their own, of course.
Each creator, after a full transformation, takes turns creating the illusion of dropping a product (which could be a makeup brush or a set item, depending on the theme of the video). The looping nature of this challenge makes it one of the most appealing to watch, and the unveilings, as it turns out, become addictive!
The challenge was a fun way to engage with friends virtually during a time when we're all socially distant. In addition, it gave us an excuse to do our makeup and to wear a cute outfit (that won't go to waste since we'll be seen wearing them).
Each participant in the compilation has to shoot their own parts separately, and someone has to put them all together at the end. This challenge requires you to start your video in your "home attire." It could be your bathrobe, bonnet, or favorite jammies. Your video should begin with you showing off your cute loungewear, followed by a makeup brush covering your phone camera.
Many people use a makeup brush, but others get creative and use towels, their hands, or anything else relevant to their interpretation. A viral video showed Black women pilots using their aviation headsets in place of the makeup brushes in the #DontRush challenge. Women doctors used their lab coats in another video. Even the cast of Orange is the New Black used oranges to transition between scenes. The #DontRush Challenge aims to demonstrate the dual nature of everyone's lives, whether in their field, in their culture, or simply with their closest friends.