NFL Legend & Activist Jim Brown Dead At 87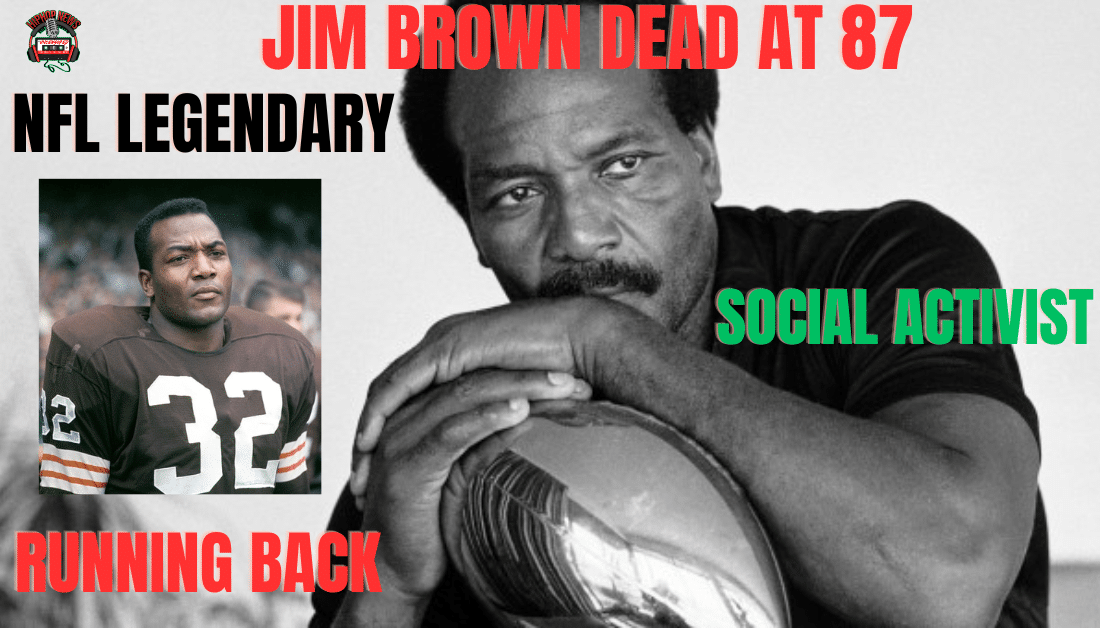 NFL Legend & Activist Jim Brown Dead At 87. Brown was a legendary running back for the Cleveland Browns. Also, he was a civil rights leader. He was widely considered one of the greatest players in NFL history. Also, Brown was known for his work advocating social justice and equality. Sadly, his death marks the end of an era for football and a loss for the broader civil rights movement.
Remembering the Life and Legacy of Jim Brown
NFL Legend & Activist Jim Brown Dead At 87.
Born in Georgia in 1936, Brown grew up in a segregated America.
And I have experienced firsthand the injustices of racism and discrimination.
Despite these challenges, he excelled in sports and became a standout athlete at Syracuse University.
Where he set numerous records and earned All-American honors.
Later Brown was drafted by the Cleveland Browns in 1957.
Remembering Jim Brown

Brown was a first-round pick, according to TMZ.
Early on, Brown established himself as one of the league's premier players.
Brown's impact on the NFL and American society cannot be overstated.
On the field, he set multiple records and won numerous awards, including three MVP awards, eight rushing titles, and a championship in 1964.
His hard-nosed running style and unmatched athleticism made him a fan favorite and a terror for opposing defenses.
He was equally impressive off the field, using his platform as a star athlete to advocate for racial equality and social justice.
We can't fail to mention that Brown was an outspoken critic of racism and discrimination.
Proudly, Brown took on racial issues in all its forms.
All while using his prominent position to speak out against injustice and inequality, as stated by USA Today.
As a crucial figure in the civil rights movement of the 1960s, Brown worked alongside activists like Muhammad Ali and Malcolm X to fight for change.
Brown founded the Amer-I-Can program, which seeks to empower young people and help them overcome the challenges of poverty and violence.
Football Icon and Social Justice Advocate
Despite his many accomplishments, Brown remained humble and focused throughout his life.
We are constantly striving to make a positive impact on those around us.
His legacy will live on as a football icon and a social justice advocate, inspiring generations to use their talents and platforms to make a difference in the world.
Jim Brown's passing is a sad day for football fans and civil rights activists alike.
His contributions to the sport and the broader social justice movement will be remembered for years.
Monique Brown share this,
"It is with profound sadness that I announce the passing of my husband, Jim Brown," Monique Brown tells us. "He passed away peacefully last night at our LA home. To the world he was an activist, actor and football star."

"To our family, he was a loving and wonderful husband, father and grandfather. Our hearts are broken."
As we mourn his loss, we also celebrate his life and legacy.
Thereby paying tribute and honor to his commitment to making the world a better place.
Rest in peace, Jim Brown – you will be missed.
Equally essential to mention is Brown's transition into Hollywood roles.
Hollywood gained much respect for Brown's acting skills.
One of Brown's most memorable roles was starring in "The Dirty Dozens," a movie.
Of course, Brown was in several Blaxploitation films.
However, you may remember Brown in "Any Given Sunday," The Running Man," and "He's Got Game."
The NFL issued an official statement saying,
"On behalf of the entire NFL family, we extend our condolences to Monique and their family," said NFL Commissioner Roger Goodell. "Jim Brown was a gifted athlete — one of the most dominant players to ever step on any athletic field — but also a cultural figure who helped promote change. During his nine-year NFL career, which coincided with the civil rights movement here at home, he became a forerunner and role model for athletes being involved in social initiatives outside their sport. He inspired fellow athletes to make a difference, especially in the communities in which they lived."
I concur. Rest In Power!!
Hip Hop News Uncensored. It's the Leader in Hip Hop content on YouTube!