Soulja Boy Admits There Was No Beef With Youngboy & Durk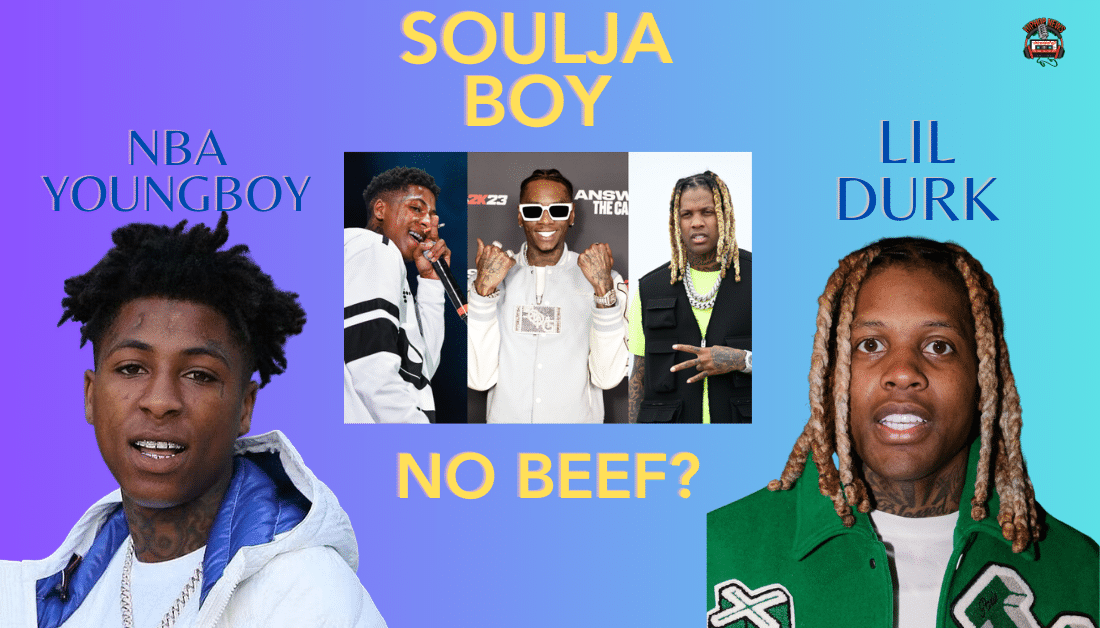 Soulja Boy Admits There Was No Beef With Youngboy & Durk. For Soulja, it was only friendly competition. However, Soulja likes being in the middle of controversy. Is that why he staged this alleged beef?
Soulja Boy: The King of Controversy Strikes Again
Soulja Boy Admits There Was No Beef With Youngboy & Durk
DeAndre "Soulja Boy "Cortez Way, has never avoided controversy.
Soulja Boy has constantly stirred up controversy in the music industry.
From claims of being the first to use social media to launch a music career.
He first made waves in the industry with his hit song "Crank That" in 2007, which quickly became a viral sensation.
Since then, he's been involved in numerous beefs, including one with Drake in 2019.
Most recently, Soulja Boy has been going back and forth on social media with NBA Youngboy and Lil Durk.
The drama started when Soulja Boy claimed he had more money and hits than combined.
NBA Youngboy fired back with a diss track, and Lil Durk got involved.
Despite the heated exchanges, Soulja Boy maintains that it's all just friendly competition, as stated by XXL Mag.
More importantly, Soulja claims he respects both artists.
During his appearance on "The Bootleg Kev podcast," Soulja cleared things up.
In other words, Soulja claims the alleged beef was just in the spirit of competition.
But I wonder if Lil Durk and NBA Youngboy feel the same?
Especially since both Durk and Youngboy did not take it that way.
Here's the kicker, Soulja admits he would collaborate with Youngboy, according to Hip Hop DX.
Hip Hop News Uncensored. It's the Leader in Hip Hop content on YouTube.
NBA Youngboy and Lil Durk: Just Pawns in Soulja's Game?
While Soulja Boy claims that his beef with NBA Youngboy and Lil Durk is just friendly competition, some fans and critics are skeptical.
Many believe that Soulja Boy uses artists to stay relevant in the industry.
NBA Youngboy and Lil Durk have been making waves in the rap game recently.
That has allegedly become problematic for Soulja.
Who wants to stay relevant in the rap game?
So, I can see why he would cause stir up a ruckus with Youngboy and Durk.
It is another way for Soulja Boy to capitalize on their success.
However, it's also possible that the beef is genuine.
The rapper has always been vocal about his confidence and belief that he's the best in the game.
It's possible that he genuinely believes he's better than NBA Youngboy and Lil Durk and is using the beef to prove it.
Whatever the case, the drama has undoubtedly generated a lot of buzz for all three artists.
Ultimately, whether Soulja Boy's beef with NBA Youngboy and Lil Durk is, genuine or just friendly competition is hard to say.
Regardless, it's clear that Soulja Boy isn't afraid to stir up controversy and make headlines.
Love or hate him, Soulja Boy is still making waves in the industry.