Nipsey Business Partner Herman Douglas Shares What Happened That Fatal Day!!!
Herman Douglas business partner of Nipsey Hussle shares what happened that fatal day. Allegedly, Herman Douglas was with Nipsey at the Marathon store. Douglas claims he met the alleged shooter, Eric Holder along with Nipsey. What happened next was changed Douglas's life forever.
Herman Douglas and Nipsey were long time friends
Nipsey Hussle and Herman Douglas once sold mix tapes in the parking lot where Nipsey lost his life on March 31, 2019. Also, Douglass and Nipsey were former business partners who remained friends up until his death, according to Foxy 99. Douglass said that suspect Eric Holder shook hands with Nipsey before telling him he was a rapper himself.  Douglass went on to say this:
"Me and Nipsey was talking, and the dude that shot him came and shook our hands. Said he was a rapper and this old bulls***,"Douglas told the Los Angeles Times, :Shook our hands went and got his burger and left." That's when Douglas claims he went inside the Marathon store with his own food, leaving him outside the line of fire when Holder returned with a g*n.

I left him maybe, approximately three seconds that I had left Nipsey and the dude came S**$ him, "Douglas stated, before describing Holder as "less talented rapper with hate and envy in his eyes." He concluded his thoughts by saying "It was no beef."
It appears that Nipsey was killed simply because Holder was jealous. But is there more to the story? Why would Holder shot the other two men? Was he upset with them, as well? Something is not right with this picture.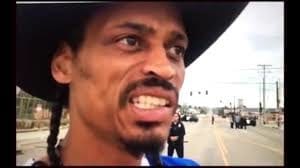 Check out the video above for more details
For more Hip Hop Entertainment News check us out the Hip Hop News Uncensored. It's the best YouTube channel for Hip Hop.