It's The Bengals And The Rams In Superbowl LVI!!!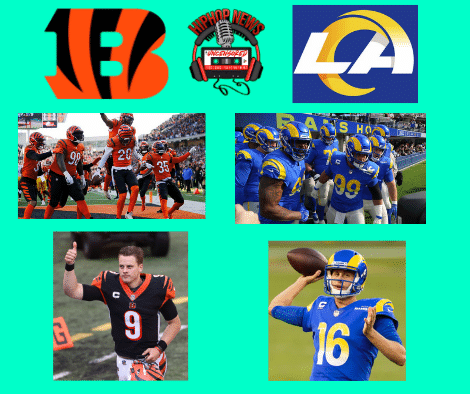 The Cinnatti Bengals are going to the Superbowl. On Sunday, January 30, 2022, the Bengals beat Kansas City Chiefs. At first, the Bengals were behind. But they pulled off the win at 27-24.
Superbowl LVI Taking Place In SoFi Stadium
Nevertheless, it's The Rams and The Bengals. The Superbowl game will be held in Los Angeles, home of the Rams. I would say, this is going to be a difficult game for the Bengals.
If the fans in Los Angeles are anything like Philadelphia fans. Let's just say, the Bengals are in for a fight. After the game Bengals quarterback, Joe Burrow shared his thoughts,
"I think if you would have told me coming into the league when I got drafted that we'd be here this year, obviously it would be a shock," Bengals quarterback Joe Burrow said after the game. "But like I said earlier, no, I'm not surprised."
Stephen A. gave a very interesting perspective on the game afterward. In the commentary between NFL retired Hall of Fame player Michael Irvin, each gave their opinion. Check out the highlight video below.
Stephen A. goes crazy Cincinnati Bengals beat Kansas City Chiefs, advance to Super Bowl LVI
The Bengals started the season badly. Truthfully, no one could have predicted they would win yesterday. However, they surprised a lot of people. They made the quickest turnaround in NFL history, allegedly. On another note, the Los Angeles Rams are the second team to play a Superbowl game at home. Do you think The Bengals can win Superbowl LVI? Or do you think the Los Angeles Rams will be victorious?

For more Hip Hop Sports News, check us out at Hip Hop News Uncensored. It's the leader in Hip Hop YouTube Commentary.