Mount Westmore Album Brings Iconic Rappers Together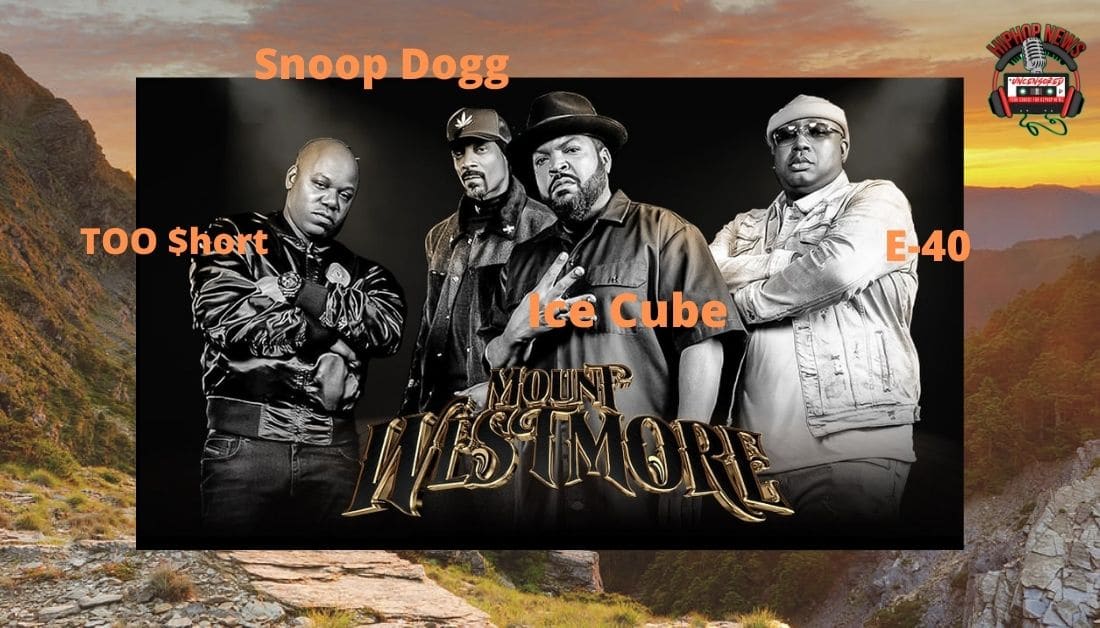 Mount Westmore, an album that combines the talents of Snoop Dogg, Ice Cube, E-40, and TOO $hort is almost here. Y'all ready?
Mount Westmore Brings West Coast Royalty Together
"Mount Westmore" album is set to drop in just one week.
And it brings together four legends, the iconic rappers of the West Coast.
Are we ready?
Taking to social media, Snoop breaks the news of the debut album drop of this epic collaboration formed last year.
Along with the Dogg himself, Ice Cube, E-40, and TOO $hort are part of the joint project.
Originally the album was set to drop on May 27th.
However, the date is now changed to June 7th.
While revealing the release date, Snoop also added a trailer of their Oakland show on May 27th.
In it, a new song is heard, sampling Gil Scott-Heron and Brian Jackson's Angel Dust.
For the caption, Snoop wrote –
"June 7th. The wait is over. BadMFs. @mtwestmore."
Mt Westmore album release date confirmed!!
Hoping eminem is still in 🤞🤞 pic.twitter.com/aEe4VgRHMC

— EminemTV (@eminemtvdotcom) May 30, 2022
Though the first single, Big Subwoofer was released in October of last year, another hot single is also available.
And already Big Subwoofer has over 23 million views on YouTube.
Finally, the full project will have its unveiling in a week
Additionally, if that isn't great news already, Eminem is featured on one of the tracks.
Now you already know that one is gonna be dope.
Along with the supergroup, Eminem is on the single titled From Detroit to the LBC.
Via his official Instagram channel, Snoop released the music video for Bad MF's recently.
Even Samuel L. Jackson and Tim Roth from Pulp Fiction get in on the intro, saying –
[Intro: Samuel L. Jackson & Tim Roth from Pulp Fiction]
I want you to go in that bag and find my wallet
Which one is it?
It's the one that says bad motherfucker
From there, Snoop goes in with his vibe on the first verse, which is always smooth –
[Verse 1: Snoop Dogg]
Band of brothers, laughing at them others
Gang from the gutter, some bad motherfuckers
Hands on everything, the path of a hustler
My cash looking good, pulling big numbers
Hustling non-stop, getting everything I need
If Snoop Dogg coming, you gon' smell the weed
If Doggy in the building and everybody chillin'
You best believe I'm here makin' a cool million
I'm in your meeting room, feet on your table
Smoking my own brand, kush from the land
Laying out the plan, million-dollar man
And I ain't moving 'til a nigga put it in my hand
A hundred grand just to make a nigga dance
Big money moves, a lot of shaking hands
A lot of day ones I done gave a chance
I used to make due, now I make demands
With four aces in my hand
I used to make due, now I make demands (Yeah)
Bad motherfucker, I took the game and ran
You can hear the rest of the lyrics of Mount Rushmore's Bad MF'S for yourself, check out the official music video now –
Get ready for this massive release, as Mt. Westmore is set to drop on June 7th.
Are we worthy, y'all?
Want to hear more about Snoop Dogg, Ice Cube, E-40, and TOO $hort, check us out now.
Hip Hop News Uncensored. It's the Leader in Hip Hop content on YouTube!