Jozzy First Signed Artist to Love Records
Jozzy is the first artist to join Diddy's new Love Records label. And he made the announcement at the 2022 Billboard Music Awards.
Diddy Welcomes Jozzy To Love Records
Jozzy was introduced to the masses as the newest artist at Love Records.
And it all went down at the 2022 Billboard Music Awards on Sunday night.
The Grammy award-winning artist and songwriter was announced by Sean "Diddy" Combs himself, who recently started his new label with Motown, Love Records.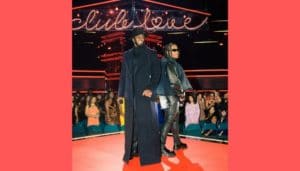 Additionally, she took to the stage to perform, premiering her new track, Replay.
While Diddy is still head of Bad Boys Entertainment, Love Records will be dedicated to R&B.
Jozzy is not new to the scene, she was instrumental in penning Billy Ray Cyrus' verse on Lil Nas X's Old Town Road remix track.
Also, she's written songs and collaborated with the likes of –
Timbaland
Mary J. Blige
Missy Elliott
Beyonce
Pharrell Williams
Coldplay
Chris Brown
Usher
Lil Wayne
Monica
Summer Walker
and many more
While she was mostly behind the scenes, the R&B songstress also has quite a few tracks of her own.
But now, she's poised to take the stage and be front and center.
While introducing Jozzy, Diddy sure had a lot to say about his first signed artist.
He even compared her to Biggie, saying –
"I am so excited to do this right here. She is the first artist that I've signed to Love Records. She's one of the most talented songwriters and artist that I have ever worked with. She reminds me of R&B Biggie."
Acknowledging his last comment, he added –
"…that a lot right…that's a lot.  And now, it's her time…"
Check out Diddy's introduction of Jozzy at the 2022 BBMA's –
Jozzy is still under RocNation and Hallwood Media as her management team.
Want more stories about Diddy, check them out.
Hip Hop News Uncensored. It's the Leader in Hip Hop content on YouTube!