Janelle Monae Makes a Splash On New 'Waterslide' Video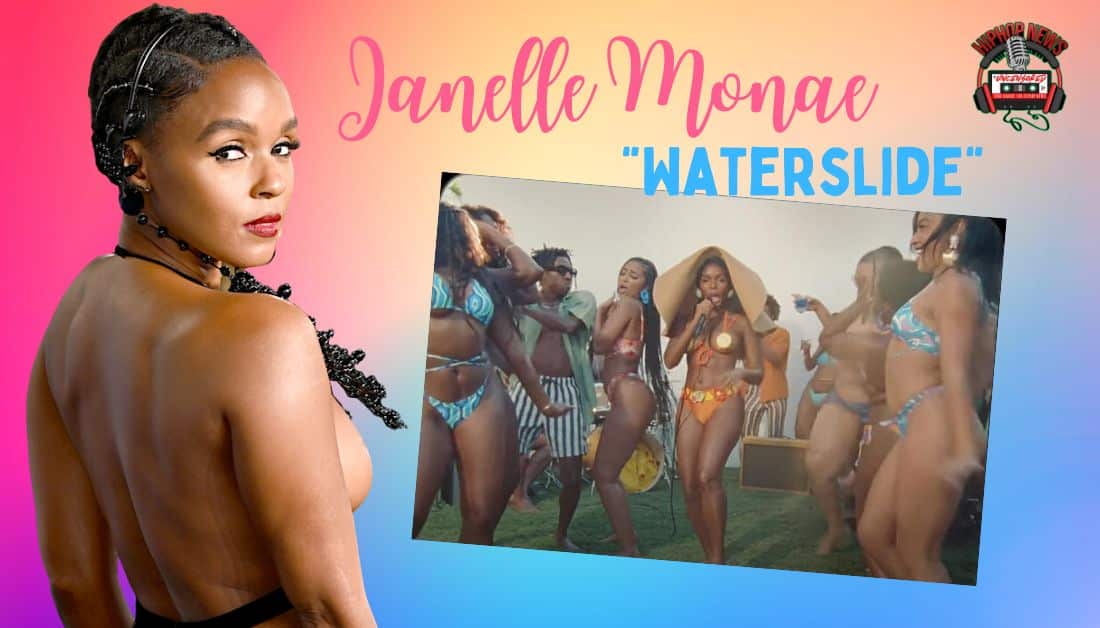 Janelle Monae Waterslide visual is fire. Get in on the fun at the most happening pool party of the year. Fans are loving it.
Janelle Monae Waterslide Video is Fire
Janelle Monae, the talented 37-year-old singer/rapper/songwriter/actress already gave us some great new music this year. Fresh off the release of her latest album, Age of Pleasure, she hit us with 'Float'. After that, she offered up 'Lipstick Lover'. Now she's back with another catchy tune that is sure to get you vibing. Her latest music video, "Waterslide," is a vibrant masterpiece filled with pure fun and joy. You can see the video below.
With her unique style and incredible talent, Janelle Monae never fails to deliver an unforgettable experience through her music. So, get ready to dive into the colorful world of "Waterslide" and let the wave of happiness wash over you!
Janelle Monae Unleashes Pure Fun: Dive into the Vibrant 'Waterslide' Video!
Janelle Monae has once again proven that she is a force to be reckoned with in the music industry. Her latest music video, "Waterslide," is a visual delight that captures the essence of pure fun and happiness. From the moment the video starts, you are transported into a world of vibrant colors and energetic dance moves. Janelle's infectious energy is contagious, and you can't help but smile and move along with her. The choreography is flawless, and the dancers exude an incredible amount of joy that is impossible to resist.
The video is a feast for the eyes, with a kaleidoscope of colors and stunning visuals that keep you mesmerized from start to finish. Janelle Monae's creativity shines through in every frame, as she effortlessly blends different elements to create a unique and captivating experience. From the retro-inspired outfits to the imaginative set designs, everything about "Waterslide" screams creativity and originality. It is a true testament to Janelle's artistic vision and her ability to push boundaries and break free from conventional norms.
Get Ready to Ride the Wave of Happiness with Janelle Monae's Delightful 'Waterslide' Video!
The song itself is an upbeat anthem that radiates positivity and happiness. Coupled with the visually stunning video, it becomes an unstoppable force of joy that is guaranteed to put a smile on your face. Janelle's vocals are flawless as always, and her charismatic presence shines through in every frame.
The video takes you on a wild ride filled with laughter, dance, and pure bliss. It's a celebration of life and all the little moments that bring us joy. Every scene is meticulously crafted to make you feel like you're part of the fun. Janelle Monae has a knack for creating music that makes you want to get up and dance, and "Waterslide" is no exception. So get ready to ride the wave of happiness and let yourself be swept away by the infectious energy of Janelle Monae's latest masterpiece.
Watch the official music video now –
Janelle Monae's "Waterslide" video is a testament to her incredible talent and boundless creativity. With its vibrant visuals and infectious energy, it is a true celebration of life and all the little moments that bring us joy. So, dive into the joyful world of "Waterslide" and let Janelle Monae's music wash over you like a wave of happiness.
Want more on Janelle Monae… hit us up!
Hip Hop News Uncensored. It's the Leader in Hip Hop content on YouTube!