Cardi B & FendiDa Rappa: Igniting the Charts with 'Point Me 2'!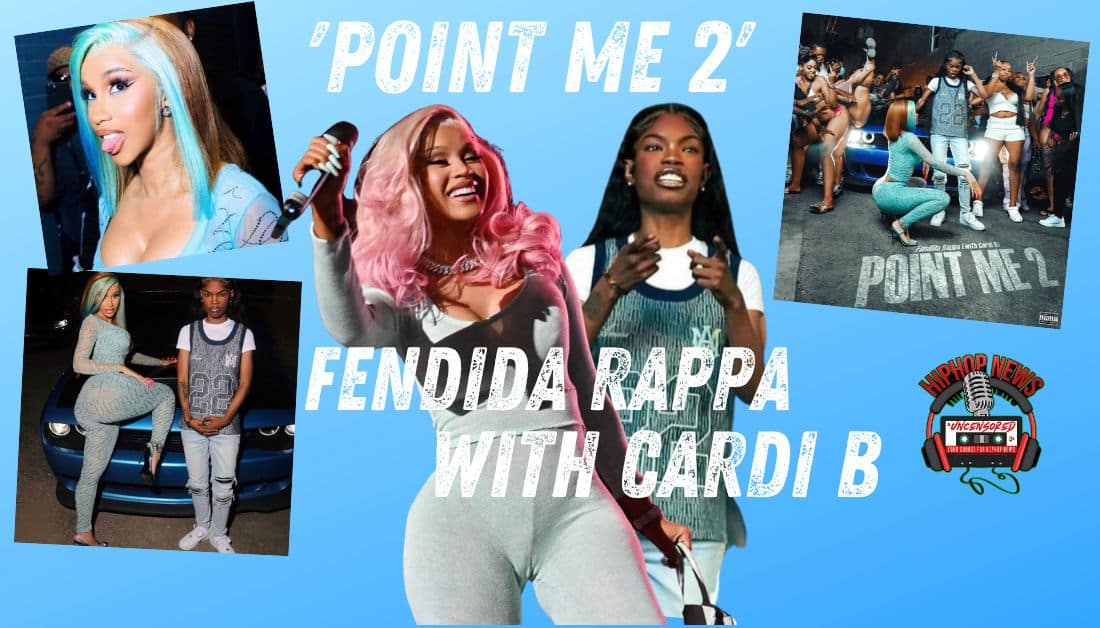 Point Me 2 is the newest music video lighting up the charts. Cardi B jumps on FendiDa Rappa's hot new track.
'Point Me 2' Is Newest Collaboration, Uniting FendiDa Rappa and Cardi B
Cardi B and FendiDa Rappa have joined forces to create a dynamic duo that is setting the charts on fire! With their latest release, "Point Me 2," these two talented artists are taking the music world by storm. From their infectious energy to their unmatched lyrical skills, Cardi B and FendiDa Rappa are proving that they are a force to be reckoned with. Get ready to groove and let the music take over as we dive into the electrifying journey of this sensational collaboration!
"Cardi B & FendiDa Rappa: A Dynamic Duo Ignites the Charts!"
When Cardi B and FendiDa Rappa unite, there's no doubt that greatness is on the horizon. Both artists are carving their own paths in the music industry, captivating audiences with their unique styles and larger-than-life personalities. Now, they have come together to create a musical masterpiece that showcases their individual talents while blending seamlessly into a harmonious collaboration. The chemistry between Cardi B and FendiDa Rappa is undeniable, and it shines through in every beat and lyric of their chart-topping hit, "Point Me 2."
"Unleashing Fire: 'Point Me 2' Sets the Music World Ablaze!"
"Point Me 2" is an explosive track that combines Cardi B's fierce rap skills with FendiDa Rappa's infectious energy. From the moment the first verse kicks in, listeners are transported into a world of pulsating beats and catchy hooks. The song's production is flawless, with each layer carefully crafted to create a sonic masterpiece. Cardi B and FendiDa Rappa's seamless flow and clever wordplay make "Point Me 2" an anthem that will have fans singing along and hitting replay again and again. Kudos to Cardi B for stepping up to offer this new artist some fire.
The success of "Point Me 2" is not only a testament to Cardi B and FendiDa Rappa's talent but also to their ability to connect with audiences on a deep level. The lyrics tackle themes of empowerment, self-expression, and the pursuit of dreams, resonating with listeners from all walks of life. It's a song that encourages everyone to embrace their true selves and go after what they want fearlessly. With its infectious energy and powerful message, "Point Me 2" has become a chart-topping hit that continues to ignite the music world.
Check out the official new video now –
Cardi B and FendiDa Rappa have proven that when two incredible artists come together, the result is pure magic. "Point Me 2" is a testament to their unrivaled talent, chemistry, and ability to create music that moves and inspires. As they continue to make waves in the music industry, we can't wait to see what Cardi B and FendiDa Rappa have in store for us next. In the meantime, let's turn up the volume, hit the dance floor, and let the infectious beats of "Point Me 2" keep us grooving!
For more on Cardi B… hit us up!
Hip Hop News Uncensored. It's the Leader in Hip Hop content on YouTube!