Will Birdman & Lil Wayne Testify Against Young Thug?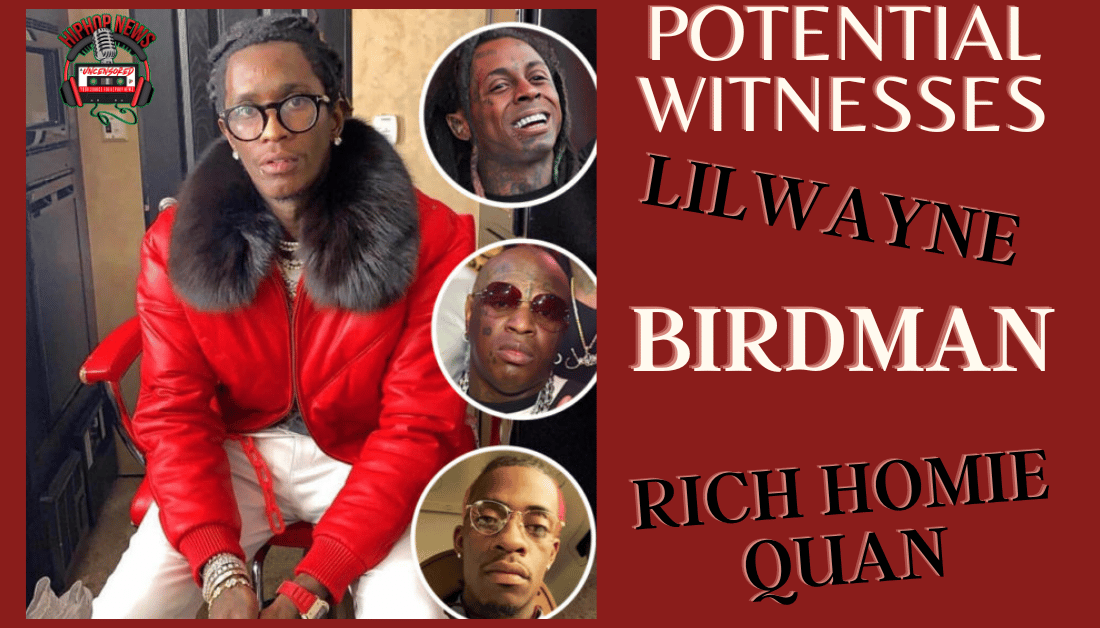 Will Birdman & Lil Wayne Testify Against Young Thug? There is a possibility they are on the witness list. Not to mention, Rich Homie Quan and others.
Young Thug's Trial Starts Soon
Will Birdman & Lil Wayne Testify Against Young Thug? Of course, the State's witness list has not been released yet. But a reporter on the case shared this information.
Michael Seiden of WBSTV presented a list of potential witness names. These people are witnesses for Young Thug.
Here are some of the names:
Amina Diop
Dr. Adam Dunbar
 Dorothea Fallen
Corey Jackson
Dr. Charis Kubrin
Garfield Larmond
Antonio Lewis
Ashleigh Merchant, Esq.
Original Michael
Jamal Mitchell
Dr. Erik Nielson
Geoff Ogunlesi
Of course, there were 28 names on the list. Clearly, Jeffrey "Young Thug' Williams is preparing for a fight. Needless to say, the prosecutors claimed they had 300 witnesses.
At the present time, the list has dwindled. We are not sure if they have that many witnesses anymore. Especially since some of the defendants took plea agreements.
Be that as it may, I am surprised other rappers may testify against Williams. We now know, the state's witness list has 157 names. These names are alleged to be connected to the Atlanta police department.
Also, 62 names are from various law enforcement agencies. To top it off, high-profile names include YFN Lucci, and Alexis "Dolly" Williams (Young Thug's sister).
In reality, there is a possibility some rappers will not testify.  According to Bossip, the rapper's legal teams will fight to permit them from participating. I can see that happening.
Who would want to testify against a fellow rapper? At the same time, this is not a good look for hip-hop. In other words, some rappers do not want to be labeled a rat. Stay Tuned!!!
Check out the video above for more details.
Hip Hop News Uncensored. It's the Leader in Hip Hop content on YouTube