Whoopi Goldberg Suspended From"The View" For Negative Comments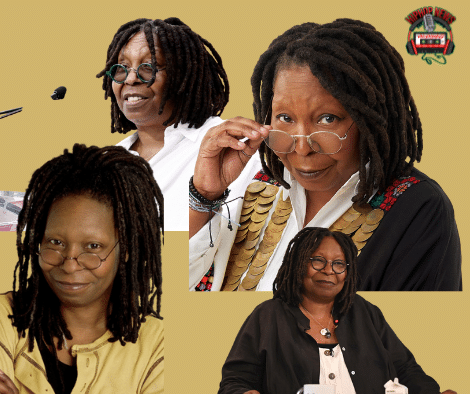 Whoopi Goldberg has been known to ruffle a couple of feathers. But in her latest commentary, she may have gone too far. As a result, Goldberg was suspended for two weeks from the TV Talkshow"The View."
Will This Suspension Be The End Of Whoopi?
The very popular show host made the comment during the show on Monday  Goldberg made the comment that the Holocaust was "not about race."Those comments got an immediate response from the media, as reported by CNN. Some news commentators went in hard on Goldberg. And, so, did ABC. Goldberg has been suspended for two weeks.
The sharks started swarming around Goldberg's very controversial comments.  Then again, there were some who were willing to forgive her alleged mishap. However, this topic has opened up a necessary discussion. Should Goldberg be canceled, (i.e. "Cancel Culture:) for one mistake or not?
Generally speaking, I think Goldberg should be given another chance. Having said this, let's see what she shared after the incident,
"Yesterday on our show, I misspoke. I tweeted about it last night but I want you to hear it from me directly," the comedian and actor said. "I said something that I feel a responsibility for not leaving unexamined, because my words upset so many people, which was never my intention. I understand why now, and for that I am deeply, deeply grateful because the information I got was really helpful, and it helped me understand some different things."
Just let me say this, there is no way I can do this topic any justice. There are so many variables to this very delicate conversation. Whether or not Goldberg spoke out of her alleged ignorance or not, is just the surface issue. Perhaps, she does not know the complete history of the Holocaust.
Also, she made have been misinformed. Let's not get it twisted, I am not condoning behavior that is offensive. Sometimes you just don't realize how your words impact others. Nevertheless, we must be careful with what comes out of our mouths.
Immediately, after her comments, people wanted to cancel her. Frankly, this "Cancel Culture", has gotten out of hand. Why is society so quick to cancel someone for mistakes? Did we forget about forgiveness? How about we chose to educate people about their making a mistake. I digress.
Goldberg went on to say,
"I said the Holocaust wasn't about race and was instead about man's inhumanity to man," Goldberg said Tuesday on "The View." "But it is indeed about race because Hitler and the Nazis considered Jews to be an inferior race." "She continued, "Now, words matter, and mine are no exception. I regret my comments, as I said, and I stand corrected. I also stand with the Jewish people as they know and y'all know, because I've always done that."
Should Whoppi Goldberg Be Canceled?
Really, are we gonna forget all about Goldberg's many accomplishments for one mistake? If she apologized and is willing to get more information about the Holocaust. so be it. At least, that is how I see it. Of course, there are some who are going to differ from me. In my opinion, we should be more forgiving. At any rate, this is a teachable moment. Can we not cancel everyone who makes a mistake? What do you all think?
Whoopi Goldberg suspended from 'The View' over Holocaust remarks
Goldberg became a hot topic conversation.
Check out the video above for more details
Hip Hop News Uncensored. It's the Leader in Hip Hop content on YouTube!