Tyrese Was Ordered To Pay $636K To Samantha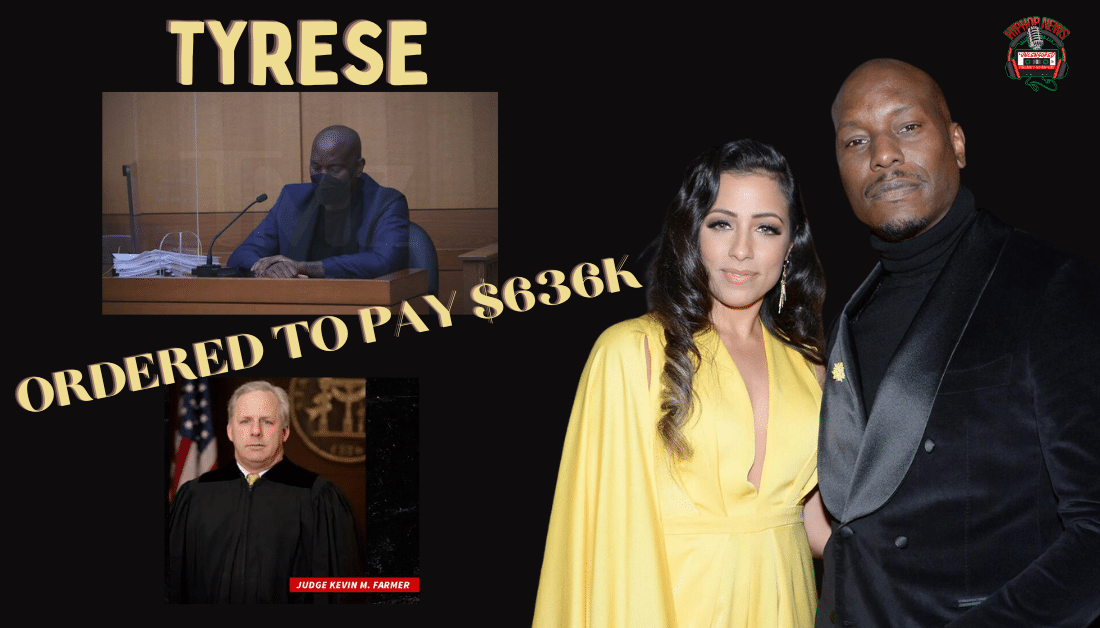 Tyrese Was Ordered To Pay $636K To  Samantha. The singer/actor must pay back child support. Also, Tyrese must be his ex-wife's attorney fees.
Tyrese Suffered A Lost In Divorce Court In Attorney Fees
Tyrese Was Ordered To Pay $636K To Samantha. Social media is buzzing with Tyrese's news.
On Tuesday, April 25, Tyrese Gibson went to court. Before his court appearance, Tyrese emplored people in the media to show up.
He asked that fathers bombard the courtroom. Apparently, Tyrese is accusing Judge Kevin Farmer of being biased.
In other words, Tyrese alleges that Judge Farmer was a "racist."
Therefore, he made the allegations against Judge Farmer public.
Additionally, Tyrese gave the court's address. More importantly, Tyrese went live on Instagram to give the invite.
Having said this, Tyrese was only allowed one media outlet inside the court.
Not to mention, people were not allowed to be outside on courtroom steps.
Incidentally, we heard nothing about any protest. Be that as it may, Tyrese failed to stop the judge from ruling.
In fact, Judge Farmer ordered Tyrese to pay more than $600K in fees.
Black Enterprise reports that most of the $600K went to Samantha's attorney's fees.
The couple has been disputing child support issues and attorney fees.
Allegedly, there was a prenuptial agreement between Tyrese and Samantha.
Tyrese claims the prenup had a clause. The alleged prenup claims Samantha pays her own attorney's fees.
Obviously, Judge Farmer disagreed. To top it off, Tyrese has to pay $10,000 in back child support.
According to Complex, Tyrese was ordered to pay Samantha child support for their daughter Saraya.
At the time, Tyrese was paying nearly $3000 each month.
So, Tyrese will now have to pay the $10K. Needless to say, Tyrese claims Samantha does not need $10K.
Especially since she makes good money, claims Tyrese.
Attorney Tanya Graham Will Appeal Judge's Decision
Tyrese's attorney plans to appeal. Once the appeal is filed, it may stop the court order.
And that may give Tyrese time to prove his allegations against Judge Farmer.
TMZ reports if Tyrese is granted an appeal, he can get a new trial.
That could mean Judge Farmer may be excused from the case.
Meanwhile, Tyrese jumped on social media live.
He spoke about the judicial system allegedly working against fathers.
Some people on Instagram agreed with Tyrese.
Often fathers are labeled as 'dead beats.'
In this case, Tyrese is claiming he was mistreated.
Unfortunately, Tyrese is not the only father who feels this way.
Hopefully, Tyrese's situation will bring awareness.
Hip Hop News Uncensored. It's the Leader in Hip Hop content on YouTube.