Dr. Dre Celebrates "The Chronic" 30th Anniversary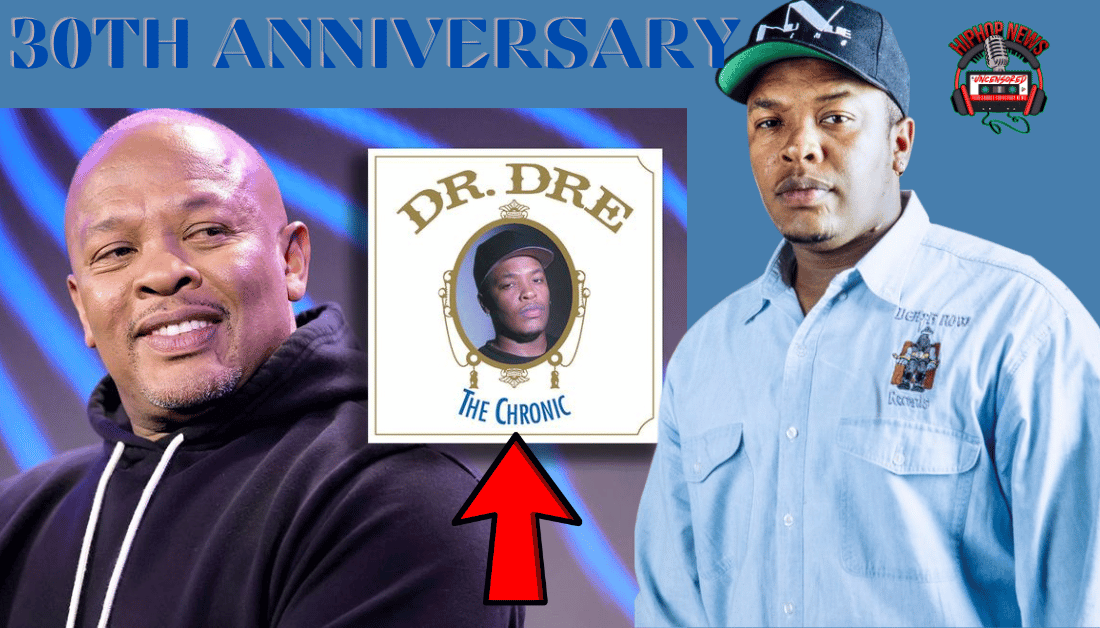 Dr. Dre Celebrates "The Chronic" 30th Anniversary. The debut album returns to streaming. It was Dre's first solo project.
Dre Partnered with Interscope Records For Re-Release
Dr. Dre Celebrates "The Chronic" 30th Anniversary. His 1992 solo album released several hit songs. According to Chron's web, 'Nuthin' but a 'G' Thang', and "Let Me Ride" became fan favorites.
And, Dre won his first Grammy in 1994. It was Snoop, Jewell, and Ruben's vocals that appeared on the hit song. That is when the West Coast rappers garnered success.
Last year, Snoop purchased Death Row Records. As a result, "The Chronic" was removed from streaming services. It was Snoop's intention for the music to "live in the metaverse", he said.
However, the original distributor of the album will be a re-release. Interscope Records is making "The Chronic" available to fans everywhere. Steve Berman, vice chairman for Interscope shared this,
"Dre's solo career all started with the 'The Chronic,' one of the most celebrated recordings of all time," said Steve Berman. He called Dre one of the most groundbreaking artists in the modern era."
Also, Dre mentioned this,
"I am thrilled to bring The Chronic home to its original distribution partner, Interscope Records," Dre said. "Working alongside my longtime colleagues, Steve Berman and John Janick, to re-release the album and make it available to fans all over the world is a full circle moment for me."
Another executive at Interscope chimed in,
"From my first day at Interscope the significance of Dr. Dre as a foundational artist at this label was incredibly important to me," John Janick, a chairman of Interscope Geffen A&M said. "We take our responsibility to Dre and his amazing body of work very seriously and we are honored to work closely with him on this re-release of one of the most important albums of all time."
There is no doubt Dre has solidified his place in hip-hop culture. Having said this, Dre is a seven-time Grammy winner, as reported by The Source.
He has worked with Eminem, Jay-Z, Snoop Dogg, Gwen Stefani, Kendrick Lamar, and Nas 50 Cent.
His Super Bowl halftime show with (Mary J. Blige, Snoop Dogg, Lamar, and 50 Cent) won him an Emmy.
Dr. Dre – Nuthin' But a G Thang Ft. Snoop Dogg (Dirty) Music Video
We must not forget, Dre first came on the scene with the rap group NWA. At that time, Dre was just a teen. Andre Young aka Dr. Dre came from a musical background.
Both his parents were singers, as reported by Biography. That explains why Dre was so musically inclined.  Needless to say, Dre doe not sing. But he has produced some of hip-hop's iconic songs.
View this post on Instagram
In reality, Dre is a hip-hop pioneer. We can credit Dre and NWA rappers (Eazy -E, Ice Cube, MC Ren, Arabian Prince, and D.O.C.) for Gangsta Rap. Gangsta Rap exploded on the scene in the 80s.
Never before, had some fans heard such hardcore rapping. Straight Outta Compton (1998) NWA's second album sold 2 million copies. Thus, a new music genre was born, (Gangsta Rap).
Let me just say, the rest is history.
The Hip Hop News Uncensored. It's the Leader in Hip Hop content on YouTube