Trendsetters In Hip Hop Fashion For Men!!!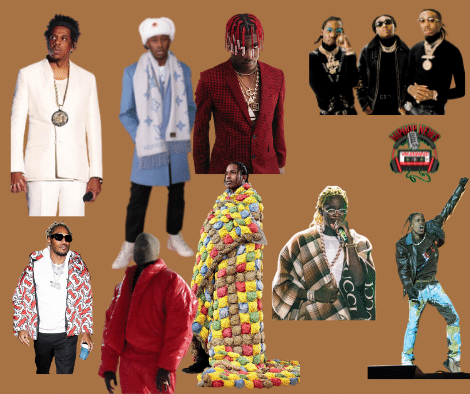 It is not just the women in hip-hop that can dress. The men in hip-hop are up on fashion, as well. And, some even set trends we want to follow.
The Men In Hip Hop Show Out in 2021
High-end fashion is not just for women. The biggest names in fashion employ men models to wear their clothing. Designer brands like Gucci, Calvin Klein, Louis Vuitton, Armani, and Versaci have huge campaigns with men. Magazine covers such as Vogue, GQ, Bazaar, and Essence all have enlisted men. Most of the hip-hop men we have mentioned have been on the covers of the magazines we have mentioned. Leading the pack in men's fashions, believe it or not, is the rap group "The Migos."
Migos – According to Fashion Beans Migos fashion is on point. And, I must agree. Rappers have dominated the fashion scene for a long time. It is ironic that the big fashion brand that once shunned rap now embraces the culture. In fact, hip-hop celebrities set the trends for the rest of the fashion industry. So, to see The Migos street-savvy ensembles are refreshing for some. The three rappers have done quite well in music. And, it looks like they are doing the same in fashion.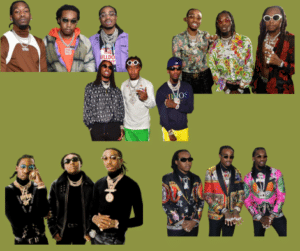 Jay-Z – is one of the best dress in hip-hop. Jay can really wear a suit. And, he is not afraid to experiment with bright colors. When Jay Z and his wife Beyonce hit the red carpet you know they will make waves. Especially, since both are now modeling the legendary, jewelry brand," Tiffany's." Jay looked very dashing in his black suit alongside Beyonce. Not to mention, Jay has been a trendsetter in hip-hop fashion for many years. Jay had his own clothing brand"Rocawear. Rocawear dominated hip-hop fashion.  The edgy street clothing celebrated hip-hop culture.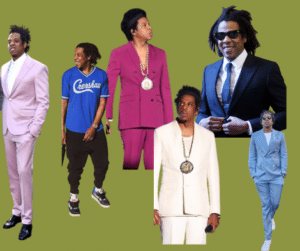 Kanye West aka Ye – Although Ye hasn't focused on fashion, clearly he is still a trendsetter. Ye has always had his own style. Ye can be seen in suits, jogging suits, and rubber boots. But no matter what Ye wears people are sure to imitate. Also, Ye's clothing brand cause him to get to billionaire status. Now, that is very impressive. Last year, Ye pushed the envelope with his "Donda" project. While Ye wanted to celebrate his mother with a project that bore her name, it may have been a little much for people to digest. The burning house, the dark schemes, and the eerie setting were different, to say the least.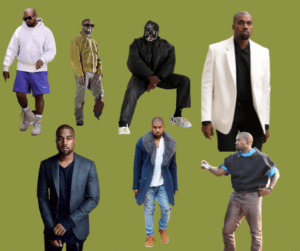 A$AP Rocky- some would say that A$AP is a style icon. Many of his fans wait to see what he will wear next. A$AP has a very unique style. He has worn almost every design brand from Gucci, Dior, Balenciaga, and Loewe. The most memorable style A$AP wore was at the Met Gala. The rapper showed up with his girlfriend Rihanna wearing a multi-color blanket. At first, we did not know why A$AP made such a choice. However, later we found out it was a tribute to his grandmother.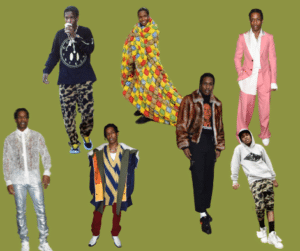 Young Thug – When it comes to wearing some outrageous outfits, Young Thug tops the list. From his wearing an outfit made out of plastic to pink locks, surely Young Thug does things his own way. I can only think of one other rapper who dares to wear diverse clothing. The winner would be Lil Nas X, who has worn so very outrageous ensembles. For the most part, Young Thug is s trendsetter.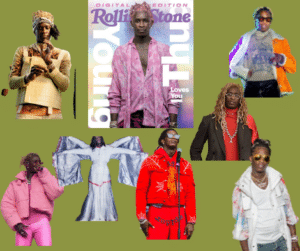 Travis Scott – the boyfriend of Kylie Jenner has become a fashion killer. Travis has evolved when it comes to wearing clothes that really stand out in a crowd. Some of Travis's style consists of flannel and vintage t-shirts. In addition, he wears oversized jackets, relaxed joggers, and denim. You can see Travis with clothes designed by Louis Vuitton. Also, he wears bright colors.   If you have been able to attend Astroworld then you know how iconic Travis styles are. However, this year Travis' Astroworld concert was a disaster. There were many deaths reported when the large crowd stampeded towards the stage.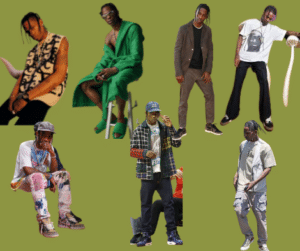 Future – Atlanta rapper has a unique style of dress. Because Future loves fashion so much he started his own line. The clothing line "Life Is A High" is s collection of streetwear. His clothing line has gathered quite a following from fans. His clothing line is available online. Some of the items consist of sweatshirts and bottoms. Future is another person who influences hip-hop culture with his style.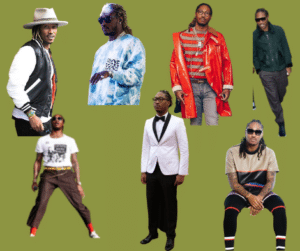 Lil Yachty – In an interview with Icon, Lil Yachty took them on a tour of his massive sneaker collection. Lil Yachty admitted there is probably no one with this kind of unique sneak collection. Clearly, Lil Yachty likes very vibrant colors. Sounds like, Lil Yachty is the collector of fine jewelry, as well. He has a cartoon chain made in Bart Simpson's image. Obviously, clothing is another way Lil Yachty shows off his style. That is why he is one of the fashion-forward men in hip-hop.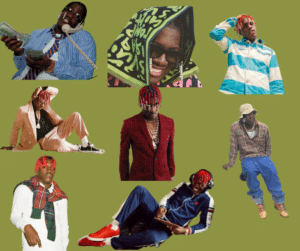 Tyler The Creator – Vogue's article on Tyler mentions he is a fashion rebel. Bright colors appear to be Tyler's favorites. During his interview with Vogue, Tyler admitted he rarely wears dark blue and black. Having said that, Tyler talks about how he likes to design. Does Tyler remind us that fashion should be fun and creative? Personally, I like the fact, Tyler wears bright colors.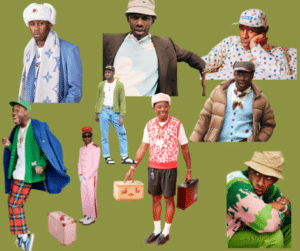 For more Hip Hop Fashion  News check us out at Hip Hop News Uncensored. It's the leader in Hip Hop YouTube Commentary.