Jay-Z & Meek Mill Monumental Proposed Legislative Law!!!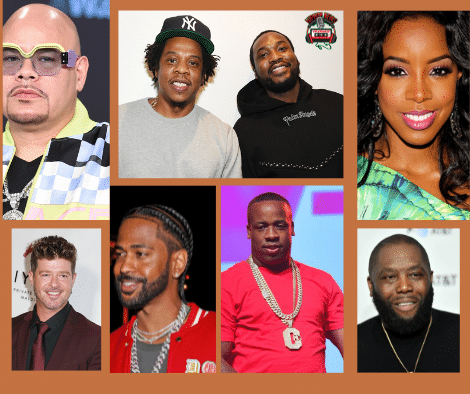 This is an unprecedented case for rappers. And, Meek Mill and Jay -Z are at the head of this fight. Which could prove to be an uphill battle for the two rappers.
This Legislation Is The First Of Its Kind
Never before have raps elite been involved in such a fight.  But Shawn"Jay-Z"Carter, Rihmeek"Meek"Williams, Joseph"Fat Joe" Cartagena, and Michael "Big Sean" Anderson have joined the fight to stop rappers lyrics use against them in court cases.
The proposed bill  was sent to state lawmakers for consideration.  The bill which was scheduled to be seen by New York's Governor Kathlyn Hochul. However, the bill must pass through the Senate's Code committee, as reported by Complex.
Carter's attorney Alex Spiro released a statement,
"This is  a long time coming. Mr. Carter is from New York, and if he can lend his name and his weight, that's what he wants to do."
Other celebrities who signed the letter were Kelly Rowland, Killer Mike, You Gotti, and Robin Thicke. Also, Fat Joe mentioned that , "Our lyrics are a creative form of self – expression and entertainment – just like an other genre," He went on to say, "We want our words to be recognized as art rather than being weaponized to et convictions in court."
Interestingly enough, Senators Jamaal Bailey, Brad Hoylman, and Assembly member Catalina Cruz are pushing for the bill become law.
What Will This Bill Really Mean?
The legislation would  limit the use of "creative expression" as evidence. Instead it will force prosecutors to prove such art isn't just fictional. In other words, the prosecutors would have to have "clear and convincing evidence."
For example, Drake The Ruler was sentenced after the content of his song was used to prosecute him. But, late singer Johnny Cash sang about "shooting a man in Reno" and watch him die." And, his lyrics were not used against him in a court of law.
Although, using Johnny Cash as an example may not be the best analogy. However, you get the point. Senator Bailey, drove his point home with this statement,
"Presuming a defendant's guilt based solely on musical genre or creative expression is antithetical to our foundational rights and perpetuates the systemic racism that is embedded into the criminal justice system through discriminatory conflations of hip-hop and rap with criminality."
With that being said, I think Senator Bailey has provide a lucid well thought out argument. This should be more than enough information to get the 'Rap Music on Trial" bill passed.
Check out the video above for more details.
For more Hip Hop Music Social News, check us out at Hip Hop News Uncensored. It's the leader in Hip Hop YouTube Commentary.