How 6ix9ine Narrowly Escaped Death!!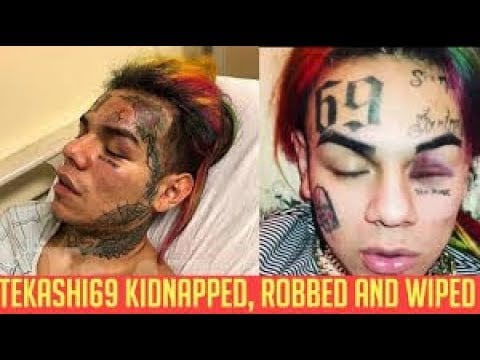 Young New York rap artist 6ix9ine was kidnapped, robbed and beaten very badly today. All of the media outlets have confirmed that the famous rap artist was indeed hospitalized for his injuries. PIX11 was given the news from TMZ sources, saying that the 22 – year – old Brooklyn – born rapper, whose birth name is Daniel Hernadez was driving home after working on a music video in Brooklyn when a car pulled up and blocked his driveway.
Three hooded gunmen got out of the car and allegedly knocked the rapper unconscious and put him in the back seat of their car, threatening to kill him if he didn't comply with their demands. The gunmen returned to Hernadez's home, with the him still in the car, and allegedly took about &750,000 worth of jewelry and between $15,000 and $20,000 in cash.
On the Uncensored Truth Podcast with host O'God and Sam Ant the breaking news about Tekashi 6ix9ine was all over the media outlets as they were driving in to do their show today. Both host thought it was a hoax but later found out the incident really happened.
Is Tekashi 6ix9ine getting what he deserves?
Unfortunately, some people are going to think 6ix9ine is getting what he deserves. Especially, since 6ix9ine is notorious for trolling social media and creating a lot of beef with rap artist all over the country. He has probably made many people mad. You can't help but wonder if this is some kind of retaliation for 6ix9ine always popping off at the mouth on social media.
He constantly brags about he is the best. He has trashed other rap artist. He has an ongoing beef with Chief Keef which was certainly a big no no. Not to mention having said comments about rap artist from Chicago, G-Herbo. Unfortunately, this was bound to happen to him. You just can't keep trashing people and not expect someone to respond in a negative way. This is street 101.
Fortunately, 6ix9ine did not lose his life.  This young brother is going to really need protection. We are grateful that nor his child or girlfriend were hurt. SMDH. When will the violence end.
For more Hip Hop Entertainment News go to our YouTube channel, Hip Hop News Uncensored