Floyd Mayweather Calls 50 Cent a Snitch!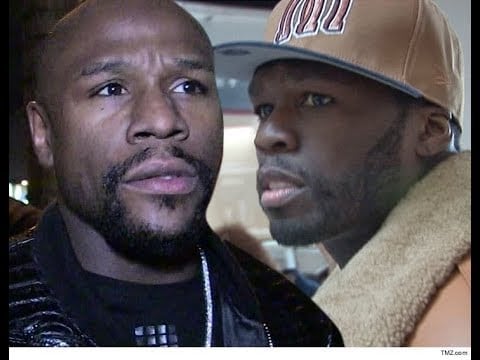 Floyd Mayweather and Curtis Jackson aka 50 Cent are at it again. Mayweather posted a long message about Jackson,on his instagram page. Mayweather dragged Jackson. He called Jackson a snitch. Mayweather says he has paperwork to prove it. Just when we all thought this bitter back and forth was over between these two, here we go again.
From BFF's to Enemies!
The friendship between Mayweather and Jackson started in 2002, when Mayweather and Jackson met in Puerto Rico at the Mixshow Power Summit Conference and strike a friendship that eventually turns into an ill – fated business partnership.
In 2007, Jackson accompanies Mayweather to the ring for his title fight against Oscar De La Hoya, and performs his new Curtis single, "Straight To The Bank" live for the first time.
In 2008, Mayweather asks Jackson to accompany him to the ring when he fights, The Big Show on WWE's Wrestlemania XXIV.
In 2008, supposedly Mayweather and Jackson got into a fight over money. Allegedly, Mayweather owed Jackson some money but we don't know for what reason the money was owed to Jackson. The two made up and resumed their friendship.
In 2009, Jackson uploads a video of himself with Rick Ross' baby mama, Tia, and his son hanging out at Mayweather's house, along with Diddy.
In mid July,2012 about three weeks before Mayweather was to be released from jail for domestic abuse, Jackson applied to get a boxing promoters license in Nevada. This was the birth of TMT promotions (The Money Team). This was Mayweather's moniker (TMT), it was assumed that TMT would promote Mayweather and a number of other well – known boxers the company snatched up, including Yuriorkis Gamboa, Billy Dib and Andre Dirrell. It appeared things were back on track with the two friends, especially since Jackson was the one who picked Mayweather up from jail when he was released.
Then Jackson was accused of going with Miss Jackson who was Mayweather's finance at the time. A month later, news came out that Jackson was doing some kind of business with Manny Pacquiao, the rival boxer of Mayweather. Some speculated that the meeting with Pacquiao was due to a Mega fight Jackson was trying to set up. However, Mayweather was not aware of this meeting.
This saga continues with Mayweather and Jackson having a dispute over boxing advisor, Al Hayman. Jackson wanted him to cut ties with Hayman but Mayweather was not willing to do so. This put yet another wedge between the two friends.
Fast forward, Now, it seems that the two are back at it again. This latest rant by Mayweather will certainly bring a huge response from 50 Cent who is the King of Trolls.
In Floyd's Eyes 50 Cent is a Snitch
https://www.instagram.com/p/BlgXRNygtWv/?utm_source=ig_web_copy_link
For more Hip Hop Entertainment News go to our YouTube channel, Hip Hop News Uncensored