Ex Football Tight End Kellen Winslow Jr. Arrested On Rape Charges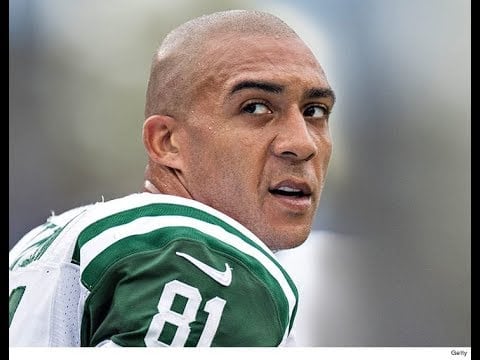 Kellen Winslow Jr. former tight end was arrested on rape charges this week. The ex-NFL  tight end football star was once a member of the Jets football team.
According to TMZ, cops said that Winslow broke into a mobile home near San Diego. This was not the first time Winslow was arrested. He was arrested in 2014 for allegedly masturbating in a Target parking lot. Cops say they found vaseline in the car and synthetic marijuana. He struck a plea deal and the drug charge was later dropped.
TMZ now reports that Winslow is being charged with 9 criminal charges including kidnapping with the intent to commit rape, forcible rape, forcible sodomy, burglary, indecent exposure and more. Officials tell TMZ Sports…Winslow was arrested by the Sheriff's Major Crimes Division at 1:05 pm, Thursday. If convicted of these charges Winslow may spend life in prison.
34- year-old Winslow played for the NFL from 2004-2013– and made the Pro Bowl in 2007 as a tight end for the Cleveland Browns. Winslow was a graduate of the University of Miami where he earned unanimous All – American. He was also recognized as the top college tight end. Winslow was drafted by the Cleveland Browns football team. Later in his career he played for the Tampa Bay Buccaneers, Seattle Seahawks, New England Patriots, and New York Jets.
On another note, it is possible Winslow could be suffering with CTE (Chronic Traumatic Encephalopathy) which is a degenerative brain disease found in athletes, military veterans, and others with a history of repetitive brain trauma. In CTE a protein called Tau forms clumps that slowly spread throughout the brain, killing brain cells.
Will Winslow end up like Aaron Hernandez? What a tragedy, Hernandez was convicted of the murder of Odin Lloyd, a semi-professional player who was dating the sister of Hernandez fiancee. However, in the double murder of Daniel de Abreu and Safiro Furtado he was found not guilty. CTE was found to be the cause of Hernandez's criminal behavior. Unfortunately, Days after Hernandez was acquitted of double murder he was found dead in his cell, his death was ruled a suicide.
Browns Kellen Winslow Jr. Talks About His Youth
For more Hip Hop Entertainment News go to our YouTube channel, Hip Hop News Uncensored