Colin Kaepernick Wins An Emmy!!!!!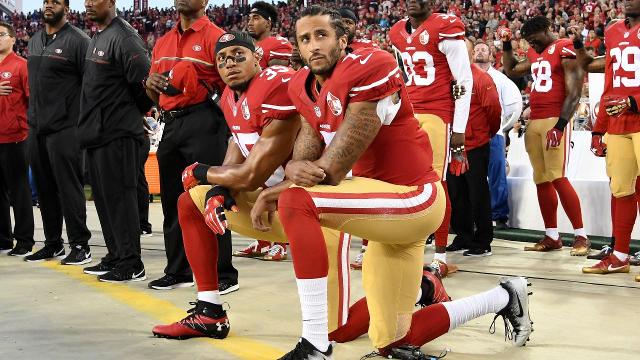 Colin Kaepernick wins an Emmy. Former NFL star of the San Fransisco 49ers, has won an Emmy for his Nike commercial. He along with Wieden and Kennedy won for their Nike commercial called "Dream Crazy". The message of the commercial is to 'believe in something", even if it means sacrificing everything.
Colin Kaepernick: From NFL Star to Blackballed
Kaepernick was a star quarterback in the NFL from 2011-2016, being a 2 time Offensive player of the year in 2008 and 2010, having the NFL record for the most rushing yards by a quarterback in a single game, and the NFL record for most rushing yards by a quarterback in a single post season. But at the 3rd preseason game of the 2016 season, he was seen sitting down during the playing of "The Star Spangled Banner". When asked why he would sit down when the  National Anthem was playing, he said,
"I am not going to stand up to show pride in a flag for a country that oppresses black people and people of color. To me, this is bigger than football and it would be selfish on my part to look the other way. There are bodies in the street and people getting paid leave and getting away with murder".
After that and after he opted out of his contract in 2017 and became a free agent, he has been blackballed from the league and has not had a job in the NFL every since. He has since sued the NFL for grievance accusing the NFL owners of collusion to keep him out of the league. A requested to dismiss the case was denied. On February 15, 2019, it was announced that Kaepernick and the NFL had reached a confidential settlement with the NFL and the grievance was withdrawn.
For More Sports Entertainment News, Go To The YouTube Channel, Hip Hop News Uncensored. It's The Best Channel Around!!!!!