Dwayne Johnson"The Rock" Retracts Siding With Joe Rogan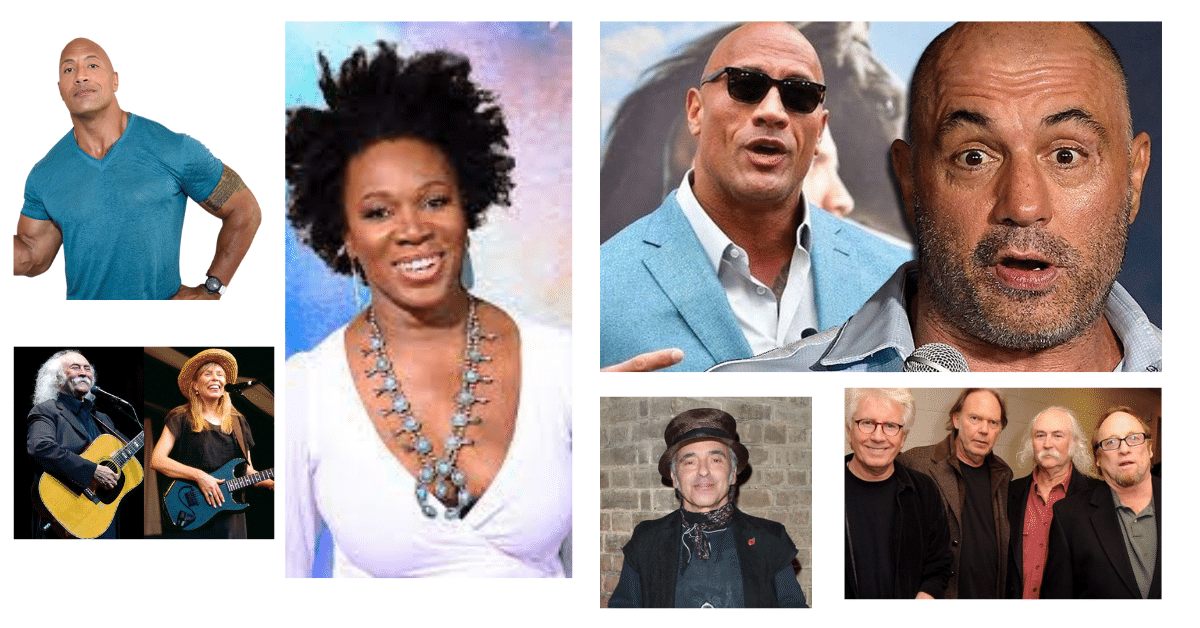 Dwayne" The Rock" Johnson made a mistake about siding with podcaster Joe Rogan. Apparently, Johnson did not know Rogan continued use of the "N" word. As a result, Johnson had to issue an apology.
Should Joe Rogan Be Canceled?
It's been around a month since Rogan was called out for misinformation about Covid- 19. Then people discovered that Rogan repeatedly said the "N" word during his commentary. Rogan is the host of "The Joe Rogan Experience", on Spotify, as reported by LA Times.
At first, Rogan came under fire for alleged misinformation on Covid – 19. Once Rogan discussed his opinion about Corona Virus the backlash began.
Veteran music entertainers such as singers Neil Young, Joni Mitchell, Nils Lofgren, Graham Nash, and David Crosby, another member from (Crosby, Stills, and Nash), pulled their music from Spotify.
Well, that was the final straw for Indie Arie. While Arie does not have an issue with Rogan voicing his opinions, as reported by The Shaderoom. However, it did not stop her from pulling her music from Spotify. She felt Spotify should not support someone like Rogan.
View this post on Instagram
Clearly, Rogan got the message. Because he has since apologized for what he said, as reported by Fox.
New fallout for Joe Rogan
After Rogan's apology, Johnson voiced his support of the Podcaster. However, Johnson was not aware of Rogan's saying the "N" word. Later, Johnson admitted that he was mistaken about siding with Rogan. And, he is remorseful. Furthermore, Johnson believes this was a teachable moment for him, according to Fox News.
With all of the fallout against Rogan, Spotify pulled at least 1oo of his episodes. Is it enough, though? Some people were easy to forgive Rogan. Would that have been the same if Rogan was a DaBaby, Dave Chapelle, or Steve Harvey?
Having said that, not every entertainer has pulled their music from Spotify. And, the so-called "Cancel Culture", did not happen in Rogan's case. Hopefully, Rogan has learned not to make negative comments. Somehow, I doubt it. Of course, Spotify is not going to pull Rogan from their platform. What do you think?
Check out the videos above for more details
Hip Hop News Uncensored. It's the Leader in Hip Hop content on YouTube.