Tyler Perry's First Screenplay: A Jazzman's Blues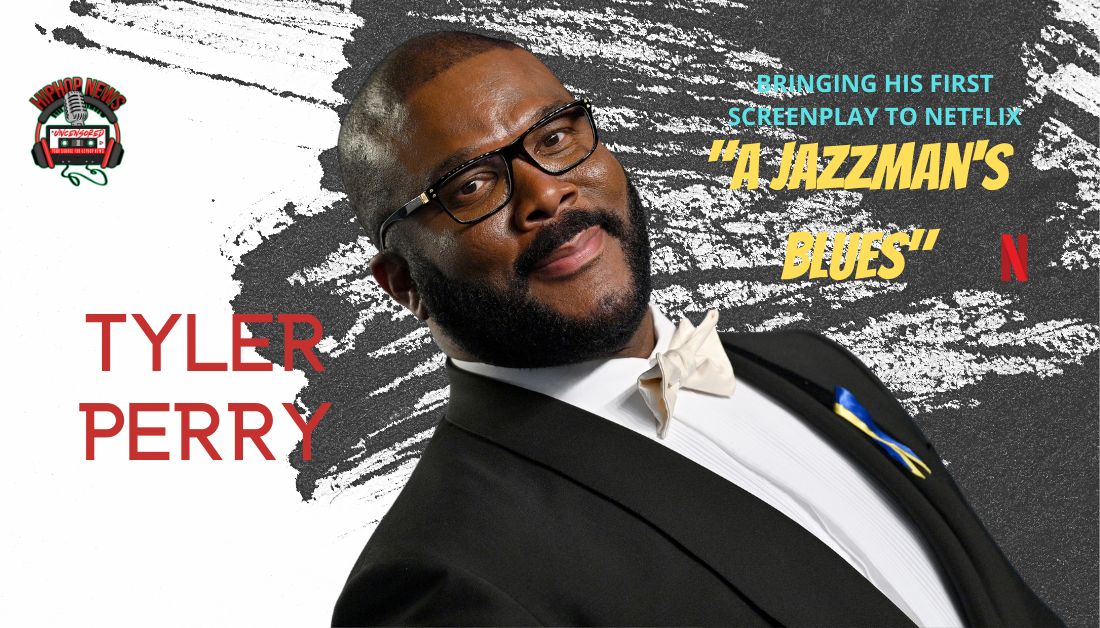 Tyler Perry and Netflix joining up for the first screenplay he's ever written titled A Jazzman's Blues. And this one's personal, y'all.
Tyler Perry Announces 'A Jazzman's Blues' Coming To Netflix
Tyler Perry teamed up with Netflix to bring A Jazzman's Blues to the streaming platform.
And like most of his projects, he is the writer, director, and producer.
Additionally, his long-time collaborator Michelle Sneed is working on the project with him as an executive producer.
Undoubtedly, this one is near and dear to his heart, as it is the very first screenplay he has ever written.
And he did it back when he was homeless in the streets of Atlanta 26 years ago.
Here is what he told PEOPLE –
"I wrote it in 1995. It was the first screenplay I ever wrote. The two characters are just trying to find their own way in the world…"
Adding to his statement, he revealed just how destitute he was, saying –
"I was in Atlanta struggling to make it. I was hungry, sleeping on my cousin's couch, eventually getting put out and being homeless. I was trying to get my first play off the ground, and this screenplay just poured out of me. I held onto it for all of these years."
So What's It All About?
According to its synopsis, the play is a sweeping tale of forbidden love…forty years of secrets and lies soundtracked by juke joint blues in the deep South.
Set in post-World War II, when a young jazz player leaves his rural town in search of fame.
The time range of the film is 1937 to 1987 and will dive deep into the character's past, present and future.
The characters are all in their 20s, and initially, Perry saw himself in the role of Bayou, saying –
"I've aged out of it because the characters are all in their twenties. So I'm looking for that new talent, for brand new fresh faces who have committed themselves to the craft and who are incredible actors to play these roles."
Cast in the film –
Joshua Boone as Bayou
Solea Pfeiffer as Leanne
Amirah Vann
Austin Scott
Milauna Jemai Jackson
Brent Antonello
Brad Benedict
Kario Marcel
Lana Young
Ryan Eggold
As for the music, the film features original material performed by Ruth B.
Also, songs are arranged and produced by multi-Grammy winner and two-time Academy Award nominee Terence Blanchard.
Plus, music by Aaron Zigman, and Debbie Allen is the choreographer.
Other Tyler Perry offerings on Netflix include A Fall From Grace, A Madea Homecoming, and Fatal Affair.
He is also a star in Don't Look Up.
But as for A Jazzman's Blues, Perry reveals that he has been trying to get this one off the ground for two decades.
But now, he's found the perfect partner in Netflix –
"I have waited a quarter of a century to tell this story, and now is the perfect time and Netflix is the perfect partner. That is my labor of love; the one that I want to do more than anything."
Filming took place over a few weeks in Atlanta and Savannah Georgia, as well as at Tyler Perry Studios.
After filming was done, Perry hit social media to talk about it –
"About 26 years ago, I was struggling and not sure if I would be able to break into the entertainment business. I had managed to sneak into (cause I was broke) a play called Seven Guitars, and I got a chance to speak with the great August Wilson at an after-party. I didn't know how he would receive me because the kind of plays I was doing weren't Broadway, but he was so kind, encouraging, and inspiring that I went home and wrote my very first screenplay. I called it A Jazzman's Blues,"
While no trailer is available as of yet, Perry's A Jazzman's Blues will is set to hit streaming services on September 23rd.
Want more stories on Tyler Perry, hit us up.
Hip Hop News Uncensored. It's the Leader in Hip Hop content on YouTube!