TOP 10 Black Actors at the Worldwide Box Office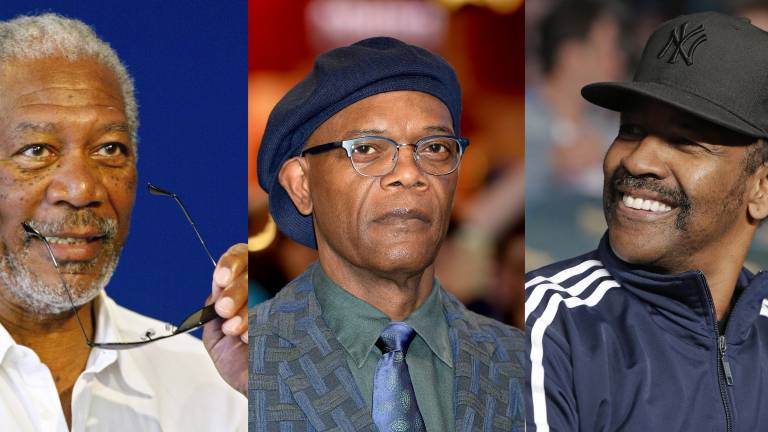 Here are the TOP 10 black actors at the worldwide box office. According to the-numbers.com, our black actors are bringing in the paper with box office receipts worldwide in the billions! Even though their past projects are mega hits, these 10 leading men (and one leading lady) are not slowing down one bit. To make this list, these black actors are the lead actor in the movies that made the most at the box office worldwide! Here are the rankings from 10 to 1!
10 – IDRIS ELBA
Holding the #10 spot is Mr. Sexy himself! Mr. Elba has 38 movies under his belt, 15 as a leading Actor. His movies have grossed more than $835 Million worldwide at the box office with Idris as a leading man! He also has credits as Music Supervisor, Director, Producer and Executive Producer, bringing his total box office gross to more than $11 Billion. The highest earner for him so far, AVENGERS: INIFINITY WAR which was released on April 27, 2018, brought in over $2 Billion. Two new movies coming later this year, Fast & Furious Presents: Hobbs & Shaw is due to come out in August and CATS in December.
9 – KEVIN HART
Kevin Hart is credited with 39 acting roles. He is best known, however, as a supporting actor, which he is credited in 18 of his films. His movies have grossed just over a billion dollars at the worldwide box office, with Kevin as a leading actor. That's 9 zero's y'all! If you add in his screenwriting, directing, producing and executive producing credits, his worldwide box office gross jumps to over $4.7 Billion! Released in December 2017, his highest grossing movie – JUMANJI: Welcome to the Jungle, grossed over $964 million. Coming in December, Jumanji: The Next Level and Fatherhood, in August of next year. Also announced without projected dates are Scrooged, Uptown Saturday Night, Black Stallions and Bye Bye Bye.
8 – JAMIE FOXX
Coming in at #8, Jamie Foxx movies have grossed $5 Billion dollars overall at the worldwide box office. Though Jamie does not have any technical credits yet, he will soon add one with the future project, Aloha Santa. With him as a leading actor in 18 of his 36 films, his projects come in at $1.9 billion. The Amazing Spider Man 2 is the best money maker for Jamie, making $708 million dollars in 2014. Releasing in January of 2020, his next acting project is Just Mercy. Announced projects in talks are Signal Hill, Spawn and Blink.
7 – MORGAN FREEMAN
82-year old Morgan Freeman has credits as a Leading Man, Supporting Actor, Narrator, Director and Executive Producer. At the Worldwide box office, his 83 movie projects have grossed upwards of $10.78 Billion! With Mr. Freeman as the leading actor in 28 of those films, he has grossed $2.6 Billion. The Dark Knight Rises is his largest draw, raking in over a billion in 2012. Since then, Morgan has done 20 films. Next up, Freeman will play President Trumbull in Angel Has Fallen, due out in August of 2019. Future acting projects announced, The Hitman's Wife's Bodyguard and Powell.
6 – ZOE SALDANA
The beautiful Zoe Saldana is #6.  Not only does she have a Producer and Executive Producer credit under her belt, she is also a major character in the 2009 movie AVATAR, which is only the #1 movie of all time! Avatar grossed over $2.77 Billion. As the leading lady in 13 films, Ms. Saldana's movies have raked in $3 Billion at the worldwide box office. Overall, Zoe's 41 movie projects have earned $12 Billion. As spectacular as those numbers are, her latest project is poised to beat them. AVENGERS: ENDGAME, released in April of 2019, is just shy of knocking those worldwide box office numbers away from Avatar. Zoe Saldana has two new projects in the works. AVATAR 2 is due to come out in December of 2021 and AVATAR 3 makes its debut in December of 2023!!!
5 – SAMUEL L. JACKSON
Samuel L. Jackson movies are ridiculously bankable! In addition to credits as a Narrator, Producer and Executive Producer, Sam has been credited as a Supporting Actor in 49 of his 131 film projects. His movies have grossed $25.6 Billion at the worldwide box office! As a leading actor, Mr. Jackson has brought in $3.4 Billion, with the 2019 film AVENGERS: ENDGAME leading the pack with $2.7 Billion.  Mr. Jackson has movies coming out soon, including The Last Full Measure due out in October 2019 and in July of 2021, Sing 2 is scheduled to be released. Future projects announced are The Hitman's Wife's Bodyguard, The Banker and Blazing Samurai.
4 – DENZEL WASHINGTON
Denzel Washington claims the #4 spot on this list! With 49 films, grossing $4 Billion at the worldwide box office, he is billed as a leading actor in 45 of those films. Denzel has directed, produced and executive produced several projects. His most successful Leading Role to date is the 2007 movie AMERICAN GANGSTER, raking in $267 Million at the worldwide box office. Overall, upwards of $4 Billion dollars has been made with Mr. Washington at the lead position. Since then, he has starred in 14 additional movies. New future projects have been announced, Journal for Jordan and Little Things.
3 – DWYANE JOHNSON
Another monumental one of the great black actors, Dwyane "The Rock" Johnson has been the Leading actor in 24 of his 42 film projects. Grossing $10.6 Billion dollars overall, his leading role movies have packed in $4.85 Billion at the box office worldwide. His biggest movie so far…FURIOUS 7, bringing in $1.5 Billion in April of 2015.  In the ranking for the Highest Grossing Stars of 2018 at the Domestic Box Office, Mr. Johnson came in at #1! He is still plenty busy. In August 2019, Fast & Furious Presents: Hobbs & Shaw will be released, and Jumanji: The Next Level will come out in December 2019. Mr. Johnson also has two movies coming out in 2020.   Jungle Cruise is scheduled for a July release and Red Notice in November. Other undated projects have been announced, The King, Big Trouble in Little China, Black Adam and Doc Savage.
2 – WILL SMITH
Sitting pretty at the #2 position, Will Smith is well on his way to unseating the #1 spot for black actors! Out of 34 Film projects with a worldwide box office gross of $8.67 Billion, Mr. Smith is in the leading role in 27 of those films. His leading actor movie projects have bought in almost $6 Billion! His highest grossing worldwide box office movie is ALADDIN and it was just released in May, 2019. Already, the movie has raked in $904 Million and still counting! Other credits Smith has in his arsenal include Story Creator, Producer and Executive Producer. Gemini Man is slated for release in October and Spies in Disguise in December of this year. But, that's not all, Will Smith also has King Richard due out in November 2020 and The Suicide Squad in August of 2021. An undated project, Bright 2 is in talks.
1 – EDDIE MURPHY
Eddie Murphy, the highest grossing of the black actors at the worldwide box office has 40 Leading actor roles out of 42 film projects. His movies have grossed $6.6 Billion with him leading. Other credits Eddie Murphy has are Story Creator, Screenwriter and Producer. Voicing the role of Donkey in SHREK 2 was his highest worldwide gross to date, making $937 Million. But that was in 2004. After Shrek 2, Mr. Murphy starred in eleven other films. His next big project, Coming to America 2, is scheduled for release in December, 2020. Other undated projects announced are Grumpy Old Men, Dolemite is My Name and Richard Pryor: Is It Something I Said.
So there you have it, the top 10 leading black actors at the worldwide box office. Did you see all of these blockbuster movies?  Did your favorite make the list?
For more Hip Hop Entertainment News, check us out at Hip Hop News Uncensored. It's the best YouTube channel for Hip Hop.