Nore Talks About Fake Industry Friends!!!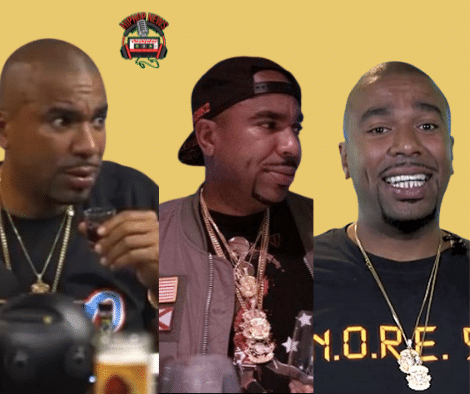 You don't have to be a genius on who Nore was referring to since he was in Miami. Just think about rappers from the area. Rapper Victor "N.O.R.E" Santiago is not bothered by the haters.
Who Is N.O.R.E.?
Almost everyone is familiar with Santiago's moniker "Noreaga. The group "Capone – N- Noreaga was born along with rapper Capone.
In 1995 their popularity took their career to heights each could not have imagined—the dynamic duo signed with Penalty Recordings in 1996.
In 1997, the album "The War Report" was released. That album was a big hit for the east coast rappers. The rap duo had the traditional New York "boom-bap sound, as reported by Wiki.
The hit songs "Illegal Life," "Closer," and "T.O.N.Y( Top of New York) caused the album to make #21 on the Billboard charts. Kiam "Capone" Holley and Santiago would reinvigorate the East Coast's underground gangsta rap community, as reported by Highs Nobiety.
Unfortunately, Holley would go back to prison. The duo could no longer continue. So, Santiago embarked on a solo career. Santiago changed his moniker to N.O.R.E. After the name change, Santiago released his solo studio album "N.O.R.E." in 1998. That album garnered Santiago even more success than he shared with Holley. The Queens rapper had an enriching career. Rappers such as Nas, Kool G Rap, Big Pun, and Busta Rhymes collaborated with Santiago.
My favorite song by Santiago is "Nothin." This particular song was aired in the clubs back in 2009. Also, Santiago had much success with the "God's Favorite" album. So, it is safe to say.
I digress; something must have happened to trigger Santiago to mention the fake industry friends. Here are his actual words, as reported on Certified Bootleg,
"When you don't see me around certain people, it's because these certain people aren't god, they're dealing with insecurities, these are insecure people. I have the same phone number ," N.O.R.E. said. "If you can be in a room full of five people, and those five people say they don't f*ck with N.O.R.E., then those five people are probably the fakest five people in the world, 'cause N.O.R.E.'s one of the top five most loved artists in the world."
N.O.R.E. – Nothin'
Nowadays, Santiago is co-hosting, "Drink Champs."
Drink Champs is one of the most celebrated music Podcasts in the industry. Many rappers and other celebrity guests sit with Santiago and DJ EFN to discuss the latest news.
For more Hip Hop Entertainment  News, check us out at Hip Hop News Uncensored. It's the leader in Hip Hop YouTube Commentary.