Tate Kobang First Artist Signed By Nicki Minaj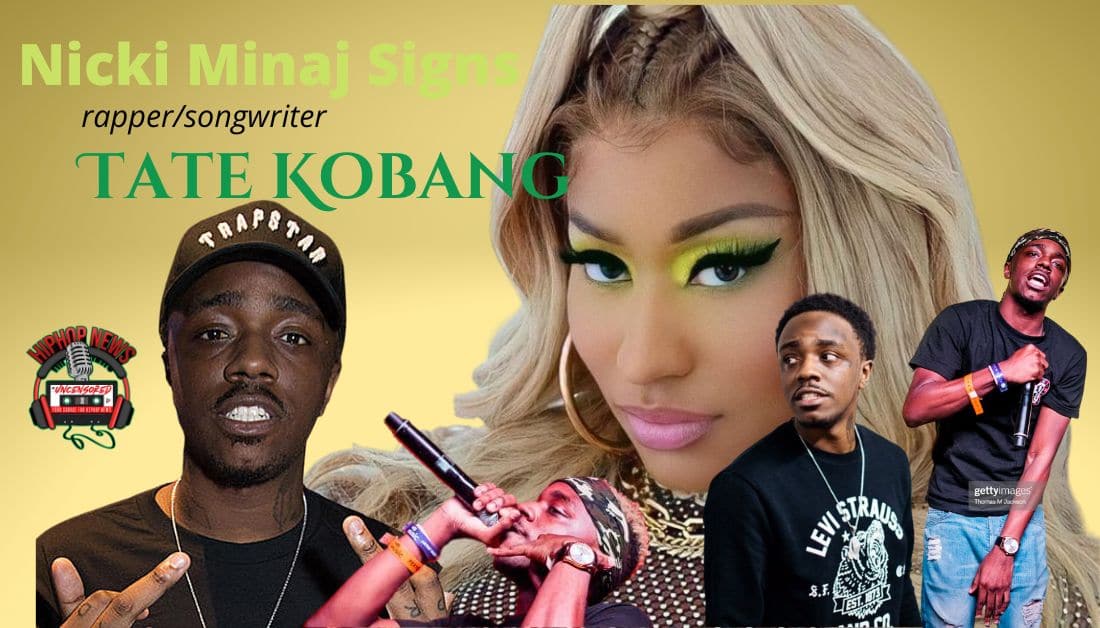 Nicki Minaj Signs Tate Kobang to her record label. And he is the first artist to be brought on board since her label launched.
Talented Rapper/Songwriter Tate Kobang Is First Artist Signed To Nicki Minaj's New Record Label
Tate Kobang is the first artist signed o Nicki Minaj's new record label that just launched.
It was only early this year when Babs announced that she was creating her own management and record company.
She said during an interview with podcaster Joe Budden –
"I am creating my own management company. I'm also doing my record company. I have a couple of artists that I will start the record company with. I'll speak on that closer to album time."
Well, now that dream of hers is finally coming to fruition.
So Who Is This New Artist?
Tate Kobang is 30 years old and has been on the music scene since 2011.
And in 2015, the Baltimore native (real name Joshua Dae'Quan Goods) came out with Bank Rolls (Remix).
That is a 90-second promotional single he did for his "Live Hazey" release (in remembrance of his mom) on YouTube on April 19, 2015.
Already, he is a co-writer for 21 Savage and Metro Boomin's "Mr. Right Now" (featuring Drake).
Additionally, he wrote for Baltimore rapper Killer Q, who is his uncle that first introduced him to rap.
Incidentally, Kobang started taking rap seriously, after both his parents died within months of each other.
At the age of 21, Tate was left to raise 8 younger siblings.
His musical talents run deep, as he started out singing in the church choir at the age of 5.
From there, he started writing music at the age of 11.
But his talents do not end there, as he learned to read music and play the piano and saxophone in middle school.
With several singles and mixtapes since then, fans are eager to see what he creates next.
While a date has not been set for the newly signed artist to debut his first album with the company, he is eager to make new music.
The rapper/producer was overjoyed after joining Nicki's team and took to social media to celebrate –
@NickiMinaj signs producer/rapper Tate Kobang from Bmore to her label

— TREY🐲♥️ (@playboy_barbz) June 22, 2022
Want more stories on Nicki Minaj, 21 Savage, and Metro Boomin', hit us up.
Hip Hop News Uncensored. It's the Leader in Hip Hop content on YouTube!