Is Megan Thee Stallion & Shenseea Video "Lick" Too Explicit?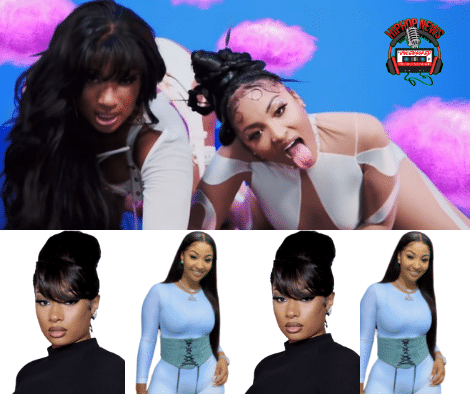 Megan Thee Stallion is receiving some backlash for her new collaboration with Shenseaa. And, there are differing opinions about it. Jamaican star Shenseea appears in the new video "Lick." Some think the video is too racy.
Was "Lick" Too Much For Primetime?
In her new video, Megan may have gone too far with all of the illicit scenes with Shenseea. And, some sources are blasting Megan.  There is a lot of twerking and grinding. Which is normally what Megan's videos present. However, is it too much grinding on each other between Megan and Shenseea, as reported by Rolling Out. Does the video promote porn female sex more than the music?
Of course, a lot of men may not have a problem with "Lick." Primarily because the rappers present the type of fantasy some men may dream about.
On the other hand, some women may take issue with all of the sexual content. We can't deny that Megan has made a boatload of money promoting her videos. For this reason, she continues to present the kind of videos that make millions for the music industry. But at what cost? While this may be great entertainment for some. It does not paint the picture that others want their young girls to emulate.
We must keep in mind, that the music business doe not care about morality. The so-called "Powers that Be" are only interested in making money. Therefore, it becomes parents' responsibility to monitor what their children see in videos. In this case, it is possible that Megan and Shenseea feel they can express themselves however they want, musically that is. After all, isn't that what their audience wants?
Personally, when I looked at the video I was not impressed. It's not the kind of video I would allow my teens to watch. Realistically speaking, if you forbid your teens to watch the video, it would only make them more determined to watch. One thing is for sure, it is a conversation started.
Be that is it may, in my opinion, the music industry needs to be overhauled. Or at least censored. I'm just saying.
Check out the video above for more details.
For more Hip Hop Music  News, check us out at Hip Hop News Uncensored. It's the leader in Hip Hop YouTube Commentary.