Dr. Dre Song List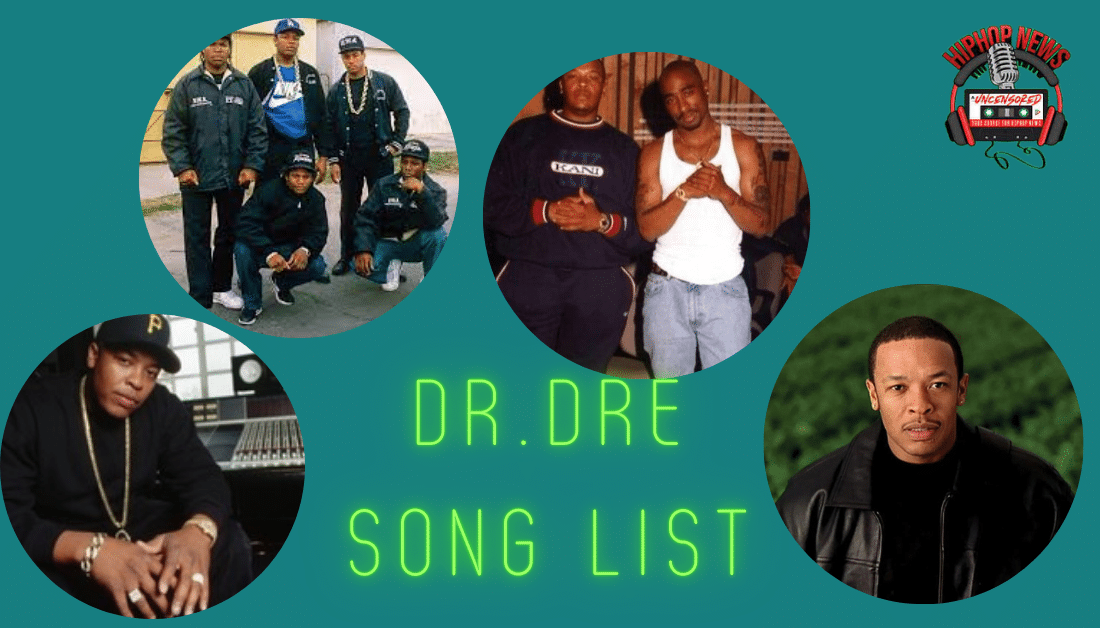 Dr. Dre Song List. Dr. Dre is one of the most respected producers. Let's get into some of his top songs.
Becoming  Dr. Dre
Dr. Dre Song List. Andre "Dr. Dre" Young hit the Hip Hop scene in the mid-eighties. He hails from a tough neighborhood in Compton, CA.
Early on he transferred schools multiple times due to gang violence. He attempted to get a higher education after high school but ultimately focused on music.
The World Class Wreckin' Cru started performing at a local club. At the time, Dre was the DJ. Eventually, he met Ice Cube and they formed N.W.A (Niggaz Wit Attitudes) with Eazy-E.
N.W.A is credited for their role in popularizing gangster rap. Often using explicit lyrics and speaking from the unfortunate experiences of the inner city.
For example, their Fuck The Police song. It shed light on how the boys in blue often abused their power.
Dr. Dre went on to produce for Eazy-E, Snoop Dogg, and Michel'le. Not only that, he won a Grammy for his solo hit Let Me Ride.
Forgot About Dre
Nuthin but a 'G' thang become the song of the Summer.
As a result, his debut solo album The Chronic earned certified platinum status.
By now, Dre had solidified himself as a producer.
His production on Snoop Dogg's debut album catapulted him. His most credible work features artists like Snoop Dogg and 2Pac.
After a great deal of success, Dre started Aftermath Records. Notable artists he signed are 50 Cent and Eminem.
His personal life has always been public. Even the allegations of abuse from multiple women.
Despite the loss of his younger brother and son, Dre continued rising up. Here are twenty of the top songs performed or produced by Dr. Dre.
Dr. Dre feat. Snoop Dogg – Nuthin' But a 'G' Thang (1992)
N.W.A – Straight Outta Compton (1989)
Dr. Dre feat. Snoop Dogg – Fuck With Dre Day (1992)
Dr. Dre feat. Snoop Dogg, Nate Dogg & Kurupt – The Next Episode (1999)
Eazy-E – The Boyz n The Hood (1987)
Snoop Dogg feat. Kurupt, Nate Dogg & Warren G. – Ain't No Fun (1993)
Dr. Dre – Keep Their Heads Ringin' (1995)
Snoop Dogg – Gin & Juice (1993)
Eve – feat. Gwen Stefani – Let Me Blow Ya Mind (2002)
Mary J. Blidge – Family Affair (2001)
Eminem – My Name Is (1999)
Dr. Dre feat. Eminem – Forgot About Dre (1999)
Snoop Dogg – Murder Was The Case Remix (1994)
50 Cent – In Da Club (2003)
Dr. Dre – Xxplosive (1999)
N.W.A – Gangsta Gangsta (1988)
Dr. Dre feat. Snoop Dogg – Deep Cover (1992)
N.W.A – Express Yourself Remix (1989)
Dr. Dre feat. Snoop Dogg – Still D.R.E (1999)
The Lady of Rage – Afro Puffs (1994)
Dr. Dre undoubtedly reached G.O.A.T status. The future generations truly missed out on an amazing era. However, his legacy is forever implanted in Hip-Hop.