Kelly Rowland serves up drama in 'Mea Culpa' on Netflix!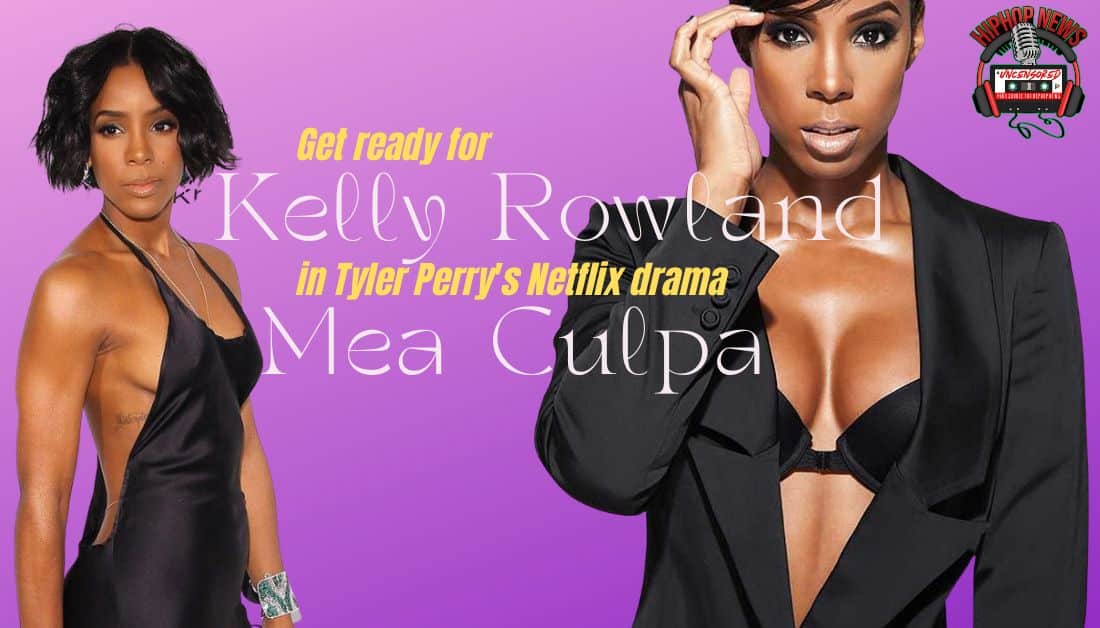 'Mea Culpa' is the newest Tyler Perry project appearing on Netflix. Fans are eagerly awaiting the release of the drama starring Kelly Rowland.
Tyler Perry's 'Mea Culpa' Stars Kelly Rowland
Kelly Rowland, a multi-talented singer, actress, and television personality, is starring in her latest project, "Mea Culpa," on Netflix. The highly anticipated drama is set to take viewers on a wild ride of emotions, with its captivating storyline and raw performances. In this article, we will explore the thrills and excitement that Kelly Rowland serves up in "Mea Culpa."
Kelly is excited about this role as she says she is stepping into a side she's never shown before. You can see her interview on the subject below.
Kelly Rowland Is Brining Drama to Netflix!
"Mea Culpa" is a gripping drama that revolves around the lives of two sisters, Tasha and Miri, who are trying to rebuild their relationship after years of estrangement. Tasha, played by Kelly Rowland, is a successful lawyer who is forced to confront her past when her sister Miri, played by Erica Ash, is released from prison. As the sisters navigate their complex relationship, secrets are uncovered, and tensions rise, leading to a dramatic confrontation.
Kelly Rowland's performance in this movie is nothing short of spectacular. She brings a depth of emotion and authenticity to her character, making it easy for viewers to empathize with Tasha's struggles. From the moment she appears on screen, Rowland captivates the audience with her powerful presence, bringing them along for the ride as Tasha confronts her past and fights for redemption.
Get Ready for a Wild Ride
"Mea Culpa" is a rollercoaster of emotions, with twists and turns that will keep viewers on the edge of their seats. But then do we expect anything less from a Tyler Perry flick in which he directs, produces, and stars in? The drama addresses themes such as forgiveness, redemption, and family, making it relatable to a wide audience. The chemistry between Rowland and Ash is electric, adding to the tension and drama of the story.
In addition to Rowland, the cast also includes Trevante Rhodes ("Moonlight"), Sean Sagar ("The Gentleman"), Nick Sagar ("Run the World"), and RonReaco Lee ("Nappily Ever After").
Overall, Kelly Rowland's "Mea Culpa" is a must-watch for drama lovers. It showcases her versatility as an actress and her ability to captivate audiences with her raw talent. With its powerful performances, gripping storyline, and unexpected plot twists, it's a wild ride that you won't want to miss.
Check out this interview she did about how she feels about her role in this film –
In conclusion, Kelly Rowland's "Mea Culpa" is a fantastic addition to Netflix's lineup, and we highly recommend giving it a watch. With its powerful performances and captivating storyline, it is sure to become a fan favorite. So sit back, relax, and get ready for a wild ride with Kelly on Netflix.
Perry is sharing producer credits with Rowland, Angi Bones, and Will Areu.
For more on Kelly Rowland… hit us up!
Hip Hop News Uncensored. It's the Leader in Hip Hop content on YouTube!