Westside Gunn Done With Rap?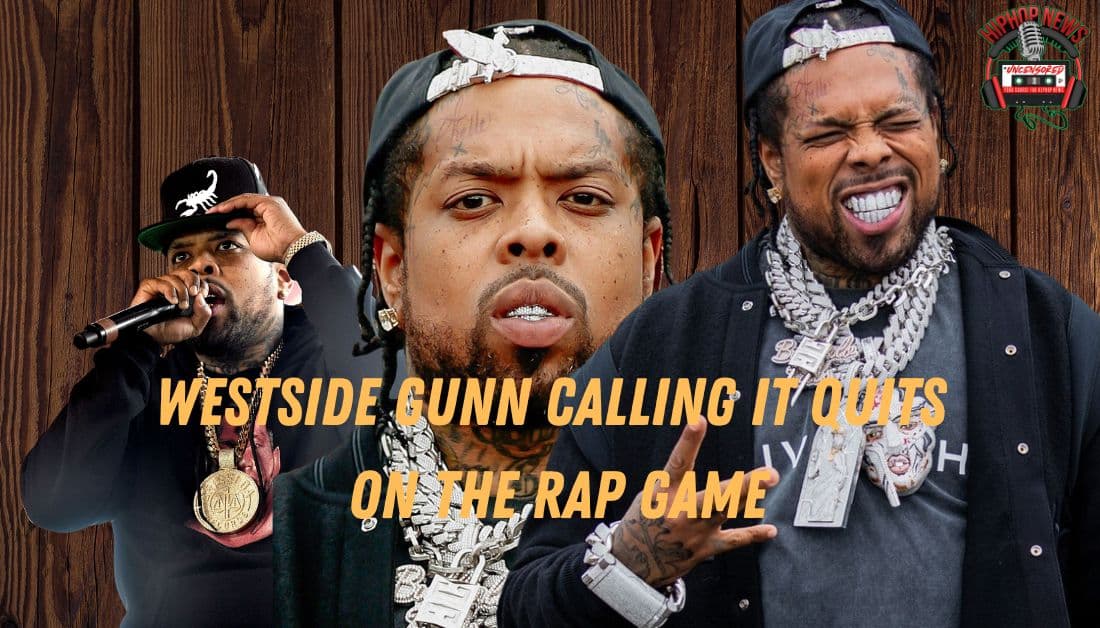 Westside Gunn done with the rap game. Jumping on Twitter just before the year ended, he announced 2023 will be his final year.
Westside Gunn Done With Rap By The End Of 2023?
Westside Gunn says he's done with rap by the end of this year.
Yep, you heard that right, he's calling it quits.
Taking to social media ahead of the new year, he posted this –
23' def my last year doing this shit, I don't have nothing else 2prove, I put my team on, I put my city on, I worked w/everybody I ever wanted to work with, plus MFs still don't even understand 1-10, FLYGOD, Awesome GOD, or Pray for Paris(mind u Virgil did the cover) im the 🐐🤷🏽‍♂️

— WESTSIDEGUNN (@WESTSIDEGUNN) December 30, 2022
The 40-year-old rapper – real name Alvin Lamar Worthy – wears many hats.
Not only is he a rapper, but he is also a songwriter, curator, record executive, fashion designer, and businessman.
Additionally, he is a co-founder of the independent hip-hop label Griselda Records.
Music runs in his blood, and it's a family thing.
Frequent collaborators, Conway The Machine is his brother, and Benny the Butcher is his cousin.
To his credit, he has released plenty of material over the years –
6 studio albums
3 EP's
14 mixtapes
and 4 collaborative mixtapes
Though he's made this claim about quitting the business before, he says he's serious this time –
I know I say I'm a retire all the time so ppl might be like he always say this, seriously I been thru so much with this shit behind closed doors y'all would never know, it's brought more pain than joy I'm just so G that I make it look super easy but I fight these devils everyday

— WESTSIDEGUNN (@WESTSIDEGUNN) December 30, 2022
In another tweet, he reminded us of many of the folks he's worked with.
Among his name-dropping, he posted –
I've worked with WU, Mobb Deep, Run the jewels, Blackstar, Lox, The Roots, Kanye, Lil Wayne, 2Chainz, Durag Dynasty, Combat Jack(RIP) was there when I recorded HWH4, 50cent, Banks, Kool G rap, Royce,Anderson Paak, nominated for a Grammy right now with Mary J Blige and MANY MORE

— WESTSIDEGUNN (@WESTSIDEGUNN) December 30, 2022
He also listed Eminem and Jay-Z as past collaborators.
Along with all these big names, he gave honor to others on the list, the late artists, DMX, Prodigy, DOOM, and Sean Price, saying RIP.
Releasing the final edition of his Hitler Love Hermes series, the icon aptly named it 10.
Reflecting on his achievements, he says –
"It's only right that we end here. All special things get a memorial release. The last double album was going to be the final one, but it felt weird leaving off at nine and not 10. I had to celebrate this series which has meant so much to fans. Everything I do sounds nothing like the last thing I did. That's the creative in me, and I'm always going to push the culture forward. I'm ending this on a really special note with 10." – Westside Gunn
So what do you think about his claim?
Will Westside Gunn really rap up his rap career by the end of the year?
Want more on Westside Gunn … hit us up.
Hip Hop News Uncensored. It's the Leader in Hip Hop content on YouTube!