Steve Harvey Quits Stand-Up Because Of Cancel Culture!!!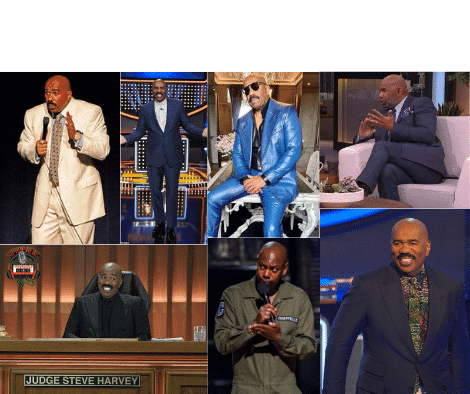 Steve Harvey is one of the hardest-working people in entertainment. And, I can see why he would want to give up one of his many jobs. But can it be that this new so-called "Cancel Culture" influenced his decision to stop performing stand-up?
Has Society Become To Sensitive?
We keep hearing about "Cancel Culture." What exactly is this new termination method? Why are people so quick to cancel others? The "Cancel Culture", or "Call- Out is a modern form of ostracism in which someone is thrust out of social or professional circles – whether it be online, on social media, or in person. One is considered to be cancelled, according to Wiki.
In other words, people begin to withdraw support from the person or persons who are being cancelled. Being cancelled can become problematic for those in the public eye.
Having said this, let's explore some examples of being cancelled. Boycotting, not promoting, or applying social pressure. Of course, there are other examples but you get the point.
Harvey makes very valid points concerning how comedians use material some would consider offensive in comedy routines. Therefore, making it hard to talk about anything during stand-up, as reported by Complex.
"The only way I can do one more special is if it's at the end of my television career because it will end my television career," said Harvey. "We're in the cancel culture now. No stand-up that is sponsor-driven can say anything he wants to. Chris Rock can't. Kevin Hart can't. Cedric the Entertainer can't. D.L. Hughley can't. I can go down the list. The only person that can say what they want to say on stage is Dave Chappelle because he's not sponsor-driven. He's subscription-driven."
Harvey goes on to say, "If I had tried to continue as a stand-up, there's no way I could maintain it." Also, he mentioned, "Political correctness has killed comedy. Every joke you tell now, it hurts somebody's feelings." And, some would agree with Harvey.
Some Celebrities' Who May Have Been Canceled In 2021
We could give a list of entertainers who have suffered in their careers because of the "Cancel Culture." last year, Dave Chappelle, rapper DaBaby, J.K. Rowling's, were all allegedly cancelled for homophobic comments. One has to ask the question, is "Cancel Culture", an effective way to hold public figures  accountable for making sexist, homophobic, or demeaning comments.
Or is the Cancel Culture a "mob mentality", that has gone out of control, as reported by Good To Go. Belief it or not, this phenomena has been around for many years. In a scene from the movie, "New Jack City" drug lord Nino Brown poured champagne over his lover. He then spoke, "cancel this b*itch!!!
However, the term became very popular in 2014 on the reality TV show, Love & Hip Hop. The term, "Cancel Culture was used very loosely. From that point on, Black Twitter began to use the term often. Be that as it may, a lot of comedians and  celebrities have been affected.
Let's keep in mind, there are differing views on this very delicate subject. We don't condone behaviors that demean other humans. Furthermore, being ostracized for making one mistake can be very damaging. For this reason, we must always remember to treat everyone with dignity and respect.
For more Hip Hop Business  News check us out at Hip Hop News Uncensored. It's the leader in Hip Hop YouTube Commentary.