Michelle Obama Ready To Rock The Vote…Again!!!!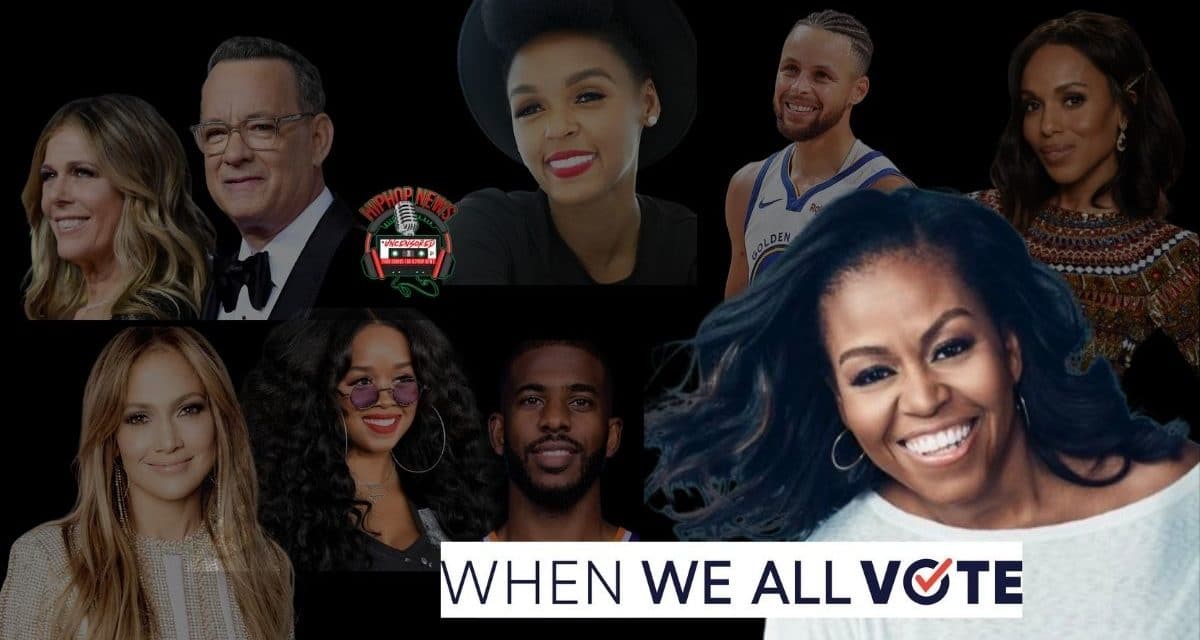 Michelle Obama is urging everybody to rock the vote in the next election. And this time around, she has some new faces joining the effort.
Michelle Obama Rocking The Vote Campain Underway
Michelle Obama is gearing up to rock the vote for the 2022 midterm election.
Yes, it's that time again…we must be prepared to cast our vote in the next mid-term election.
However, the efforts of this venture are not limited to the mid-terms.
As hopes are high to educate people to vote in "every" election.
Although you may be one of those people who vote in every general election, that's not enough.
You have to be under a rock if you don't already know the stakes are super high this mid-term election season.
And former First Lady Michelle Obama is back on a mission to get everyone to the ballot box.
When We All Vote was founded by Michelle in 2018, which enlists some heavy hitters to co-chair.
This national, nonpartisan organization's mission is to alter the culture of voting and boost voter participation in every election.
Releasing a video on YouTube, Mrs. Obama is surrounded by a lot of familiar faces championing the cause.
You can see the video below.
So How Will Michelle Obama's "When We All Vote" Rock The Vote This Year?
As posted on their mission statement –
When We All Vote is a national, nonpartisan, non-profit that brings together citizens, institutions, brands, and organizations to increase participation in every election. We are committed to closing the race and age voting gap and empowering all eligible voters to cast their ballot by harnessing grassroots energy, establishing strategic partnerships, and implementing digital organizing strategies.
Check Out These Co-Chairs On Mrs. Obama's Organization
United in changing the culture of voting, this exceptional group of people span across music, sports, entertainment, influence, media, and more.
Her newest co-chairs include –
H.E.R.
Jennifer Lopez
Steph Curry
Becky G.
Bretman Rock
This impressive group have joined the likes of –
Janelle Monae
Kerry Washington
Tom Hanks
Selena Gomez
Shonda Rhimes
Lin-Manuel Miranda
Chris Paul
Megan Rapinoe
Rita Wilson and others
Co-Chairs Aiming To Reset The Culture In The 2022 Midterm Election
While these celebrities are household names, they are voluntarily using their platforms to boost voter registration, education, and turnout in the midterms.
But that's not all…the goal is to transform the culture and narrow the gaps between the ages and races.
So look to see their faces and hear their voices in social media, print material, and event attendance as they seek to get out the vote.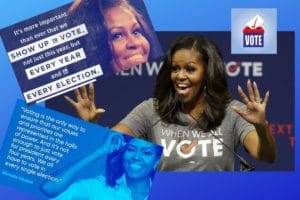 "We've got to vote like the future of our democracy depends on it." – Michelle Obama
To get started yourself, just text the word "join" to 56005.
Among their roles, you will be guided on what you need to do to have your voice heard on election day.
And another example is texts will be sent out on the 18th birthday of those who are newly eligible to vote.
Although standard voter registration is available, these texts receive 4 times the response rate, according to published data.
Not only that, fans were up to 10 times more likely to finish their voter registration.
Each year, thousands of local voter registration events have popped up across the country.
Additionally, these efforts have engaged more than 200 million Americans online.
Also, over 4 million voters were given resources to register and get out their votes.
Check out Michelle Obama's "Are You Ready" promo by clicking on the photo below.
Are you ready to rock the vote?
Hip Hop News Uncensored. It's the Leader in Hip Hop content on YouTube!