Andrew Wyatt Talks About R. Kelly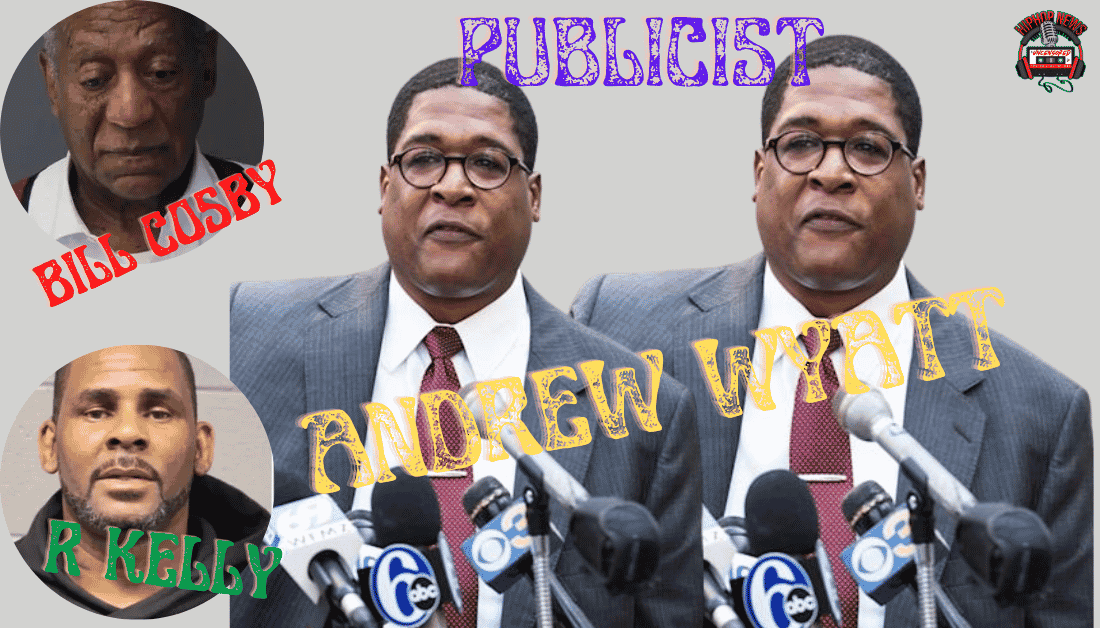 Andrew Wyatt Talks About R. Kelly. Once you hear this interview you will be astonished. Especially, the information about R. Kelly.
Bill Cosby Publicist Presents His Perspective
Andrew Wyatt Talks About R. Kelly. While you may not know his name, you do know his face. Wyatt was seen with Bill Cosby all throughout his ordeal. Not to mention, Wyatt was his spokesperson.
Wyatt spoke with hosts O'God and SamAnt. During his interview, he provided his insight. His insight into Robert Kelly's case was interesting. Also, he gave us something to really think about.
Especially, as it relates to the demise of Kelly's situation. Furthermore, he offered his assistance to the R&B singer's representatives. However, they did not listen. And, as a result, Kelly got further into trouble.
Keep in mind, that Kelly had already been accused of having sex with an underage girl. The alleged incident happened, in 1996. Kelly was accused of sexual assault against Tiffany Hawkins.
Hawkins alleged Kelly had sex with her when she was 15. The sex continued until she was 24. A lawsuit was filed and settled for $250,000. Then in 1994, Kelly marries the late singer Aaliyah.
Who at the time was said to be underaged (15). That was a very messy situation. Somehow, Kelly managed to have the marriage annulled. Of course, there were conflicting reports about it.
Nevertheless, Kelly continued to allegedly sleep with underaged girls, as reported by The New York Times. In June 2002, Kelly was arrested for child pornography charges.
Apparently, a tape confiscated by Jim DeRogastis was given to authorities. The R&B singer was taken into custody in Florida. A 21-count indictment was presented against him.
The alleged sex tape showed Kelly having sex with a minor. Eventually, Kelly was acquitted because the girl allegedly changed her story. Or something to that effect.
So, it was a little hard to believe Kelly was innocent. Even though, Andrew Wyatt Talks About R. Kelly, what is believable.
Kelly Continues To Allegedly Date Underaged Girls
You would think Kelly would stop dating young girls. Further down the line, Kelly was being accused once again. This time he would not escape the allegations of sleeping with underage girls.
For this reason, he is currently behind bars. This brings us back to our discussion with Mr. Wyatt. Having said this, take a listen to Wyatt's perspective on Kelly. Simply put Kelly may never get out of prison.
I really began to think differently about Kelly's conviction. Is it possible that Kelly has been railroaded? Can we compare  Cosby's case to Kelly's? Are there similarities or not?
Overall, Andrew Wyatt discussing Kelly's case was intriguing. Again, you get the impression that something is not right.
According to Wyatt, Kelly was trying to acquire his music master's. Could that be the reason why Kelly's trouble began? Be that as it may, Wyatt presented a great argument.
Not to mention, his perspective was truthful, to say the least. On another note, should the underaged girl's parents bear some responsibility? We have never really explored that point.
Let me say this, once again, O'God and SamAnt did a fantastic job.
Check out the video above for more details.
Hip Hop News Uncensored. It's the Leader in Hip Hop content on YouTube