Carmelo Anthony. Leaving NY For Good???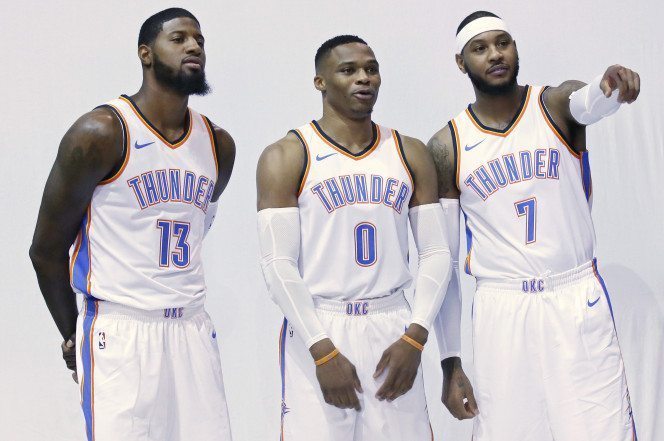 Carmelo Anthony. Leaving NY For Good???
By Friday afternoon the internet was buzzing with the rumor and by that evening the world knew what was coming, but we still had to wait for Monday morning for it to be made official.  The New York Knicks had finally found a team willing to give up the correct combination of players to land (potential) hall of fame player Carmelo Anthony.
In 2011, Carmelo Anthony was traded to the New York Knickerbockers.  The NBA fans in New York were suffering through season after season of busts caused by overpaid players with bad contracts (Marcus Camby, Stephon Marbury, Allen Houston, Jerome James, Eddie Curry, etc.) as well as a front office that seemed incompetent and incapable of selecting talent to build a roster around (Isiah Thomas).  Carmelo, with his raw scoring ability, was supposed to be an end to this and harken the return of New York as the Mecca of basketball.  He certainly had plenty of motivation.
Carmelo Anthony was born in Red Hook, Brooklyn and attended his only year of college at Syracuse.  When the rumors that Carmelo was going to be traded to New York to play in Madison Square Garden the city was ready to receive him with open arms.  But the next 5 years would be a rollercoaster ride of (lackluster) achievement, heartbreak and let down.
There were rallies from behind only to fail to clinch the 8th seed in the playoffs and when the Knicks did make the playoffs, they would begin unbelievable comebacks that would fizzle out just short of becoming memorable.  The Knicks tried to get the right players and coaches to accompany the superstar that they committed to, but the organization as a whole was unable to find the note and get in rhythm until last summer the organization, Carmelo and the city of New York decided that it was best to part ways.
As the newest member of the Oklahoma City Thunder, Carmelo will get a chance to somewhat start over and possibly win a championship along side Russell Westbrook and Paul George, but, regretfully, his time as a Knick will likely be the defining years of his career and legacy.
For more news on Hip Hop News and more, go to https://hiphopun.com