Nipsey Hussle Mom Angelique Shares Powerful Message!!!
Nipsey Hussle mom Angelique shares powerful message about him. It is clear that Nipsey grew up with powerful and loving parents. As his mother, Angelique Asghedom talked about Nipsey's life it was clear she was at peace. Rapper and community activist, Ermias Asghedom aka Nipsey Hussle was murdered on March 31, 2019 in front of his clothing store, Marathon.
Nipsey's mom words were very encouraging
Angelique Asghedom sent a  very powerful video message to Nipsey Hussle fans and followers. And, for a mother who is grieving the loss of her son it was really a brave thing to do . Angelique found it within to encourage us all just days before he son is laid to rest. Here is what Complex website reported on what Nipsey's mom had to say:
"I have perfect peace, and I have strength, and I want to lift you up," she said in a video shared on Jai Yew's Facebook page. "Please do not stay down, do not stay stuck, do not mourn. Because Nipsey is great […] and now he's even greater because he has no bounds and limits. His energy is everywhere. He's there with you now and he's here with me now. And pleased be encouraged."
Angelique also went on to say that "Death is just the beginning of a wonderful world. And I tell myself, Ermias liked thrilling things. And now my son knows the mystery—the secret, rather, to the mystery of life."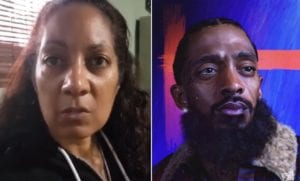 Check out the video above for more details
For more Hip Hop Entertainment News check us out at Hip Hop News Uncensored. It's the best YouTube channel for Hip Hop.