Top 10 Nate Dogg Hooks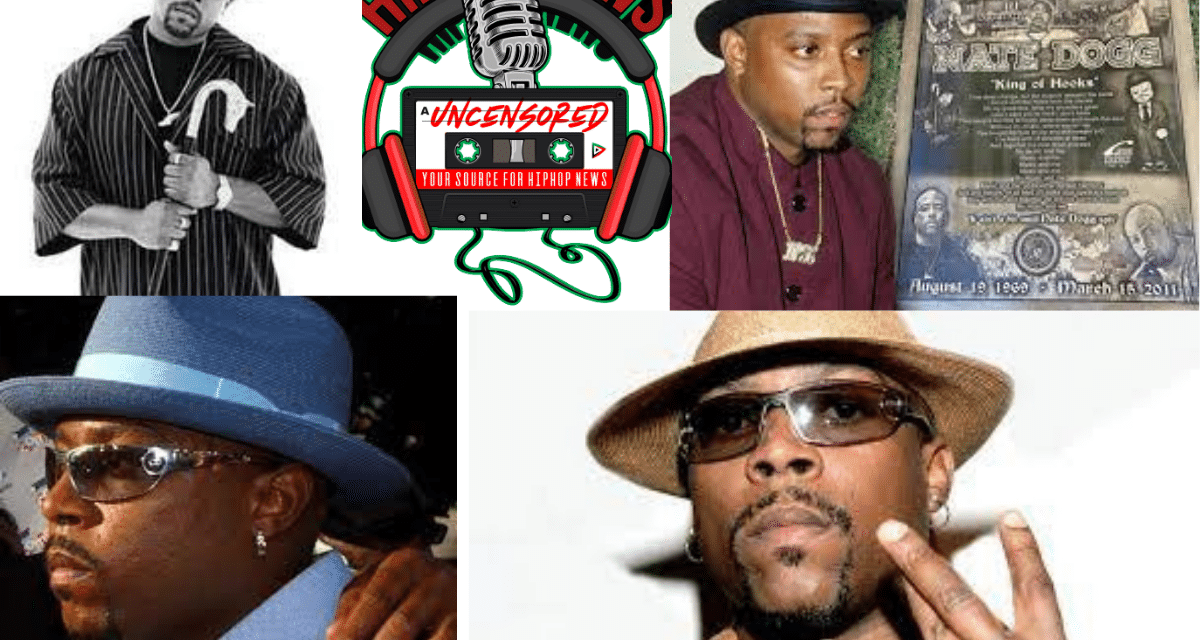 "The King of Hooks", Nathaniel Dwayne Hale, better known to us as Nate Dogg, was born on August 19th, 1969. Before succumbing to his untimely death at the median age of 41 due to heart failure, he left for us his indelible impression on Hip Hop Music as a genre. This is the man who walked so Akon could run. Nate Dogg's voice was a mainstay on the Billboard hot 100s' list from the early '90s into the early 2000s. Literally the most highly sought-after man in the business for chart topping hooks.
We pay homage to the Clarksdale, Mississippi native who was raised in Long Beach, California alongside his cousin Snoop Doggy Dogg, with this list of the Top 10 Nate Dogg Hooks. We salute the Baptist Christian military munitions specialist for serving our genre and our country for having become a permanent impression of All-American Manhood.
10. Regulate
At number one is the song that introduced us to his hip hop highness, "Regulate" by Warren G featuring Nate Dogg. The two young men met in high school and would later become lifelong friends in a musical brotherhood that would never end. To regulate in hip hop means to set someone straight. Anything from a discussion to a concussion, to a casket with cushions, qualifies as the task of a regulator.
9. Can't Deny It
It is near impossible not to crip walk to Nate Dogg hooks and "Can't Deny It" is no exception. As soon as the beat drops every hip hop head rocks. Rap fans admire the men who live the lives they rap about because of the bravery and loyalty required back then as opposed to the present where ghostwriters are nothing to be ashamed of. Back then, you lived off of your own creativity or were laughed out of the genre. In this hit, the men claim to have a lofty undeniable status as riders. Traditionally, when these steaks are claimed, the men making them are daring their peers to test their authenticity. Establishing yourself as a "rider" is a bold and brazen statement worthy of imitation and admiration, which makes this song a classic.
8. 'Till I Collapse
Coming in at number 8 is a hit record belonging to a white rapper sincere and culturally competent enough to never say the n-word as well as offer up a public apology for going in on the black girls who never returned his affections. Eminem's 'Till I Collapse" makes the list because the lyrics sung by Nate Dogg in the hook are chillingly autobiographical regarding his life and death.
"Til the roof comes off, till the lights go out
'Til my legs give out, can't shut my mouth.
'Til the smoke clears out and my high perhaps
I'm a rip this shit till my bone collapse.
'Til the roof comes off, till the lights go out
'Til my legs give out, can't shut my mouth.
'Til the smoke clears out and my high perhaps
I'm a rip this shit till my bone collapse"
He committed himself to this life until death as he said he would. India Arie once wrote in a song, "a man is only as good as his word." If this is true, we can safely say that this was truly a good man, a ladies man, a real man, a man's man. Salute.
7. 21 questions
50 cent was the breakout rapper of the early 2000s. The g-unit rapper allegedly shot 9 times took Nate Dogg with him to the top of Billboard Hot 100 list reigning for 4 weeks straight before showing signs of wear. The song stayed for 7 weeks on Billboard's R&B/Hip-Hop singles and tracks chart. Nate Dogg deserved this not just because the song was worthy, but because over a decade of effort in the music industry made him worthy. It would have been a travesty to let a man so important to the culture go out without a number 1.
6. Gangsta Nation
The 213 vocalist lent himself to Westside Connection for the hit song "Gangsta Nation". In a "which came first, the chicken or the egg?" battle we have both Crazy in love by Beyonce' and Jay-Z and Gangsta Nation released in the same year with Beyonce's "uh oh" sounding a lot like Nate Dogg's "na-na". It is possible due to the mention of Beyonce' in Gangsta Nation that she did it first but technically, so did Amerie…a discussion for another time. For now, we salute the California clique for a crip-walking classic.
5.The Next Episode
Listed as number 5 in our top 10 Nate Dogg Hooks list is "The Next Episode". This is a song with a gripping introduction that preps its listeners to completely transform into gangsters just before the beat drops. I would challenge any hip-hop fan to listen to the song to test whether or not their demeanor does not change at least slightly with the dropping of this classic west coast beat. The combination of Dr. Dre, Snoop Doggy Dogg, Kurupt, and Nate Dogg make for an iconic lineup when it comes to rap music.
4. I Got Hoes
When this song came out I waited with bated breath for my area code to be mentioned. As much as black women and black churchgoers were protesting African American women being referred to as "b*tches/h**as" in rap music, we were still hoping to hear our local numbers in this hood classic by Christopher Brian "Ludacris" Bridges featuring the legendary GOAT of all hooks, Nate Dogg.
3. Where I Wanna Be
Winding down on this list of the top 10 Nate Dogg Hooks, entering at number 2 we have "Where I Wanna Be". Shade Sheist, Kurupt and Nate Dogg delivered to us a cookout-friendly, feel-good classic Where I wanna Be in 2002. In 2021 you can still hear the clean version of this song on rotation on holidays and at family get-togethers.
2. Lay low
The only thing more incredible than Nate Dogg's performance on this hook is the aesthetic of the music video. Rap Music may never look this sharp again. The Italian Gangster aesthetic was taken to another level by inner-city African American men whose community organizing strategies were considered nefarious.
Crips and Bloods were, at first, groups founded to protect Blacks from the corruption of the police. Similar to the Black Panther Party and the Nation of Islam. They were dedicated to protecting black families and communities by any means necessary, although each group would eventually betray itself; giving rise to the fall of inner-city black manhood which was once hinged upon how well you could protect and provide not only for your own family but for your friends who gave their lives in the struggle.
The old Italian principles of family loyalty were adopted in a major way by African Americans who knew what it was to be sold apart from family in the peculiar institution of chattel slavery, to lose loved ones to incarceration, drug abuse, and death.
This song and its accompanying music video was and still is a grand shout-out to the lofty principles of the original principled gangster; with morals and integrity. The type to purchase groceries for the impoverished single mothers and help old ladies across the street while armed to the teeth; as opposed to what we have left now of corrupted cowards and thugs thanks to infiltration and COINTELPRO.
1.'Cause I'm Fly
Although Cause I'm fly is here at number one we at hip hop uncensored must stress that these songs are in no particular order. In other words, these songs are not ranked from better to best. We listed songs most foundational for the culture, not necessarily the best by some objective measurement. So much of Nate Dogg's music was serious we decided to close with a song with a lighter vibe to remember him with. The combination of these songs reveals to the public how Nate Dogg Lived and died.
The Leader in Hip Hop Commentary