Rick Ross And Meek Mill Collab On 'Shaq and Kobe' Banger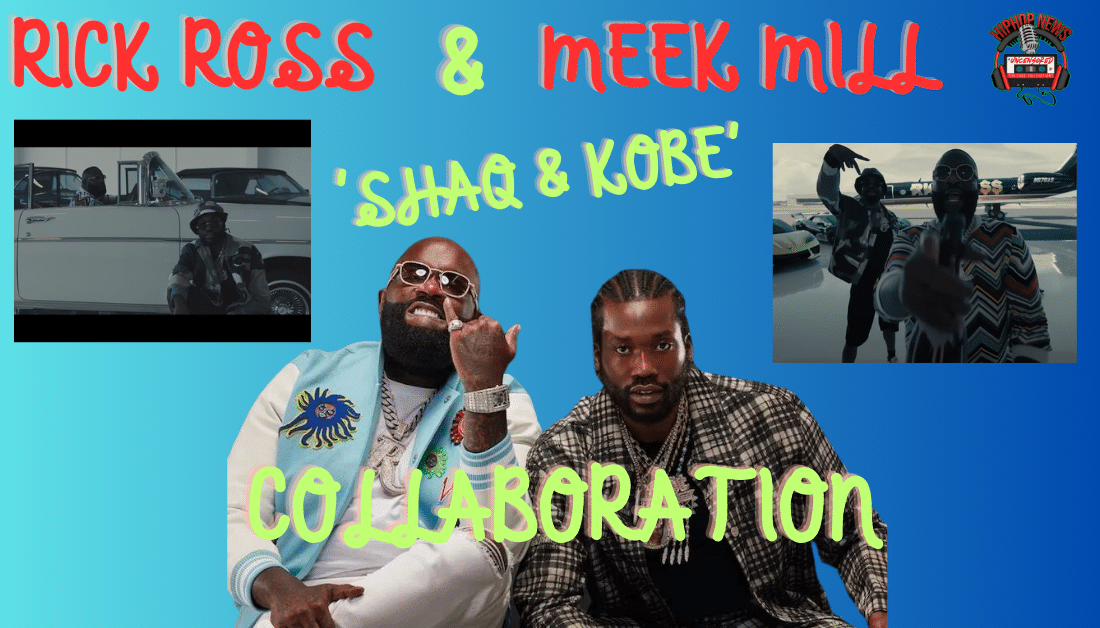 Rick Ross And Meek Mill Collab On 'Shaq and Kobe' Banger. In rap, collaborations between iconic artists often result in explosive tracks that leave fans craving more. The recent reunion of rap royalty Rick Ross and Meek Mill has sparked a frenzy among hip-hop enthusiasts. Their latest offering, the hard-hitting track 'Shaq and Kobe,' showcases their lyrical prowess and reignites the flame of their legendary partnership. With slick verses, infectious beats, and a nod to basketball legends Shaquille O'Neal and Kobe Bryant, this melodic marvel will set the rap scene ablaze.
Rick Ross and Meek Mill: Reunited Rap Royalty
Rick Ross And Meek Mill Collab On 'Shaq and Kobe' Banger.
Ross and Meek Mill, two powerhouses in the rap industry, have dominated the charts and captivated audiences with their projects.
However, their collaboration on 'Shaq and Kobe' marks a reunion that has been years in the making.
The duo joined forces in 2012 by releasing their mixtape, 'Dreamchasers 2,'
Which garnered critical acclaim and solidified their status as rap heavyweights.
Since then, both artists have pursued solo careers, accumulating a legion of dedicated fans.
According to Complex, they have set the stage again, reminding the world of their undeniable chemistry and musical prowess.
Rick Ross, Meek Mill – SHAQ & KOBE (Official Music Video)

The reunion of Rick Ross and Meek Mill brings a sense of nostalgia to their devoted fan base.
Their seamless flow and intricate wordplay are reminiscent of their earlier collaborations.
Making 'Shaq and Kobe' a trip down memory lane for long-time supporters.
However, this track also showcases their growth as artists, as they effortlessly adapt to the evolving sound of modern rap.
The chemistry between Ross and Mill is undeniable, as they effortlessly trade verses and complement each other's styles.
Their reunion is not only a celebration of their success but also a testament to the enduring power of their rap dynasty.
Hip Hop News Uncensored. It's the Leader in Hip Hop content on YouTube!
'Shaq and Kobe' Banger: A Melodic Marvel
The release of 'Shaq and Kobe' showcases the melodic marvel Rick Ross and Meek Mill bring to the rap game.
Industry heavyweight Jahlil Beats produces the track's infectious beats.
Provide the perfect backdrop for the duo's masterful lyricism.
Each verse has clever wordplay, insightful storytelling, and glimpses into their larger-than-life personas.
As the chorus echoes the names of basketball legends Shaq and Kobe.
Ross and Mill glide over the beat, captivating listeners with their magnetic delivery.
'Shaq and Kobe' is a banger that will set the clubs on fire.
All while highlighting the duo's ability to create timeless hits effortlessly.
As stated by Hip Hop DX, the hip-hop giants are creating their new album, "Too Good To Be True."
Ross and Mill paint vivid pictures of their rise to fame, fueled by their relentless hustle and determination.
Their verses inspire listeners to chase their dreams and overcome adversity.
'Shaq and Kobe' is more than just a catchy tune.
It serves as a reminder of the resilience and strength required to succeed in the rap game.
This melodic marvel is a testament to the unwavering talent of Rick Ross and Meek Mill.