Cordae Drops Visual For 'Make Up Your Mind' Single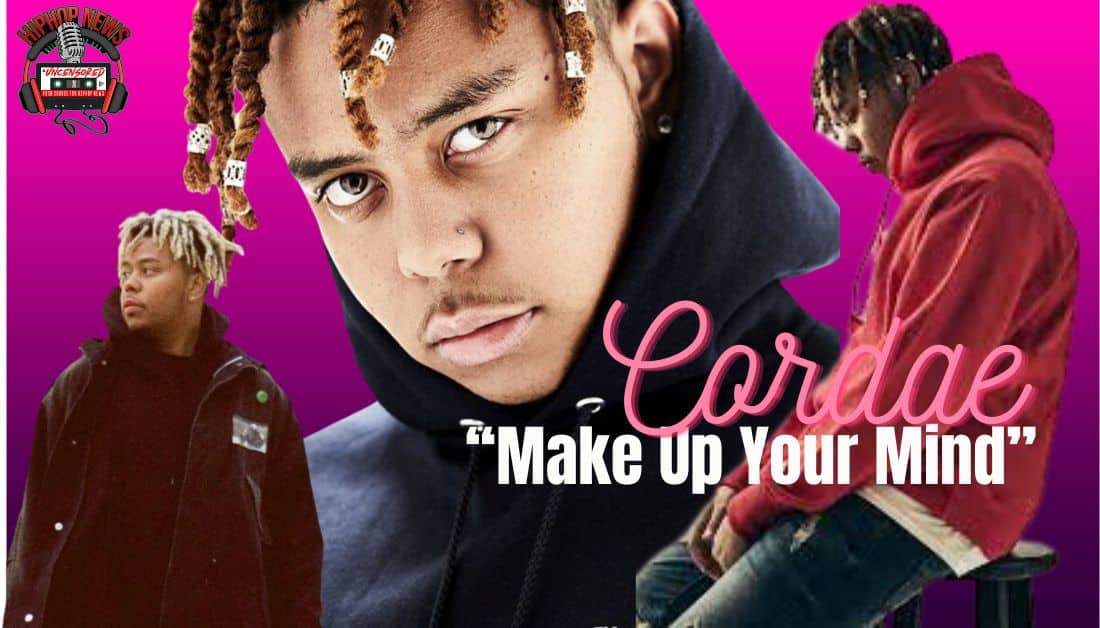 Cordae is delivering a mind-blowing visual for 'Make Up Your Mind'. The highly anticipated video is here, and fans love it.
Cordae Delivers With Fan Favorite 'Make Up Your Mind'
In the world of music, there are few artists that are captivating our minds and souls with their artistic brilliance. Cordae is one such artist. He's recently released a mind-blowing music video that takes us on a mesmerizing melodic journey. This masterpiece showcases his impeccable artistry and highlights his unique ability. He's touching our emotions and transporting us to another dimension. With an intriguing concept, breathtaking visuals, and a soul-stirring soundtrack, Cordae's music video is a testament to his artistic genius. Are we ready?
"Unleashing Artistry: Cordae's Mind-Blowing Masterpiece"
Cordae's latest music video is setting a new standard for artistic expression. From the moment the video begins, it becomes evident that Cordae has pushed the boundaries of creativity and unleashed his true artistry. The video is a visual feast. It's filled with stunning cinematography, captivating visuals, and thought-provoking symbolism. The meticulous attention to detail and the seamless integration of different elements make it clear that Cordae is a true visionary in the music industry.
Moreover, Cordae's lyrics and delivery in the music video are truly awe-inspiring. His words flow effortlessly. He's painting vivid pictures in our minds and evoking a range of emotions. The depth and honesty in his lyrics allow listeners to connect with the song on a profound level. This is leaving a lasting impact. Cordae's ability to weave together a compelling narrative further solidifies his position as an exceptional artist.
"Captivating the Senses: A Mesmerizing Melodic Odyssey"
Cordae's music video is not only visually stunning but also a sensory experience that captivates our senses. The carefully curated soundtrack is taking us on an immersive journey. The combination of enchanting instrumentals, powerful vocals, and poetic lyrics creates a harmonious blend that resonates deeply within us. The intricately crafted sound design ensures that every note and every beat reverberates through our souls. Yes, we are mesmerized and craving for more.
Cordae is mesmerizing us with these visuals in this music video. Each frame is meticulously composed, with vibrant colors, dynamic movements, and breathtaking scenery. The video seamlessly transitions between different scenes, creating a sense of continuity that enhances the overall narrative. The use of symbolism and metaphor adds an extra layer of depth. Cordae's music video is truly a sensory delight that transports us to a world where art and music intertwine.
I know you are ready to experience the official music video for yourself, check it out now –
So how do you like this one?
Cordae is creating a profound impact through his music. As we embark on this visual odyssey, we are reminded of the power of art to transport us to new dimensions. Additionally, emotions are evoked that we never knew existed. This artist' music video is an experience like no other, leaving us in awe of his artistic genius. Do you agree?
Want more on Cordae… hit us up!
Hip Hop News Uncensored. It's the Leader in Hip Hop content on YouTube!